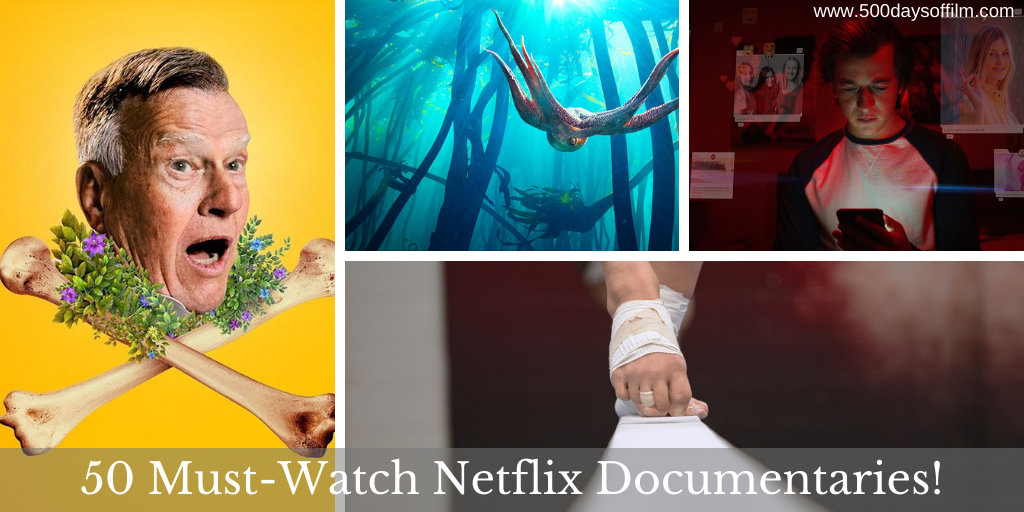 Netflix has superb documentary game. The platform is bursting with high quality (and, in some cases, Oscar winning) docs covering a broad range of fascinating, powerful and thought-provoking topics.
American Factory, 2020's Oscar winner for Best Documentary Feature, starts my list of the 50 best documentaries to watch on Netflix. Each and every film that follows is well worth your time.
Before we get stuck in, some Ts and some Cs... these documentaries are in no particular order and are all available to watch via Netflix in the UK at the time of writing.
This list will be reassessed on a regular basis - many apologies if a film has been removed from the site before the next update. 
50 Documentaries To Watch On Netflix
American Factory 
In this Oscar-winning film, Julia Reichert and Steven Bognar look at what happens when a Chinese billionaire opens a new factory in an abandoned General Motors plant in Ohio. 
What sets American Factory apart - and what has stayed with me the most - is how the documentary tells many sides of this remarkable story. This is not just a tale of American workers in an American town. 
Click here for my review of American Factory
Dick Johnson Is Dead
One of my favourite films of the year, Dick Johnson Is Dead is no ordinary bio pic. In her wonderful documentary, Kirsten Johnson stages inventive and fantastical ways to kill her father. We watch as Dick Johnson is killed by a descending air conditioning unit, a fatal (and shocking) fall down some stairs and a deadly trip while walking. On paper, the concept seems unbearably morbid and, perhaps, of questionable taste.  
On screen, however, this film is a joy - full of humour and warmth. Dick Johnson is endearing, insightful and supportive of his daughter's project. As a result, this is a stunning portrait of a loving and respectful relationship and a beautiful exploration of mortality.
Click here for my review of Dick Johnson Is Dead
Pray Away
I had, for some reason, begun to think that gay conversion "therapy" was a thing of the past - an ill concieved and damaging chapter in LGBTQ history. After all, most medical and mental health organisations have long denounced this practice as being incredibly harmful. However, as Kristine Stolakis's powerful documentary, Pray Away, shows, as long as homophobia remains in the world, conversion therapy - in one form or another - will continue to exist. 
Click here for my review of Pray Away
Schumaker
Featuring archive material and insightful interviews, Schumaker is an intimate portrait of German Formula One racing driver, Michael Schumacher. 
The White Helmets
Amid the daily devastation of airstrikes on civilian targets in Syria, a group of brave and resilient first responders called The White Helmets risk their lives to rescue victims from the rubble.  
Click here for my review of The White Helmets
The Social Dilemma
What are the consequences of our growing dependence on social media? Do these platforms help us to stay informed and connected? Or are they the lucrative tools of manipulative technology companies - companies that are in the business of selling their users?
To varying degrees, I think we all know the answer to this question. Concerns about privacy and the use of personal data are far from new. What we have lacked, perhaps, is a call to action. Enter The Social Dilemma. Jeff Orlowski's documentary takes us on a disturbing journey through the evolution of social media.
Click here for my review of The Social Dilemma
The Edge Of Democracy
Another of my favourite documentaries from 2019, Petra Costa's The Edge Of Democracy is a stunning film that explores the personal and the political and examines a citizen's relationship to their own democracy in a moment of political crisis.
Click here for my review of The Edge Of Democracy
Athlete A
Athlete A examines the horrific sexual abuse of hundreds of young athletes by USA Gymnastics (USAG) team doctor, Larry Nassar. Bonni Cohen and Jon Shenk's powerful film follows the incredible individuals - including a truly courageous group of survivors, Indianapolis Star reporters, police officers and lawyers - working to hold USAG and Nassar accountable.
Click here for my review of Athlete A
Coded Bias
During her first year at MIT Media Lab, Joy Buolamwini took a class in Science Fabrication. The class involved the creation of technology inspired by science fiction. Buolamwini decided to build a mirror that would motivate her in the morning. She called her concept the Inspire Mirror.
The mirror needed computer vision software to project another image onto Buolamwini's face (something like a social media filter). Unfortunately, the project did not work - the software just would not recognise her face. Investigating the problem, Buolamwini made a startling and disturbing discovery. Only when Buolamwini, an African American woman, wore a white mask did the software recognise the existence of a face. 
Examining Buolamwini's work, Coded Bias asks two critical questions. What does it mean when artificial intelligence (AI) governs our liberties? And, what are the consequences for the people AI is biased against? 
Click here for my review of Coded Bias
Roll Red Roll
Roll Red Roll is a powerful and devastating account of the assault of a teenage girl at a party in Steubenville, Ohio. She was brutally attacked and humiliated by members of the town's beloved high school football team.
The case would garner national (and international) attention thanks to the social media evidence uncovered by crime blogger, Alexandria Goddard. She discovered an incredible number of posts about the incident. Police would go on to find 400,000 text messages and hundreds of tweets. 
The shocking messages and videos that we see in Schwartzman's documentary raise powerful and chilling questions - not only about the rapists themselves, but also about the collusion of teen bystanders, teachers, parents and coaches who protected them and sought to discredit the victim.
As journalist Rachel Dissell asks in the film: "is this football town putting its daughters at risk, by protecting its sons?"
Click Here For My Review Of Roll Red Roll
My Octopus Teacher
I didn't know what to expect from Pippa Ehrlich and James Reed's Netflix documentary, My Octopus Teacher. Was this a nature doc about cephalopods? If so, what's with the 'teacher' part? What lessons will this octopus share?
Intrigued, I began to watch… and all became clear. My Octopus Teacher is not the traditional nature film as we have (thank you Sir David Frederick Attenborough) come to expect. No, this is a beautiful story about love and the healing power of connection. 
Click here for my review of My Octopus Teacher
Metallica: Some Kind Of Monster
While making their 1996 film, Paradise Lost: The Child Murders at Robin Hood Hills, directors Joe Berlinger and Bruce Sinofsky got to know the members of heavy metal band, Metallica. Inspired by the story of the West Memphis Three, Metallica allowed Berlinger and Sinofsky to use their music for free - something they had never done before. The directors then began to discuss a documentary project with the band.
The project became Metallica: Some Kind Of Monster - one of the most interesting and insightful music documentaries ever made. The film begins in the aftermath of the departure of bassist, Jason Newsted, and follows the remaining band members as they try to keep Metallica together. We join them in a series of therapy sessions where they face their issues. 
Icarus
When Bryan Fogel decided to investigate doping in sports, he had no idea where his journey would lead. An amateur bike racer, Fogel's initial plan was to dope himself, observe the changes in his performance, and see if he could evade detection. 
In order to achieve this goal, Fogel enlisted the help of renegade Russian scientist, Dr. Grigory Rodchenkov, a senior figure in his country's "anti-doping" programme. Over dozens of Skype calls, urine samples, and self-administered hormone injections, Fogel and Rodchenkov grew closer - despite shocking allegations that place Rodchenkov at the center of Russia's state-sponsored Olympic doping programme.
Click here to read my review of Icarus
Strong Island
Strong Island chronicles the arc of a family across history, geography and tragedy - from the racial segregation of the Jim Crow South to the promise of New York City; from the presumed safety of middle class suburbs, to the maelstrom of an unexpected, violent death. 
I defy anyone not to be gripped by Yance Ford's documentary. Within minutes, I certainly was. While films exploring racism and injustice are (sadly) far from rare, this feels different. Strong Island's raw emotion and intensity (driven by Ford's uncompromising to camera interviews) make for an incredibly powerful, thought-provoking and deeply moving documentary.
Click here for my review of Strong Island
Blackfish
In the summer of 2010, Dawn Brancheau was killed at Orlando's SeaWorld marine park. Her killer was the 12,000 pound orca called Tilikum that Brancheau - an extremely experienced trainer - had helped train and had performed with for years.
The tragedy did not sit well with director Gabriela Cowperthwaite. "Something wasn't right," she recalls. "Why would a highly intelligent animal attack its trainer – in effect, bite the hand that feeds it? I set out to understand this incident not as an activist, but as a mother (who had just taken her kids to SeaWorld) and as a documentary filmmaker (who can't let sleeping dogs lie)."
Click here for my review of Blackfish
13th
13th starts by addressing a truly stunning statistic. The US - often called the land of the free - has the highest incarceration rate in the world. Even more shocking is the fact that one in three black males in America will go to prison at some point during their lives. That's compared to one in 17 white men.  
Ava DuVernay's documentary looks at what lies behind this discrepancy. A series of fascinating experts and academics explain how, after years of fighting for freedom and equality, black communities are still waiting for change.
Click here for my review of 13th.
Evelyn
Evelyn is a powerful and deeply moving documentary about suicide and its lasting impact on the family and friends left behind. This film is both a deeply personal story and a movie that inspires wider discussion of an important issue that is still considered taboo.
Click here for my review on Evelyn
American Murder: The Family Next Door
In 2018, 34-year old Shanann Watts and her two young daughters, Celeste and Bella, went missing in Frederick, Colorado. Their shocking and heartbreaking story made headlines around the world. 
In American Murder: The Family Next Door, director Jenny Popplewell uses archive footage to piece together what happened to Shanann (who was pregnant at the time with a baby boy called Nico) and her daughters. Social media posts, law enforcement recordings, text messages and never-before-seen home videos are used to chart a disintegrating marriage and reveal a chilling and horrific crime. 
Click here for my review of American Murder: The Family Next Door
Virunga
Eastern Congo's Virunga National Park is one of the most beautiful and biodiverse places on Earth. It is also home to the planet's last remaining mountain gorillas. Director Orlando von Einsiedel's powerful documentary follows a small and embattled team of park rangers - including an ex-child soldier turned ranger, a caretaker of orphan gorillas and a dedicated conservationist - who protect this UNESCO world heritage site from armed militia, poachers and the dark forces struggling to control Congo's rich natural resources. 
Tell Me Who I Am
Ed Perkins's powerful and disturbing documentary,Tell Me Who I Am, is best watched with as little prior knowledge as possible. This is a film about both a disturbing secret and an incredible journey upon which two brothers embark.
Click here for my review of Tell Me Who I Am
Shirkers
In 1992, teenager Sandi Tan shot her first movie in Singapore with the support of her friends and her mentor, Georges, who later absconded with all of the footage. 20 years later, the 16mm footage reappears, inspiring Tan - now a novelist living in Los Angeles - to solve the mystery of what happened to her film and to explore the power and potential of creativity.  
Disclosure
Disclosure explores transgender depictions in film and television, revealing how Hollywood simultaneously reflects and manufactures society's deepest anxieties about gender. Leading trans thinkers and creatives - including Laverne Cox, Lilly Wachowski, Yance Ford, MJ Rodriguez, Jamie Clayton and Chaz Bono - share their experiences, reactions and resistance to some of Hollywood's most beloved moments.
Click here for my review of Disclosure
Pelé
David Tryhorn and Ben Nicholas's documentary examines the incredible football career of Brazil's Edson Arantes do Nascimento - otherwise known as Pelé. While it doesn't quite delve deep enough into his story, the documentary is a fascinating reminder of his talent and impact.
Made You Look
The gripping story of the largest art fraud in the history of the US began when a woman walked into a New York Gallery with a stash of unknown masterworks. Made You Look explores whether the answer to this mystery has something to do with a maths professor based in Queens...
Crack: Cocaine, Corruption & Conspiracy
Chapter by devastating chapter, Stanley Nelson's compelling Netflix documentary, Crack: Cocaine, Corruption & Conspiracy, examines the shadowy origins and destructive impact of crack cocaine in America.
Click here for my review of Crack: Cocaine, Corruption & Conspiracy
Crip Camp
There is a moment, about 14 minutes into Nicole Newnham and Jim LeBrecht's Netflix documentary, Crip Camp, when a young woman asks a group of people what they would like for dinner. Options include chicken parmesan and lasagne.
We never find out what meal is eventually chosen. All of our attention is focused on 23 year old camp counsellor, Judy Heumann. She is in control but inclusive, kind but insistent, firm but patient. Her voice soars over the collective hubbub - demanding to be heard.
In this moment, we understand that Crip Camp is far more than just a charming and nostalgic tale of life at a ramshackle camp for teenagers with disabilities.
Click here for my review of Crip Camp
Amy Tan: Unintended Memoir
I love Amy Tan's writing and I love James Redford's documentary about the novelist (his last film before he very sadly died in 2020). The film features intimate interviews with Tan and wonderful archive photographs and home video. The impact of her career is put into context thanks to the recollections of writers Kevin Kwan, Isabel Allende, Dave Barry and Ronald Bass; actors from The Joy Luck Club (including Lisa Lu, Rosalind Chao, Tamlyn Tomita and Kieu Chinh); friends and family.  
Mucho Mucho Amor
Every day for decades, Walter Mercado - iconic, gender non-conforming astrologer - mesmerized 120 million Latino viewers with his extravagance and positivity. Then he vanished from the public eye.  Cristina Costantini and Kareem Tabsch's film is gripping and life affirming - a documentary with heart to spare. 
Click here for my review of Mucho Mucho Amor
Sherpa
In 2013, relations between those wishing to climb Mount Everest and the Sherpas who organise and manage their journey soured. An ugly brawl then erupted at 21,000ft. Determined to explore the cause of this incident, a group of filmmakers - led by director Jennifer Peedom and cinematographer / high altitude director Renan Ozturk (the subject of superb climbing documentary, Meru) - set out to make a gripping documentary about the 2014 Everest climbing season, from the Sherpa's point of view.
The crew joined Himalayan climbing veteran, Russell Brice, and his team of 25 Sherpas. They intended to focus on Brice's Sherpa leader, Phurba Tashi, as he attempted a world record breaking attempt to summit Everest for the 22nd time. This is not what happened.
At 6.45am on 18th April, 2014, a 14 million ton block of ice crashed down onto the climbing route through the Khumbu Icefall, killing 16 Sherpas. It was the worst tragedy in the history of Everest.
Click here to read my full review of Sherpa
Dream/Killer
I am a big fan of true crime docs and Andrew Jenks's film Dream / Killer is one I would recommend. In 2005, Ryan Ferguson was convicted and sentenced to 40 years in prison for a crime he did not commit. There was no physical evidence connecting him to the murder of Columbia Daily Tribune's sports editor, Kent Heitholt. Instead, the case against him was based on a confession two years after the crime by Charles Erickson who, after having a disturbing dream, thought he and Ryan may have been involved.
Thankfully, Ryan's parents did not give up on their quest to prove his innocence - mounting an impressive campaign of detective work and activism in the face of a deeply problematic legal system. 
The Great Hack
Karim Amer and Jehane Noujaim's unsettling documentary looks at how a data company named Cambridge Analytica came to symbolise the dark side of social media in the wake of the 2016 US presidential election, as uncovered by journalist Carole Cadwalladr.
The Last Days
James Moll's documentary, The Last Days, follows the stories of five Hungarian Jews during the Holocaust. Focusing on the last year of World War II, the film examines the devastating reality of life in the Nazi concentration camps. It is, of course, horrific. However, thanks to the incredible strength and hope that lies at the heart of these stories, The Last Days is also a deeply moving and inspiring experience.
Reversing Roe
In Reversing Roe, filmmakers Ricki Stern and Annie Sundberg present a deeply unsettling look at the state of abortion and women's rights in America. Drawing from a wealth of historical footage, the film charts the period leading up to the Roe decision - and documents the opposition that has followed ever since. 
Click here for my review on Reversing Roe
City Of Joy
City of Joy follows the creation - by Congolese doctor, Denis Mukwege, The Vagina Monologues playwright, Eve Ensler, and Congolese human rights activist, Christine Schuler-Deschryver - of a safe haven for women survivors of the violent conflict in Eastern Congo.
At its core, Madeleine Gavin's film is a story of profound and inspirational resilience - a powerful portrait of the phenomenal strength of the human spirit. Despite the horror, there is tremendous vitality here. City of Joy is an incredible story of hope.
Click here for my review of City Of Joy
Knock Down The House
At a moment of historic volatility in American politics, four women decide to fight back, setting themselves on a journey that will change their lives and their country forever. Without political experience or corporate money, they build a movement of insurgent candidates challenging powerful incumbents in Congress. Their efforts result in a legendary upset.
Click here for my review of Knock Down The House
What Happened? Miss Simone
Using never-before-heard recordings, archive footage, diary entries and interviews with family and friends, Liz Garbus's documentary explores the life of legend Nina Simone.
Click here for my review of What Happened? Miss Simone
Joan Didion The Center Will Not Hold
Literary icon, Joan Didion, reflects on her remarkable career and personal struggles in this intimate documentary directed by her nephew, Griffin Dunne. 
Becoming
Becoming follows Michelle Obama as she embarks upon a 34-city tour, promoting her book of the same name. Nadia Hallgren's film gives the former First Lady a powerful platform on which to spread an inspiring message of hope.
This is a carefully managed yet still powerful, behind the scenes look at Obama's life during her book tour. We see her at various concert style events being interviewed by the likes of Oprah, Reese Witherspoon, Gayle King and Stephen Colbert in front of huge, adoring crowds. Meanwhile, we see her at book signings and community events.
Becoming also features more intimate moments - such as those between Obama and her mother, Marian, her brother Craig and her two daughters, Malia and Sasha.
Click here for my review of Becoming
The Death and Life of Marsha P. Johnson
David France examines the death of transgender activist, Marsha P. Johnson. Found dead in the Hudson River, her death was first ruled as a suicide. However, many believe that she was murdered.
Audrie & Daisy
Directed by Bonni Cohen and Jon Shenk, Audrie & Daisy, is shocking, heartbreaking, enraging and yet also remarkably inspiring.  Audrie and Daisy endured sexual assault and, later, vicious bullying - much of it via social media. The fact that this is the world we now inhabit (and that this behaviour is acceptable to some) is just terrifying. This is a tough watch but an essential one. These are voices that need to be heard, stories that need to be told.
Click here for my review of Audrie & Daisy
Amanda Knox
There is nothing new in Netflix original documentary, Amanda Knox. There are no stunning revelations about Meredith Kercher's murder or the prolonged case against Amanda Knox and Raffaele Sollecito. In addition, Rod Blackhurst and Brian McGinn's film offers no real insight into Knox's experience of prison nor does it shed much light on her life post release.
What this documentary does offer, however, is an opportunity to hear Amanda Knox talk at length about what happened in Perugia. This - alongside testimony from Sollecito and Mignini and other key players involved in the case - is undeniably fascinating and disturbing.
Click here for my review of Amanda Knox
Chasing Coral
After the success of Chasing Ice, his stunning film about photographer James Balog's Extreme Ice Project, director Jeff Orlowski turned his attention to the ocean. He wanted to raise awareness of and document the disappearance of the world's coral reefs.
The result is Chasing Coral - an incredible, beautiful and devastating film. As with Chasing Ice, the behind the scenes journey following those involved in the environmental project is just as fascinating as the story of the coral itself.
Click here for my review of Chasing Coral
The Dawn Wall
The Dawn Wall is an engaging and moving documentary about climber Tommy Caldwell. This documentary is both immersive (thanks to the stunning cinematography from Brett Lowell) and accessible.
Josh Lowell's film is made all the more enjoyable thanks to Caldwell's endearing charm. He has led an incredible life (with many ups and downs) and we see how these events have impacted him - inspiring him to attempt a truly astonishing feat.
Click here to read my review of The Dawn Wall
A Secret Love
A Secret Love tells the incredible love story of Terry Donahue and Pat Henschel, whose relationship spans nearly seven decades. Terry played in the women's professional baseball league, inspiring the hit movie A League Of Their Own. The documentary follows Terry and Pat back to when they met for the first time, through their professional lives in Chicago, coming out to their conservative families and grappling with whether or not to get married.
Click here for my review of A Secret Love
Get Me Roger Stone
Daniel DiMauro, Morgan Pehme and Dylan Bank profile Roger Stone, the controversial political lobbyist who was nicknamed the "sinister Forest Gump of American politics" and who has allegedly been involved in a string of scandals from Watergate to the election of Donald Trump.
Screwball
Billy Corben's entertaining documentary examines the key players in the doping scandal that rocked Major League Baseball in 2013.
Into The Inferno
Werner Herzog's entertaining and visually stunning film explores the meaning, magnificence and mythical power of volcanoes. The legendary director takes us on an incredible and far reaching journey, starting with an insight into the world of volcanologist, Clive Oppenheimer.
Click here for my review of Into The Inferno
Best Worst Thing That Ever Could Have Happened
Stephen Sondheim's musical, Merrily We Roll Along, opened its doors in November 1981. However, after a series of scathing reviews, the show closed after just 16 performances. 
In the time since, the score to Merrily We Roll Along has become beloved to Sondheim fans. Lonny Price's documentary takes us behind the scenes of the production - featuring archive footage of the rehearsals and interviews with the cast, Sondheim and the musical's director,  Harold Prince.
Rolling Thunder Revue
Martin Scorsese chronicles America in 1975 by way of an eccentric Bob Dylan concert tour. The documentary contains archive footage and interviews with those involved in the tour - including Dylan himself.
Beware, all is not as it seems. The film is a playful, sometimes frustrating mix of fact and fiction. The point of it all is, at times, unclear. 
What I took from the documentary was that we can all too easily get caught up wanting to know more and more information about a musician, an actor, a tour or an event. However, what really matters is the work - the music, the performance. This is where our focus should lie.
Fyre: The Greatest Party That Never Happened
A passing interest in a failed music festival transformed into a feeling of acute anxiety as I watched Chris Smith's gripping documentary, Fyre: The Greatest Party That Never Happened.
The film gives us a behind the scenes look at the infamous unraveling of the Fyre music festival. Created by Billy McFarland and rapper Ja Rule, Fyre was promoted as a luxury music festival on a private island in the Bahamas. Guests arrived to discover that the reality was far from the promises.
The very worst of humanity is on display here, alongside a nightmarish level of mismanagement, disorganisation and sheer chaos. It makes me feel uncomfortable just thinking about the shocking and disgraceful events that took place.
Click here for my review of  Fyre: The Greatest Party That Never Happened
Over to you…
I really hope that this list offers you some interesting viewing options. Have you seen any of these films? If so, what did you think?
Meanwhile, if you have any other recommendations, please let me know! You can find me on Twitter @500DaysOfFilm :)