500 Days Of Film Reviews Netflix Documentary, Audrey & Daisy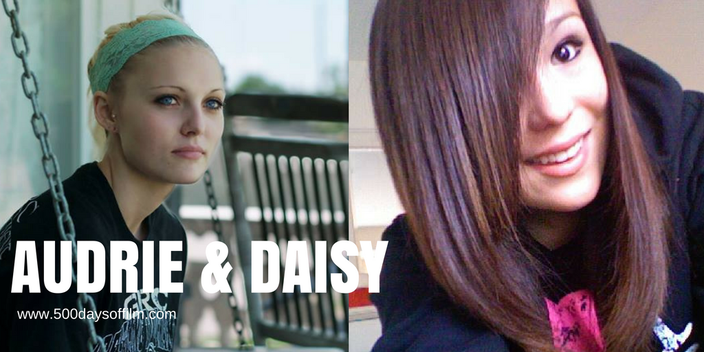 When Daisy Coleman was just 14 years old, she and her friend Paige were invited to a house party by a friend of her older brother. 
Both girls had been drinking and were encouraged by the boys (aged between 15 and 18) to consume yet more alcohol. Paige was then taken into a bedroom and raped. Daisy blacked out and was sexually assaulted.
After the attack, the three boys dumped an unconscious Daisy outside her home in Maryville, Missouri. Daisy's mother, Melinda, found her daughter the next morning - her hair had frozen to the ground.  
However, the horror had only just begun for Daisy and her family.
There was a video of the assault, her attacker denied rape (claiming that they had consensual sex) and Daisy became a victim all over again - this time of cyber-bullying and public shaming.
Meanwhile, nine months later, in Saratoga, California, 15-year old Audrie Pott drank too much at a party and blacked out. Two boys that she had known for years carried her upstairs where they proceeded to undress her, cover her in obscene words and drawings (using a permanent marker pen) and sexually assault her.
The boys took photos of Audrie in this state - photos that were then shared around her school. When Audrie realised just what had happened to her she fell into a state of despair.
Eight days later, she committed suicide. 
Is It Any Good?
Directed by Bonni Cohen and Jon Shenk, Netflix documentary, Audrie & Daisy, is shocking, heartbreaking, enraging and yet also remarkably inspiring.
It is a tough watch but an essential one. These are voices that need to be heard, stories that need to be told.
As if sexual assault wasn't horrendous enough, both Audrie and Daisy had to endure vicious bullying - much of it via social media. The fact that this is the world we now inhabit (and that this behaviour is acceptable to some) is just terrifying.
Thank goodness that Audrie and Daisy's families had the law to turn to for justice.
Wait… no, the legal system also failed them. While the girls were victim shamed and ostracized - their lives torn apart - the boys who had committed such abhorrent acts were protected by the law and their community.
In several to camera interviews, Nodaway County's Sheriff, Darren White, makes some outrageous statements about Daisy's case. I could hardly believe what I was hearing. Watch, it will make your blood boil. 
Sadly, Audrie and Daisy's stories are not uncommon in today's society - such assaults are becoming an epidemic. Cohen and Shenk's film explores the growing desire to expose this issue via communication and education. 
It is both uplifting and inspiring to see Daisy emerge as a powerful advocate for victims of sexual violence. Her resilience is humbling. Undeniably damaged by her experience, she is wise beyond her years. At the end of the documentary she urges people to speak out:
"You can't ignore an army of voices. I would like to see people stand up for others who have been assaulted - because the words of our enemies aren't as awful as the silence of our friends."  

Random Observations
Bonni Cohen and Jon Shenk have been making documentary films for 20 years. However, no film subject has struck them as personally as the stories of Audrie and Daisy. 
In a statement on the film's website, the directors explain that as "parents of teenagers ourselves, we were deeply troubled by the frequency of sexual assaults in high schools across the country. But, even more shocking and new to us were the pictures and videos posted online – almost as trophies – by teens that have committed and witnessed these crimes. The online forum for sharing these images and comments has become the new public square of shame for our adolescents…
"During the making of Audrie & Daisy, we grew close to the families that participated in the film and were continually inspired by their resilience... We are also excited that the film will be accompanied by a robust educational and outreach campaign. Talking to survivors, their families, and their communities, we found hope amid the disturbing epidemic of sexual violence."
Daisy Colemen is now on the Board of PAVE (Promoting Awareness Victim Empowerment).
Have you seen Audrey & Daisy?
If so, what did you think of this documentary film? Let me know by leaving a comment in the box below.