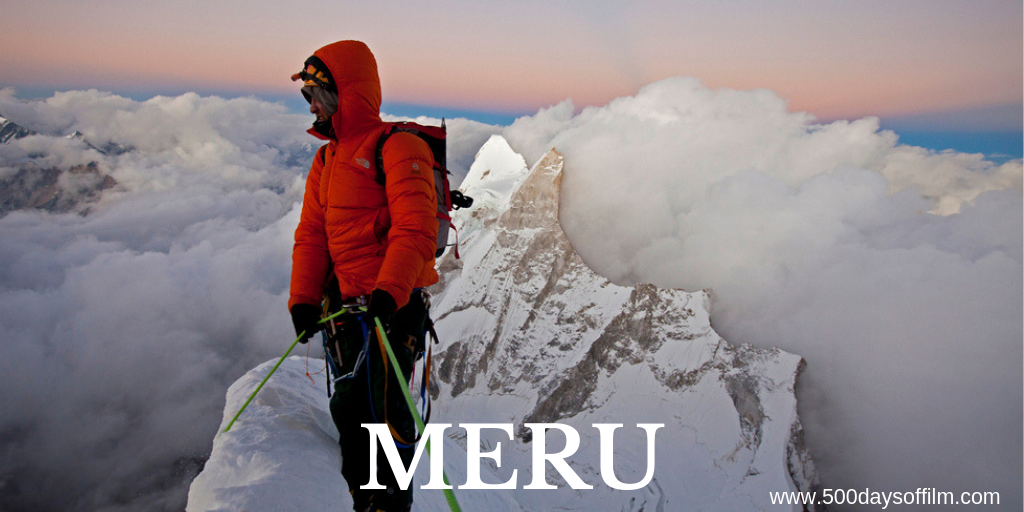 By the time I watched Meru, I felt like something of a veteran of climbing documentaries. I had started to recognise some of the key climbing techniques and I had begun to understand the meticulous planning that has to take place before a high altitude climbing expedition can begin.
However, Meru still took me by surprise.
Directed by Jimmy Chin and Chai Vasarhelyi (the filmmaking team behind Free Solo), Meru tells the story of three climbers - Conrad Anker, Jimmy Chin and Renan Ozturk - and their attempt to summit the Shark's Fin on Mount Meru. Located at the headwaters of the Ganges River in Northern India, the Shark's Fin has seen more failed attempts by experienced climbers over the past 30 years than any other ascent in the Himalayas.
It is hard to overemphasise just how challenging this climb is - the 21,000-foot mountain features many overwhelming obstacles. Only after carrying over 200 pounds of gear up 4,000-feet of technical, snowy, mixed ice and rock climbing, do you reach the Shark's Fin itself. The Fin comprises 1,500 feet of smooth, nearly featureless granite. There are few pre-existing fissures, cracks or footwalls. It is simply a straight sheet of overhanging rock.
Jon Krakauer, the bestselling author of Into Thin Air, explains the overwhelming nature of the endeavour in the documentary. "You can't just be a good ice climber," he explains. "You can't just be good at altitude. You can't just be a good rock climber. It's defeated so many good climbers and maybe will defeat everybody for all time. Meru isn't Everest. On Everest you can hire Sherpas to take most of the risks. This is a whole different kind of climbing."
The story begins in October 2008, when Anker, Chin and Ozturk arrive to take on Meru. However, what was meant to be a seven day trip, turned into a 20 day endurance test in sub-zero temperatures. What happens is stunning, moving, shocking and inspiring. Chin and Vasarhelyi explore the past of each climber to understand why they would want to tackle such a dangerous and seemingly impossible feat. 
As a result, Meru is both a gripping account of a remarkable climbing expedition and also the story of an incredible friendship. "As someone who isn't particularly comfortable with heights, it was important for me that Meru be more than just about mountain climbing," says Vasarhelyi. "It's a truly personal story, one about pursuing one's passions, though in this case those passions are unusually extreme."
Vasarhelyi has another reason for her interest in the personal side of this story. "Being married to Jimmy, I'm especially interested in what the female characters in the story - the ones back home, often wringing their hands - had to say," she explains. "How did they tolerate the risks these climbers, their closest family members, take as part of their professional careers? What drove their lives and what kept them steady?"
Don't Drop The Camera...
Thanks to the photography from both Chin and Ozturk, Meru is incredibly immersive. "I've spent much of my life in the mountains as both a climber and as a professional photographer," says Chin. "I always wanted to make a film that gave an audience the visceral experience of going on a difficult alpine big wall climb. I hoped to give people a glimpse of the stakes, the risks and sacrifices involved."
However, Chin also wanted to show the reality of following such extreme passions. "It can be fraught with internal conflict, doubt and intractable compromise," he explains. "I often ask myself: where do you draw the line between following your heart and your responsibility to others?"
Meanwhile, the balancing act of climbing and filming is also fascinating. "When you're making a movie on a mountain, the camera is an added appendage; one you often wish you didn't have to carry," says Chin. "While shooting Meru, it was a real struggle just to keep the two small cameras we carried from getting destroyed. I always say the rules of filming on a mountain climb are fairly straightforward. Shoot whenever you can. Don't hold up the team. And don't drop the camera."
I have watched a number of incredible films on my journey through the world of climbing documentaries. Meru has stayed with me more than most - it is both a gripping account of a remarkable climbing expedition and also the tale of an incredible friendship.
Climbing Documentary Recommendations
If you enjoyed Meru, I would also recommend: