500 Days Of Film Reviews Netflix Original Documentary, Amanda Knox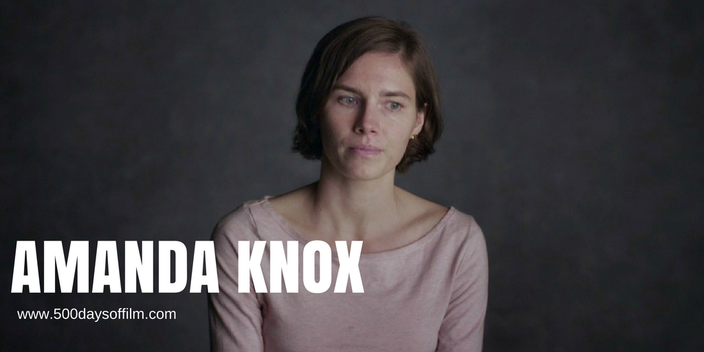 Meredith Susanna Cara Kercher was a 21 year old British exchange student who, on 1st November 2007, was brutally murdered in a house in Perugia, Italy. 
Kercher's roommate, Amanda Knox, a 20 year old student from Seattle, had spent that night with her new boyfriend, Raffaele Sollecito. On returning to her house the next morning, she noticed that something was wrong - very wrong.
Knox's subsequent behaviour raised the suspicions of public prosecutor, Giuliano Mignini. He became convinced that Knox and Sollecito had murdered Kercher. 
And so began a case that would captivate the world. A case that would see salacious headline after salacious headline. A case that would put two young people in jail for a crime they did not commit. 
Is It Any Good?
There is nothing new in Netflix original documentary, Amanda Knox. There are no stunning revelations about Meredith Kercher's murder or the prolonged case against Amanda Knox and Raffaele Sollecito.
In addition, Rod Blackhurst and Brian McGinn's movie offers no real insight into Knox's experience of prison nor does it shed much light on her life post release.
What this documentary does offer, however, is an opportunity to hear Amanda Knox talk at length about what happened in Perugia. This - alongside testimony from Sollecito and Mignini and other key players involved in the case - is undeniably fascinating.
It is important to note that Blackhurst and McGinn's documentary is not called The Killing Of Meredith Kercher or A Murder In Perugia. It is called Amanda Knox. This highlights the filmmakers' desire not to solve a case, but to reveal the real Amanda Knox.
Is the film successful? It is hard to tell.
One thing is certain, Knox wants us to see her as a victim. She is filmed without make-up and with short, rather lank hair. Years in the public eye have taught her (in the harshest way imaginable) that it is not just what you say that matters, it is how you look.

Amanda Knox is a tough, often shocking film. There is distressing footage of the bloody crime scene, upsetting recordings of Knox's police interviews and unbelievable expert testimony that reveals the incompetence surrounding Mignini's case against Knox and Sollecito. 
Also shocking is the way in which the events were reported by the world's media. Early in the film, we are introduced to Nick Pisa, a freelance reporter for The Daily Mail. Pisa was given incredible (and, arguably, improper) access to the police investigation.
Nine years on, Pisa cannot hide his glee at netting this story. His to camera interviews are jarringly inappropriate and highlight the parasitic and unconscionable nature of tabloid reporting (I cannot bring myself to call this journalism). It feels truly sickening.
In March 2015, Amanda Knox and Raffaele Sollecito were finally found not guilty of the murder of Meredith Kercher by Italy's Supreme Court of Cassation. In September 2015, the Court slammed the "glaring errors", "investigative amnesia" and "guilty omissions" of the original murder case and conviction.
Beyond their initial jubilation, Blackhurst and McGinn's film shows how Knox and Sollecito will forever carry the burden of what happened to them. They spent four years in prison (Sollecito spent six months of that time in solitary confinement) and prying eyes have violated every aspect of their lives.
How different things could have been if the police had focused on the more likely suspect - Rudy Guede. How chilling to think that Guede (who was found guilty of murder and sexual assault) became a side note in Meredith's murder because he just didn't fit in with Mignini and the media's sensational and misguided theories.
Random Observations
The Italian legal system displayed shocking incompetence and deeply troubling investigative practices in this case. However, it is of course far from the only country to have seen significant miscarriages of justice.
This film made me (once again) marvel at the poignant composure and grace of Meredith Kercher's family. 
Have you seen Netflix documentary Amanda Knox?
If you have, what did you think about this film. I would love to know. Do leave me your thoughts in the box below.