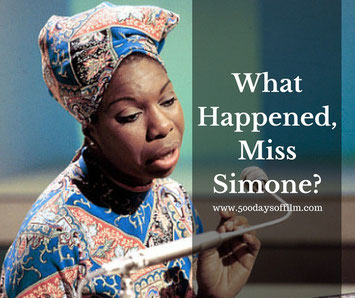 500 Days Of Film Reviews What Happened, Miss Simone? And Discovers The Remarkable Life Story Of Iconic Musical Talent, Nina Simone
Using never-before-heard recordings, archive footage, diary entries and interviews with family and friends, this documentary film explores the life of a legend.
The film looks at how, aged just four, Simone's piano playing was already attracting attention and how, against all odds, Simone (who was born Eunice Kathleen Waymon) became an extremely accomplished classical pianist. 
Featuring her best known (and loved) songs, the documentary explores Simone's life from when she was first discovered in New York, to the point at which she became deeply involved with America's civil rights movement. 
Nina narrates a lot of her own story (via old recordings and video footage) and we gain access to her deepest thoughts and fears from entries from her personal diary.
The documentary takes us behind the scenes to show us the joy and the darkness behind what happened to Miss Simone.
Is It Any Good?
What Happened, Miss Simone? begins with a sense of heightened anticipation. An audience excitedly awaits the entrance of singing legend, Nina Simone. The atmosphere becomes charged when the icon walks on stage.
However, all is obviously not well. In the incredibly uncomfortable moments that follow, I realised that I was looking at a deeply troubled human being. 
And, just like that, I was hooked. I wanted to know what had happened to Miss Simone - and why did she look so haunted?
What Happened, Miss Simone? is a fascinating film from documentary director, Liz Garbus (Bobby Fischer Against The World). 
Nina Simone really did live a remarkable life. The documentary reminds us (as if we could ever forget) just what a voice she had - so rich and so powerful. Hear it anywhere and you know instantly who is singing. 
The film also highlights her phenomenal skills as a pianist. Her talent is truly breathtaking. Nina's hands fly over the keys at such an amazing speed. She hardly seems to notice - her ability is effortless.
However, as is the case with many artistic geniuses, Nina Simone's wonderful musical abilities belied her troubled personal life. 
She had a violent and tempestuous relationship with her husband and manager, Andrew Stroud. Remarkably we hear from both parties - via old video footage and Nina's deeply disturbing diary entries. 
Simone's marriage deteriorated even further when she became involved in American civil rights. She became a figurehead for the movement - using her formidable strength to inspire others. As the documentary explains, she was a revolutionary and here she finally found a purpose for the stage.  
Simone displays incredible courage at this time. She is fierce and passionate despite the danger to herself and the fact that her controversial views (she advocated violence in the fight for civil rights) would inevitably damage her career.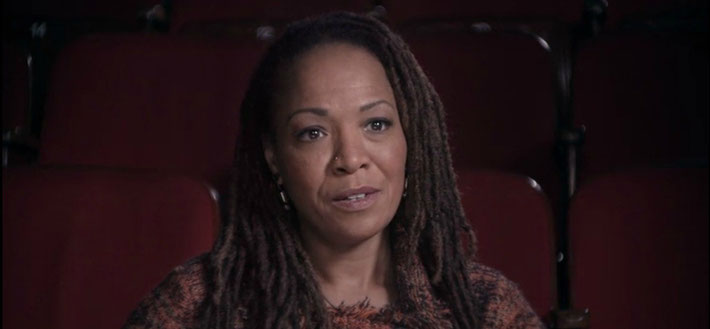 Caught in the middle of Nina's destructive marriage, was her young daughter, Lisa. This is as much Lisa's film as much as it is her mother's. She tells her story in a remarkably brave and forthright way.
And it is utterly heartbreaking. We learn how Nina, who was (at first) determined to be a good mother, later became unbearably cruel and abusive to her daughter.
In the latter part of this compelling documentary, we begin to understand why Simone was so emotionally unpredictable. After the breakdown of her marriage, Nina Simone found herself in trouble. We see her in Paris performing grueling shows for a pittance. It is deeply sad to see. 
Nina's friends come to her rescue, persuade her to see a doctor and, as a result, she is diagnosed with bipolar disorder. While this diagnosis and the medication that Nina was prescribed caused its own problems (and I am not sure how much comfort it brought her daughter), Nina is brought back from the brink.
The film concludes with Nina's Simone's comeback. In a series of intimate concerts, Nina is an open, honest and vulnerable stage presence - a remarkably brave lady who lived a deeply troubled life but who will always be remembered for her phenomenal musical talent.
Random Observations
What Happened, Miss Simone was nominated for the 2016 Best Documentary Oscar. The film lost out to Amy, Asif Kapadia's documentary film about Amy Winehouse. Click here to read my review of Amy.
The title of this film was taken by an essay by Maya Angelou.
A feature film about the singer, Nina, is also due out this year. This film has already caused controversy - particularly for the casting of Zoe Saldana as Nina. The film has also been criticised for suggesting that Nina had a relationship with her manager, Clifton Henderson - something that Simone's family deny. 
Have you seen What Happened, Miss Simone? 
If you have, what did you think of this documentary? Do let me know, why not leave me a comment in the box below?