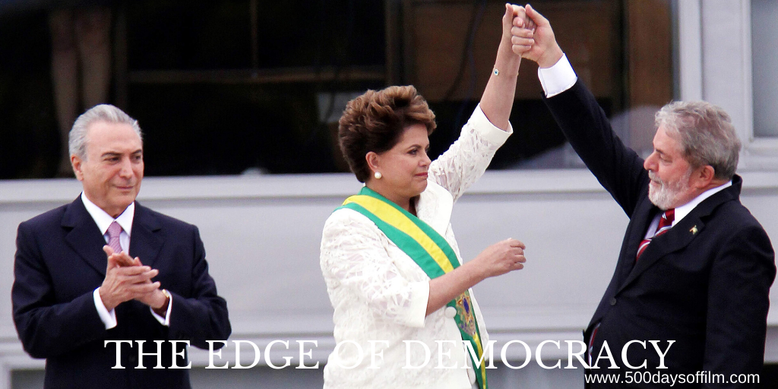 When director Petra Costa was a young girl, her mother would wear a t-shirt with a logo stating "Give Me Democracy Or Give Me Death". As a result, she grew up believing that democracy was her birthright - a precious political system achieved in Brazil thanks to a lifetime's fight against dictatorship by activists including her parents. 
Then in 2016, Costa started filming a protest calling for the impeachment of President Dilma (Brazil's first female president). She recorded thousands of people, dressed in the colours of the Brazilian flag, singing the national anthem. Some were asking for the return of the military, others wanted the imprisonment of anyone wearing the colour red.
Costa wasn't sure why she was filming, but instinctively she understood that this was a wake-up call - a warning about the ephemeral nature of democracy. Watching the crowds, a sentence came into her mind: "Brazilian democracy and I are almost the same age."
This sentence is repeated early on in The Edge Of Democracy - a film that explores the personal and the political and examines a citizen's relationship to their own democracy in a moment of political crisis.
From the moment that Costa decided to make this, her third, documentary feature, she plunged down a rabbit hole deep into a nightmare. Her film reflects this experience - do not expect a dry political doc full of stuffy talking heads. 
The Edge Of Democracy is cinematic in both visual style and scope - a film full of Shakespearean drama and Greek tragedy. The events are so complex, chaotic and disturbing that even US political drama, The House Of Cards, held up its hands and admitted that it just couldn't compete.
Meanwhile, this is a film about Brazil that, sadly, has many obvious parallels throughout the world. 2016 was, of course, a year full of global political trauma. For example, the controversial presidential election in the US and the shock vote for Brexit in the UK.
Like Costa, as events unfold, we become all too aware of the ephemeral nature of democracy. Something that we have perhaps taken for granted is now at risk and the lasting impact of this is terrifying to contemplate. 
Costa gained incredible access to many key Brazilian politicians while shooting The Edge Of Democracy. However, this was far from an easy thing to achieve. First the director gained access to Congress. She asked the senators there to help her arrange interviews with Brazil's ex-president Luiz Inácio Lula da Silva and its (then) current president, Dilma Rousseff.
The process took months and, for a long time, seemed to be getting nowhere. Thankfully, Costa's persistence eventually paid off when she found herself on a bus with a group of historians who were about to attend a seminar at the presidential palace with President Dilma. 
There, the director met the president for the first time. She gave Dilma a DVD of her first film (Elena) and asked if she would agree to an interview. Dilma consented but it still took around a year for a meeting to actually take place. 
Dilma's reluctance is understandable. Her political enemies were closing in and she was facing impeachment. However, as Costa reveals in The Edge Of Democracy, Dilma's charges were not actually for corruption. She was accused of a crime of fiscal manoeuvre - trying to hide the country's budget deficit. 
This was something that many Brazilian presidents had done before. A leaked telephone conversation featured in Costa's film reveals why Dilma was being prosecuted... and it is absolutely chilling. 
Brazilian politicians and influential businessmen needed to get rid of Dilma not because she was corrupt but because she was allowing a corruption investigation (Operation Car Wash)  to progress without presidential interference - and they were under threat as a result.
Costa admits that Dilma's presidency was not without significant flaws. However, she believes that there were no strong grounds for her impeachment and fears what implications this will have on her country's future. 
As I watched The Edge Of Democracy I experienced a painful sinking feeling. What happens to society when your vote doesn't count? When you think you have a say in the political future of your country and then realise that this is not actually the case - that people are making those decisions behind the scenes?
Costa's documentary shows us that democracy is indeed at risk. The question is, how do we get democracy back from the brink?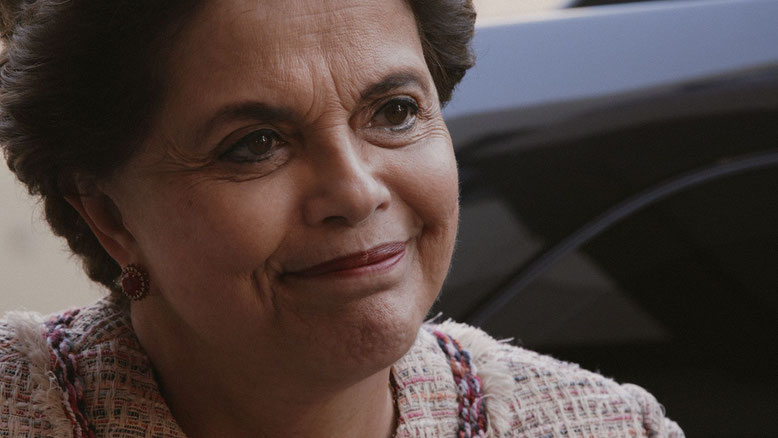 It is endlessly impressive that Costa managed to film the situation in Brazil - an incredible moment in the country's history - while it was happening. Her interviews with Dilma are fascinating. However, Costa felt that her first few meetings with the president were too formal.  
During her presidency, Dilma was often accused of being closed off. Costa understood that this was largely the result of past trauma - a similar trauma as that experienced by her own mother. Costa's empathy encouraged Dilma to let her guard down.
Indeed, Dilma and Petra Costa's mother had a lot in common. They were from the same city, they studied in the same school and they were imprisoned in the same prison during the time of Brazil's dictatorship. 
Despite these connections, the two had not met. In moving and enlightening scenes, Costa introduces her mother to Dilma in The Edge Of Democracy. In this moment we see Dilma finally opening up as the pair share an intimate moment of understanding. 
It is also here that Dilma makes a startling and tragic revelation - she did not want to become President.
This admission plays into The Edge Of Democracy's exploration of trauma. Trauma is of great interest and inspiration to Costa. Her first film, Elena, examines the trauma following the death by suicide of her sister. Her second film looks at the trauma and dilemmas of pregnancy. 
This film follows the trauma that occurs when democracy is under threat. Making The Edge Of Democracy was often overwhelming for Costa. She talks of waking up with nausea and of having to work on her film outside of Brazil in order to evaluate events with a clear head. 
Of course, the first step to overcome trauma is to retell. In the retelling you start to understand what has happened, process your experiences and, hopefully, move forward towards a more positive future. Costa hopes that this will be the legacy of The Edge Of Democracy.