500 Days Of Film Review Documentary Knock Down The House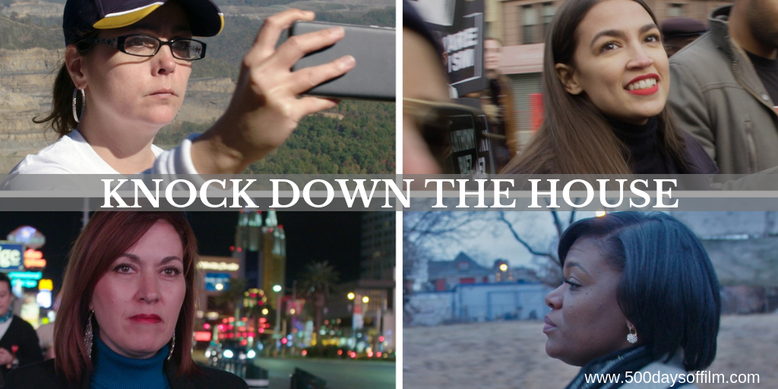 When tragedy struck her family in the midst of the financial crisis, Bronx-born Alexandria Ocasio-Cortez had to work double shifts in a restaurant to save her home from foreclosure. 
After losing a loved one to a preventable medical condition, Amy Vilela didn't know what to do with the anger she felt about America's broken health care system. 
Cori Bush was drawn into the streets when the police shooting of an unarmed black man brought protests and tanks into her neighbourhood. 
Paula Jean Swearengin was fed up with watching her friends and family suffer and die from the environmental effects of the coal industry.
At a moment of historic volatility in American politics, four women decide to fight back, setting themselves on a journey that will change their lives and their country forever. Without political experience or corporate money, they build a movement of insurgent candidates challenging powerful incumbents in Congress.
Their efforts result in a legendary upset.
Is It Any Good?
Knock Down The House is a fascinating, powerful and inspiring documentary about four fascinating, powerful and inspiring women. I loved every minute of this film and defy anyone to remain unmoved by these women's stories and the reasons - both personal and political - behind their decision to run for Congress.
Rachel Lears's vibrant and exciting documentary follows Alexandria Ocasio-Cortez, Amy Vilela, Cori Bush and Paula Jean Swearengin as, against all odds, they mount a campaign to remove established incumbents from seemingly entrenched positions. 
The four women do not have political connections, campaign experience or corporate backing. They know that their chances of success are slim, that they will be belittled and patronised. 
However, they also appreciate the power of the movement that they are a part of - a movement that may well be bigger than their own individual battles. As Alexandria Ocasio-Cortez says in the film, for one of them to make it through, one hundred have to try.
Underestimate these candidates (as many in the film do) at your peril. Knock Down The House reveals that they all have something that - win or lose - is far more powerful: genuine passion.
In deeply moving scenes, the documentary shows us how much they all care about and understand the issues facing their communities - how desperately they want the chance to make positive change. 
Of course, the journey is far from easy - we see the emotional toll it takes. Nonetheless, I hope that Knock Down The House inspires more people like Alexandria Ocasio-Cortez, Amy Vilela, Cori Bush and Paula Jean Swearengin to take a stand.
We need them now more than ever.
Random Observations
You can watch Knock Down The House on Netflix.
Knock Down The House won the audience award: US documentary at the Sundance Film Festival.
Have you seen Knock Down The House? If you have, what did you think of this documentary? Let me know in the comments section below or over on Twitter. You can find me @500DaysOfFilm.