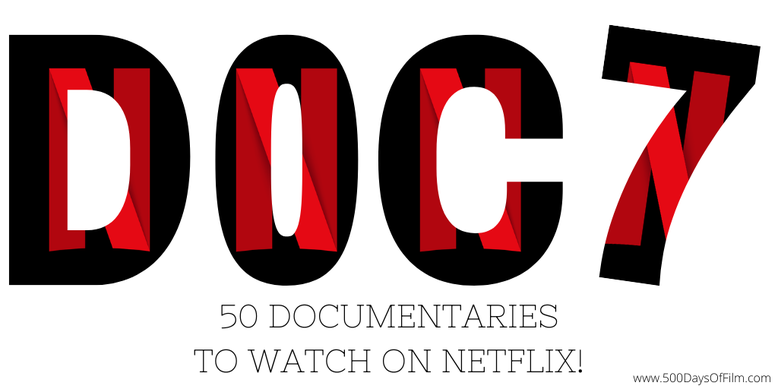 As cinemas close and many of us face the prospect of self isolation, I thought it might be helpful to make a list of some of the best documentaries to watch on Netflix. 
As strong as the platform's documentary game undoubtedly is, Netflix doesn't always make it easy to find its collection of non-fiction films. Even using the search term "documentaries" fails to reveal some truly superb docs.
As a result, I did some digging and came up with a list of 50 documentary feature films (I will also create a list of short docs). 
However, before we get stuck in, some ts and some cs: these documentaries are in no particular order and are all available to watch via Netflix in the UK at the time of writing. I will, of course, endeavour to maintain this list but many apologies if a film has been removed from the site. 
50 Documentaries To Watch On Netflix
American Factory 
In this Oscar-winning film, Julia Reichert and Steven Bognar look at what happens when a Chinese billionaire opens a new factory in an abandoned General Motors plant in Ohio. 
What sets American Factory apart - and what has stayed with me the most - is how the documentary tells many sides of this remarkable story. This is not just a tale of American workers in an American town. 
Click here for my review of American Factory
Hail Satan?
One of my favourite documentaries of 2019, Penny Lane's Hail Satan? is a gripping, entertaining and moving insight into contemporary Satanism. The film is also an inspiring and empowering exploration of how much you can achieve through non-violent activism. "We are not who you think we are," a representative of the Satanic Temple states at the beginning of the documentary - and no truer words could be said.  
Click here for my review of Hail Satan?
20 Feet From Stardom
You might recognise their voices but you may not know their names. 20 Feet From Stardom tells the remarkable story of the unsung backup singers behind some of the greatest musical legends of the 21st century. Morgan Neville's gripping film won the Oscar for best documentary in 2014 and it is easy to see why.
Click here for my review of 20 Feet From Stardom
The Edge Of Democracy
Another of my favourite documentaries from 2019, Petra Costa's The Edge Of Democracy is a stunning film that explores the personal and the political and examines a citizen's relationship to their own democracy in a moment of political crisis.
Click here for my review of The Edge Of Democracy
McQueen
Ian Bonhôte and Peter Ettedgui's film explores the life of fashion designer Alexander McQueen. The story they tell is both fascinating and deeply moving. Meanwhile, the film itself is a visually stunning experience. One of my favourite docs of 2018.
Faces Places
On paper, Faces Places seems like a strange concept. An octogenarian filmmaker tootles around the French countryside with a photographer in his thirties in a van that looks like a camera. Occasionally - and seemingly without a plan - they stop and take pictures of the people they meet. The images are then plastered on walls, barns, water towers and the like.
It shouldn't work but, thanks to the endearing relationship between icon of cinema, Agnes Varda, and the remarkable artist and photographer, JR, it does - it really, really does. The unlikely pair have a truly special chemistry.
Click here for my review of Faces Places
RBG
I expected RBG, Betsy West and Julie Cohen's documentary about Ruth Bader Ginsburg, to be fascinating. I expected it to be inspiring. However, I did not expect this film to be such an emotionally moving experience.
In these troubling times, a film about a person of quiet (but no less powerful) persistence, consistency and steadfast belief is both refreshing and motivating. It feels as if the world needs RBG now more than ever.
Click here for my review of RBG
Cartel Land
Cartel Land is a gripping and stunning documentary about the vigilantes, living either side of the Mexican/US border, who are fighting drug cartels. With incredible access, Matthew Heineman places himself at the heart of many dangerous situations. It makes for an extremely tough watch. We see the brutality of the situation from the front line and the film does not look away when violence erupts.   
Click here for my review on Cartel Land
Won't You Be My Neighbor?
Growing up in the UK, I started watching Won't You Be My Neighbor knowing more about director Morgan Neville than I did about Fred Rogers. As a result, I felt slightly removed from the poignant nostalgia encouraged by the first part of this documentary. I saw in Fred Rogers a genuinely kind and generous man on a heart-warming mission to produce compassionate television shows for children. I appreciated that this is a fascinating life story.
However, as much as I liked and enjoyed Neville's film, I couldn't understand why Won't You Be My Neighbor? had received such rave reviews - from critics and audiences alike - and scooped up a number of prestigious awards. 
And then, in a clip from Rogers's long running show, a small, slightly scruffy cat puppet called Daniel asked what the word assassination meant. From that moment on I was hooked - completely and emotionally hooked.
Click here for my review on Won't You Be My Neighbor?
Ask Dr Ruth
If you are in the mood for a joyous, poignant, powerful and inspiring documentary, watch Ask Dr. Ruth. Ryan White's film about the life of Dr. Ruth Westheimer, a Holocaust survivor who became America's most famous sex therapist, is an absolute gem.
Click here for my review on Ask Dr Ruth
Apollo 11
I wasn't alive when Apollo 11 made its way to the moon. However, thanks to Todd Douglas Miller's superb documentary, I feel like I experienced this iconic event firsthand. Meticulously created from carefully restored, never before seen footage Apollo 11 is an incredibly immersive film for both the eyes and the ears.
Click here for my review on Apollo 11
Icarus
When Bryan Fogel decided to investigate doping in sports, he had no idea where his journey would lead. An amateur bike racer, Fogel's initial plan was to dope himself, observe the changes in his performance, and see if he could evade detection. 
In order to achieve this goal, Fogel enlisted the help of renegade Russian scientist, Dr. Grigory Rodchenkov, a senior figure in his country's "anti-doping" programme. Over dozens of Skype calls, urine samples, and self-administered hormone injections, Fogel and Rodchenkov grew closer - despite shocking allegations that place Rodchenkov at the center of Russia's state-sponsored Olympic doping programme.
Click here to read my review of Icarus
Strong Island
Strong Island chronicles the arc of a family across history, geography and tragedy - from the racial segregation of the Jim Crow South to the promise of New York City; from the presumed safety of middle class suburbs, to the maelstrom of an unexpected, violent death. 
I defy anyone not to be gripped by Yance Ford's documentary. Within minutes, I certainly was. While films exploring racism and injustice are (sadly) far from rare, this feels different. Strong Island's raw emotion and intensity (driven by Ford's uncompromising to camera interviews) make for an incredibly powerful, thought-provoking and deeply moving documentary.
Click here for my review of Strong Island
Blackfish
In the summer of 2010, Dawn Brancheau was killed at Orlando's SeaWorld marine park. Her killer was the 12,000 pound orca called Tilikum that Brancheau - an extremely experienced trainer - had helped train and had performed with for years.
The tragedy did not sit well with director Gabriela Cowperthwaite. "Something wasn't right," she recalls. "Why would a highly intelligent animal attack its trainer – in effect, bite the hand that feeds it? I set out to understand this incident not as an activist, but as a mother (who had just taken her kids to SeaWorld) and as a documentary filmmaker (who can't let sleeping dogs lie)."
Click here for my review of Blackfish
13th
13th starts by addressing a truly stunning statistic. The US - often called the land of the free - has the highest incarceration rate in the world. Even more shocking is the fact that one in three black males in America will go to prison at some point during their lives. That's compared to one in 17 white men.  
Ava DuVernay's documentary looks at what lies behind this discrepancy. A series of fascinating experts and academics explain how, after years of fighting for freedom and equality, black communities are still waiting for change.
Click here for my review of 13th.
Evelyn
Evelyn is a powerful and deeply moving documentary about suicide and its lasting impact on the family and friends left behind. This film is both a deeply personal story and a movie that inspires wider discussion of an important issue that is still considered taboo.
Click here for my review on Evelyn
Jane
Jane is a visually stunning, fascinating and often deeply moving documentary. Using footage recovered from National Geographic archives and a to-camera interview with Jane Goodall herself, this is the story of a truly remarkable woman.
Click here for my review of Jane
Virunga
Eastern Congo's Virunga National Park is one of the most beautiful and biodiverse places on Earth. It is also home to the planet's last remaining mountain gorillas. Director Orlando von Einsiedel's powerful documentary follows a small and embattled team of park rangers - including an ex-child soldier turned ranger, a caretaker of orphan gorillas and a dedicated conservationist - who protect this UNESCO world heritage site from armed militia, poachers and the dark forces struggling to control Congo's rich natural resources. 
Tell Me Who I Am
Ed Perkins's powerful and disturbing documentary,Tell Me Who I Am, is best watched with as little prior knowledge as possible. This is a film about both a disturbing secret and an incredible journey upon which two brothers embark.
Click here for my review of Tell Me Who I Am
Shirkers
In 1992, teenager Sandi Tan shot her first movie in Singapore with the support of her friends and her mentor, Georges, who later absconded with all of the footage. 20 years later, the 16mm footage reappears, inspiring Tan - now a novelist living in Los Angeles - to solve the mystery of what happened to her film and to explore the power and potential of creativity.  
Maya Angelou And Still I Rise
Rita Coburn Whack and Bob Hercules's film tells the story of iconic writer, poet, actress and activist Maya Angelou whose life intersected some of the most significant moments in the recent history of the US. This is an inspiring and deeply engaging documentary about an inspiring and deeply engaging woman.
Notes On Blindness
When theologian John Hull lost his sight, he knew that if he didn't try to understand his blindness it would destroy him. As a result, he started an audio diary. Over three years, Hull recorded over 16 hours of material - creating a story of loss, rebirth and transformation. 
Peter Middleton and James Spinney take these original recordings and combine them with interviews with John and his wife Marilyn. Actors lip-synch to the voices of the family alongside stunning cinematography (by Gerry Floyd) and wonderful sound design. 
Click here for my review on Notes On Blindness.
The Great Hack
Karim Amer and Jehane Noujaim's unsettling documentary looks at how a data company named Cambridge Analytica came to symbolise the dark side of social media in the wake of the 2016 US presidential election, as uncovered by journalist Carole Cadwalladr.
Unrest
Twenty-eight year-old Jennifer Brea was working on her PhD at Harvard and was months away from marrying the love of her life when she contracted a mysterious fever that left her so ill that she became bedbound.
Unable to convey the seriousness and depth of her symptoms to her doctor, Brea began a video diary on her iPhone. This diary, which shows in moving and often upsetting scenes the true nature of her debilitating illness, eventually inspired her to make a stunning documentary film.
Click here for my review on Unrest
Reversing Roe
In Reversing Roe, filmmakers Ricki Stern and Annie Sundberg present a deeply unsettling look at the state of abortion and women's rights in America. Drawing from a wealth of historical footage, the film charts the period leading up to the Roe decision - and documents the opposition that has followed ever since. 
Click here for my review on Reversing Roe
The Last Man On The Moon
On Monday 16th January 2017, the last man to walk on the moon, Gene Cernan, died aged 82. With his passing, the world lost a remarkable hero and an inspirational storyteller. The Last Man On The Moon tells his story 
City Of Joy
City of Joy follows the creation - by Congolese doctor, Denis Mukwege, The Vagina Monologues playwright, Eve Ensler, and Congolese human rights activist, Christine Schuler-Deschryver - of a safe haven for women survivors of the violent conflict in Eastern Congo.
At its core, Madeleine Gavin's film is a story of profound and inspirational resilience - a powerful portrait of the phenomenal strength of the human spirit. Despite the horror, there is tremendous vitality here. City of Joy is an incredible story of hope.
Click here for my review of City Of Joy
Life Animated
When Owen Suskind was just three years old he stopped talking. Diagnosed with regressive autism, he withdrew from his family, his friends and the world. Owen's parents, Ron and Cornelia, were told that he may never speak again.
One day when Owen was six he started to say something that sounded like "juicesavoice, juicesavoice". Cornelia thought that her son wanted some juice, but he refused the drink and kept repeating "juicesavoice, juicesavoice".
Suddenly Ron and Cornelia realised that Owen was watching the scene in Disney's The Little Mermaid where the sea witch Ursula tells Ariel that (in exchange for human legs) she wants "just your voice".
Inspired by Owen's use of Disney films to communicate with the world, Ron, Cornelia and Owen's older brother Walt embraced animation, using it as a way to reconnect with a boy they feared was lost.
Click here for my review of Life Animated
Knock Down The House
At a moment of historic volatility in American politics, four women decide to fight back, setting themselves on a journey that will change their lives and their country forever. Without political experience or corporate money, they build a movement of insurgent candidates challenging powerful incumbents in Congress. Their efforts result in a legendary upset.
Click here for my review of Knock Down The House
Whitney Can I Be Me
After starting with the inevitable emergency services call, Nick Broomfield's documentary moves chronologically through the life of Whitney Houston, combining footage from a documentary that was never released with archive recordings and camera interviews. However, Whitney Can I Be Me never lets you forget the end of this story - tingeing Whitney's meteoric rise with the sense of impending tragedy.
Click here for my review of Whitney Can I Be Me
Winter On Fire: Ukraine's Fight For Freedom
Over 93 days in Ukraine, a peaceful student demonstration became a violent revolution and a powerful civil rights movement. Featuring incredible on the ground footage and interviews, Winter On Fire: Ukraine's Fight For Freedom is an utterly gripping film. It is amazing to see hundreds of people (from all walks of life) coming together to fight for what they believe in - despite the real risk of harm.
What Happened? Miss Simone
Using never-before-heard recordings, archive footage, diary entries and interviews with family and friends, Liz Garbus's documentary explores the life of legend Nina Simone.
Click here for my review of What Happened? Miss Simone
Joan Didion The Center Will Not Hold
Literary icon, Joan Didion, reflects on her remarkable career and personal struggles in this intimate documentary directed by her nephew, Griffin Dunne. 
The Death and Life of Marsha P. Johnson
David France examines the death of transgender activist, Marsha P. Johnson. Found dead in the Hudson River, her death was first ruled as a suicide. However, many believe that she was murdered.
Audrie & Daisy
Directed by Bonni Cohen and Jon Shenk, Audrie & Daisy, is shocking, heartbreaking, enraging and yet also remarkably inspiring.  Audrie and Daisy endured sexual assault and, later, vicious bullying - much of it via social media. The fact that this is the world we now inhabit (and that this behaviour is acceptable to some) is just terrifying. This is a tough watch but an essential one. These are voices that need to be heard, stories that need to be told.
Click here for my review of Audrie & Daisy
Amanda Knox
There is nothing new in Netflix original documentary, Amanda Knox. There are no stunning revelations about Meredith Kercher's murder or the prolonged case against Amanda Knox and Raffaele Sollecito. In addition, Rod Blackhurst and Brian McGinn's film offers no real insight into Knox's experience of prison nor does it shed much light on her life post release.
What this documentary does offer, however, is an opportunity to hear Amanda Knox talk at length about what happened in Perugia. This - alongside testimony from Sollecito and Mignini and other key players involved in the case - is undeniably fascinating and disturbing.
Click here for my review of Amanda Knox
For The Birds
One woman's love for her pet ducks, chickens, geese and turkeys (all 200 of them) puts her marriage at risk and prompts an emotional battle with local animal rescuers.
Weiner
With unprecedented access to Anthony Weiner, his family and his campaign team as they mount his New York City mayoral campaign, Weiner documents a political meltdown of epic proportions. 
The documentary begins by highlighting the unexpected comeback from the disgraced ex-congressman. However, events take a sharp turn when Weiner is forced to admit to new sexting allegations. 
The media soon descends - eager to tear him apart. Weiner tries desperately to move forward, but the unbearable pressure and crippling 24-hour news coverage halts his political aspirations dead in their tracks.
Click here for my review of Weiner
Chasing Coral
After the success of Chasing Ice, his stunning film about photographer James Balog's Extreme Ice Project, director Jeff Orlowski turned his attention to the ocean. He wanted to raise awareness of and document the disappearance of the world's coral reefs.
The result is Chasing Coral - an incredible, beautiful and devastating film. As with Chasing Ice, the behind the scenes journey following those involved in the environmental project is just as fascinating as the story of the coral itself.
Click here for my review of Chasing Coral
Fahrenheit 11/9
Michael Moore travels across the US to get a sense of the social, economic and political impact of the election of Donald Trump as president. The documentarian also explores voting, the Electoral College, the government agenda, the school shooting in Parkland and the water crisis in his hometown of Flint, Michegan.
The Dawn Wall
The Dawn Wall is an engaging and moving documentary about climber Tommy Caldwell. This documentary is both immersive (thanks to the stunning cinematography from Brett Lowell) and accessible.
Josh Lowell's film is made all the more enjoyable thanks to Caldwell's endearing charm. He has led an incredible life (with many ups and downs) and we see how these events have impacted him - inspiring him to attempt a truly astonishing feat.
Click here to read my review of The Dawn Wall
Get Me Roger Stone
Daniel DiMauro, Morgan Pehme and Dylan Bank profile Roger Stone, the controversial political lobbyist who was nicknamed the "sinister Forest Gump of American politics" and who has allegedly been involved in a string of scandals from Watergate to the election of Donald Trump.
Screwball
Billy Corben's entertaining documentary examines the key players in the doping scandal that rocked Major League Baseball in 2013.
Into The Inferno
Werner Herzog's entertaining and visually stunning film explores the meaning, magnificence and mythical power of volcanoes. The legendary director takes us on an incredible and far reaching journey, starting with an insight into the world of volcanologist, Clive Oppenheimer.
Click here for my review of Into The Inferno
Forks Over Knives
Lee Fulkerson's compelling documentary follows researchers as they explore the possibility that changing our diets from animal-based to plant-based may help eliminate or control diseases like cancer and diabetes.
Dream / Killer
I am a big fan of true crime docs and Andrew Jenks's film Dream / Killer is one I would recommend. In 2005, Ryan Ferguson was convicted and sentenced to 40 years in prison for a crime he did not commit. 
There was no physical evidence connecting him to the murder of Columbia Daily Tribune's sports editor, Kent Heitholt. Instead, the case against him was based on a confession two years after the crime by Charles Erickson who, after having a disturbing dream, thought he and Ryan may have been involved.
Thankfully, Ryan's parents did not give up on their quest to prove his innocence - mounting an impressive campaign of detective work and activism in the face of a deeply problematic legal system.
Best Worst Thing That Ever Could Have Happened
Stephen Sondheim's musical, Merrily We Roll Along, opened its doors in November 1981. However, after a series of scathing reviews, the show closed after just 16 performances. 
In the time since, the score to Merrily We Roll Along has become beloved to Sondheim fans. Lonny Price's documentary takes us behind the scenes of the production - featuring archive footage of the rehearsals and interviews with the cast, Sondheim and the musical's director,  Harold Prince.
Rolling Thunder Revue
Martin Scorsese chronicles America in 1975 by way of an eccentric Bob Dylan concert tour. The documentary contains archive footage and interviews with those involved in the tour - including Dylan himself.
Beware, all is not as it seems. The film is a playful, sometimes frustrating mix of fact and fiction. The point of it all is, at times, unclear. 
What I took from the documentary was that we can all too easily get caught up wanting to know more and more information about a musician, an actor, a tour or an event. However, what really matters is the work - the music, the performance. This is where our focus should lie.
Sour Grapes
Reuben Atlas and Jerry Rothwell's documentary follows the incredible story of Rudy Kurniawan, a young wine expert who conned investors out of millions of dollars.
Fyre: The Greatest Party That Never Happened
A passing interest in a failed music festival transformed into a feeling of acute anxiety as I watched Chris Smith's gripping documentary, Fyre: The Greatest Party That Never Happened.
The film gives us a behind the scenes look at the infamous unraveling of the Fyre music festival. Created by Billy McFarland and rapper Ja Rule, Fyre was promoted as a luxury music festival on a private island in the Bahamas. Guests arrived to discover that the reality was far from the promises.
The very worst of humanity is on display here, alongside a nightmarish level of mismanagement, disorganisation and sheer chaos. It makes me feel uncomfortable just thinking about the shocking and disgraceful events that took place.
Click here for my review of  Fyre: The Greatest Party That Never Happened
Over to you…
Phew… I hope that this list offers you some interesting viewing options at this difficult time. Have you seen any of these films? If so, what did you think?
Meanwhile, if you have any other recommendations, please let me know! You can leave me a comment in the section below or find me on Twitter @500DaysOfFilm
Take care out there x