500 Days Of Film Reviews Documentary, Life Animated, From Director Roger Ross Williams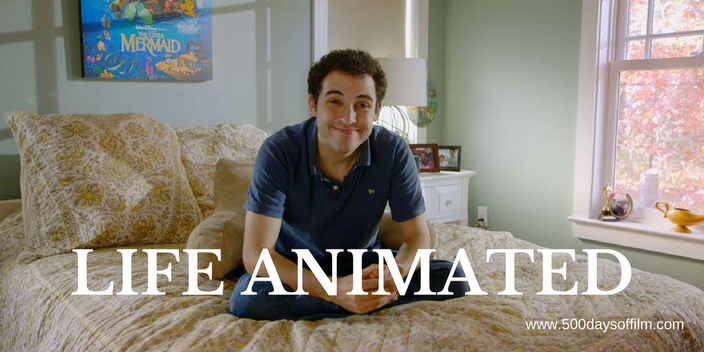 When Owen Suskind was just three years old he stopped talking. Diagnosed with regressive autism, he withdrew from his family, his friends and the world. Owen's parents, Ron and Cornelia, were told that he may never speak again.
Then, one day when Owen was six he started to say something that sounded like "juicesavoice, juicesavoice". Cornelia thought that her son wanted some juice, but he refused the drink and kept repeating "juicesavoice, juicesavoice".
Suddenly Ron and Cornelia realised that Owen was watching the scene in Disney's The Little Mermaid where the sea witch Ursula tells Ariel that (in exchange for human legs) she want "just your voice".
Inspired by Owen's use of Disney films to communicate with the world, Ron, Cornelia and Owen's older brother Walt embraced animation, using it as a way to reconnect with a boy they feared was lost.
Is It Any Good?
If you have ever been in any doubt about the power of movies, watch Roger Ross Williams' fascinating and deeply moving documentary, Life Animated. Here, Disney's movies rescue Owen Suskind, reunite him with his family and give him the tools he needs to understand the world. 
Thanks to Williams' superb direction, combining note perfect storytelling with Disney clips and stunning original animation, the film gives us an incredible insight into Owen's autism. It is heartbreaking and, at the same time, uplifting and inspiring.
In addition to telling the Suskind's remarkable story, Life Animated also watches Owen as he graduates to adulthood and takes his first steps towards independence. In heartbreaking scenes, his parents express their concerns for the future. Owen will face significant challenges - after all, the real world doesn't always follow Disney's rules.
However, it would also be a mistake to underestimate Owen Suskind. He is a proud autistic man who has come so far and has much to offer. Indeed, as I watched Life Animated, it struck me just how emotionally literate Owen is. Constantly asked about his feelings, his open, honest answers are endearing, refreshing and inspirational.
Life Animated is a truly incredible and important story - one that will make you laugh and also make you cry. Everyone should see this documentary.
Random Observations
Roger Ross Williams' first film, Music by Prudence (released in 2010), won the Oscar for Best Documentary Short Subject. He was the first African American director to win an Academy Award. 
Life Animated is based on Ron Suskind's best selling book, Life, Animated: A Story of Sidekicks, Heroes, and Autism.
Have you seen Life Animated?
If so, what did you think of this documentary? Let me know by leaving me a comment in the box below.