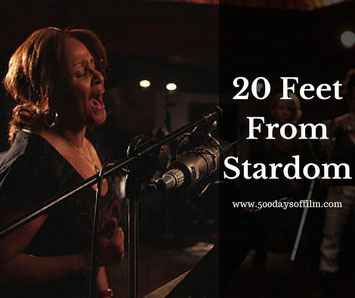 500 Days Of Film Reviews Oscar Winning Documentary 20 Feet From Stardom
You might recognise their voices but you may not know their names. 
20 Feet From Stardom tells the remarkable story of the unsung backup singers behind some of the greatest musical legends of the 21st century.
This gripping film won the Oscar for best documentary in 2014 and it is easy to see why.
The artists featured range in style, musical era and genre but all tell a fascinating and deeply personal story of a life spent in the shadows. 
Director, Morgan Neville uses archive footage, a superb soundtrack, intimate interviews and wonderful testimonials from the likes of Bruce Springsteen, Stevie Wonder and Mick Jagger.
However, he never loses sight of the real stars of his film - the backing singers. 
Is It Any Good?
It is a terrible thing to admit, but I started watching 20 Feet From Stardom because of its short running time. The evening had become late and, as a result, I wanted to watch a film of about 90 minutes. 
20 Feet From Stardom has been on my must watch list for a while and so I decided to give it a go. I am not exaggerating when I write that, within seconds, I was utterly hooked.
This is a wonderful documentary packed with amazing and remarkable stories and the talent on display is truly phenomenal. Here is a group of singers whose voices I soon recognised but whose names I didn't. I felt just terrible that I didn't know their names.
I couldn't ever forget them now.
For me, the revelation of 20 Feet From Stardom was Darlene Love. Hers is the stunning voice that you will recognise from Phil Spector's famous Christmas album. She should have been a household name and her life story is one of heartbreaking ups and downs.
Meanwhile, Lisa Fischer is also featured. Fischer has the voice of an angel - it really is something to behold. Unlike Love, Fischer (who has for many years been the main female backing singer for The Rolling Stones) never wanted to be a solo artist.
She is far happier in the shadows. However, the 'stars' that she shares a stage with are only too happy to give her the space to shine. And shine she certainly does.  
Fischer and Love are just two of a number of wonderful singers featured in 20 Feet From Stardom. They are all equally fascinating and engaging. As a result, this film gripped me from start to finish.
Whether you are interested in music or not, I would thoroughly recommend 20 Feet From Stardom - this is a truly fabulous documentary about some truly fabulous artists.
Random Observations
Director, Neville has spent the last 18 years making films about many of the muscians that have helped shape 20th century music.
He has been nominated for three Grammys for his music films: Respect Yourself: The Stax Records Story and Muddy Waters Can't Be Satisfied, Johnny Cash's America and won an Emmy for Hank Williams: Honky Tonk Blues. His film Troubadours, with James Taylor and Carole King, premiered at the 2011 Sundance Film Festival.
Neville founded Tremolo Productions in 1999, and the company is now regarded as a top producer of cultural documentary films.
Have you seen 20 Feet From Stardom?
If you have, I would love to know your thoughts on this powerful documentary. Why not leave me a comment in the box below!