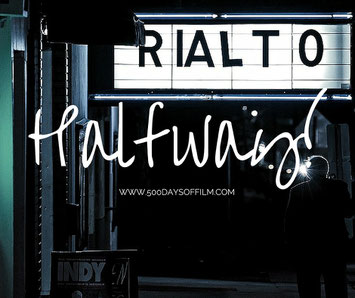 I can hardly believe it but I have reached the halfway point of my 500 Days Of Film Challenge!
I have now watched and reviewed 250 films - and enjoyed every one (well, every one apart from a few notable exceptions).
I am often asked how I created my 500 film list.
I created this list by looking back over the past five (or so) years and noting down the best critically received film of each week.
I then added a few films from further back that I either couldn't believe I hadn't seen or that I hadn't seen for ages.  
Before long I had a list of over 300 films. I figured that, once I started my film challenge, I could add new film releases to my list and get to my 500 total with ease.
I have to admit that, at the start, my film challenge seemed… well, pretty challenging. Why on earth was I doing this? And why had I told everyone that I was doing this? 
However, I soon found my groove and, since then, this challenge has been a complete pleasure. I don't know what I would do now if I didn't have a film to look forward to every evening. 
Thanks to my list, I now feel confident that every film I watch will be interesting and worth my time (again with a few notable exceptions). I may not love every movie but I will usually appreciate something about each film.  
My 500 Days Of Film Challenge has certainly enriched my life. For example, I have created this website to host all of my reviews. In addition, I now have a weekly film news, reviews and events newsletter (click here if you would like to subscribe!).   
I have also created a cinema club as a result of this challenge and now get together with a group of lovely film fans for regular cinema events. 
And that is not all… I am now thinking of creating a community cinema. This project is still in its infancy but it is so exciting!
When I started, I thought that I should mark my halfway point by listing the top 20 films of my challenge so far. Easier said than done. I found it hard enough to narrow the list down to 50 movies! 
However, I have pushed on and forced myself to be ruthless. And so, here we have the Top 20 Films of my 500 Days Of Film Challenge so far:
Pan's Labyrinth - A stunning and disturbing fairy tale set in post-war Spain.  
Broadcast News - A whip smart 1980s newsroom comedy that still feels so relevant today.
The Descent - A group of girls go caving where horror awaits.
Inside Out - Pixar at its very best - looking at the emotions of an eleven year old girl.
The Princess Bride - Possibly the best family movie ever - this film has it all. 
Before Sunrise - Jesse and Celine spend a night together in Vienna and an epic love is born.
Whiplash - How far should you go in pursuit of greatness? More boxing movie than musical. 
Inception - Christopher Nolan's dream within a dream masterpiece challenges and entertains.
Let The Right One In - A tale of childhood friendship. One friend just happens to be a vampire.
Senna - A gripping documentary about the life and death of F1 driver, Ayrton Senna.
Room - A remarkable film with a disturbing and yet ultimately uplifting story.
45 Years - A wonderful film about a couple whose lives are rocked by the return of a lost love.
A Separation - A thrilling film about love and truth.
Restrepo - A brilliant documentary following a US platoon in Afghanistan's Korengal Valley.
The Hurt Locker - Kathryn Bigelow's intense story of a US bomb disposal expert in Iraq.  
My Neighbour Totoro - Studio Ghibli's gorgeous animated tale.
Star Wars: The Force Awakens - An exciting new chapter was promised, and delivered. 
Gravity - Groundbreaking cinematography and an engaging tale of space survival.
The Raid - If action is what you are after, look no further.
Pride - A funny and moving true story about discrimination and solidarity.
What do you think of my list?
Remember I selected these films from the 250 movies that I have seen so far as part of my challenge. This is why there are many notable absences - many of these will (I hope) be filled by the time I reach the end.
Have you seen any of these films? What is your favourite?
Do you think I am mad to include one of these movies?
Do feel free to leave me a comment in the box below.