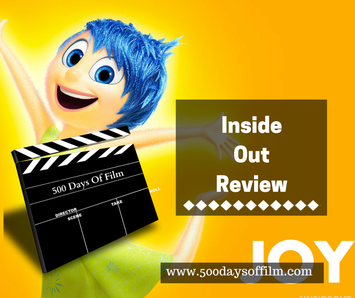 500 Days Of Film Reviews Inside Out And Finds A Charming And Imaginative Look At Our Emotions
In Pixar's latest film, we meet Joy (voiced by Amy Poehler) - a  pixie-like creature who inhabits the head of 11 year old Riley.
Joy is not alone. She is a part of a team and works alongside Sadness, Disgust, Fear and Anger.
They must work together to ensure that Riley can function in her world and access the perfect blend of emotional responses.

However, Joy cannot bear the idea of Riley being anything other than happy. When events in Riley's life become challenging and Sadness feels compelled to play a role, Joy tries to intervene - with emotionally damaging results.
Is Inside Out Any Good?
Inside Out is brilliant - a massive return to top form for Pixar.
It is visually stunning, imaginative, inventive, moving and laugh out loud funny. Lots of people in the cinema with me laughed out loud several times. It made me laugh and smile and the film was also really moving.
Since being caught off guard by Toy Story 3, I was on the lookout for any dangerously sentimental moments. Thankfully, I could spot these a mile off. Okay, I thought… here comes the sad part.
Fortunately, while I was on the verge of welling up (mainly because I am such a emotional wuss) Inside Out didn't come close to the heartbreaking scenes in Up or Toy Story 3.  
The concepts within Inside Out are not easy to portray - particularly when you consider the target audience involved. The filmmakers must have been so aware that they would have mere seconds to explain what was going on before losing their audience.
However, Inside Out overcomes this with an ease and visual flair that is pure genius.
I just kept marveling at how clever everything was and how well the film worked on so many different levels. Many of Inside Out's themes have stayed with me for weeks (I saw Inside Out in June as part of Odeon's Screen Unseen event - see more below).  
Younger audiences will love it for the brightly coloured characters while older viewers will appreciate the deeper meaning about the importance of emotional balance and why sadness is not always to be avoided.  
Odeon's Screen Unseen
A while ago, Odeon Cinemas invited me to their next Screen Unseen event. 
The premise of Screen Unseen is that you pay $5 for a ticket to see a film in advance of its general release. The only drawback is that you don't know what film you are going to see until it starts.
The only thing Odeon guarantees on its Screen Unseen webpage is that the films will all be"of the very highest quality. And they'll all be sure to inspire conversation". 
I was pretty intrigued by this concept. Especially when previous Screen Unseen films have included Whiplash, Selma, Nightcrawler and It Follows. And as someone who is happy to watch pretty much anything at the cinema anyway, I thought I would give it a go. 
Adding to the fun and intrigue, Odeon publishes clues in the days leading up to the screening to see if its audience can guess the title of the mystery film. In this instance, the clues were:
1. "A workplace like no other"
2. "Mum's the word in the city of Sheffield"
3. "For the cinema is dark, but there is no Terror. We've GoT Monday fixed"
4. "Listen beyond Channing, George and Star-Lord this time"
Well, this started a stream of (now) frankly hilarious Twitter and Facebook guesses. People were thinking it was going to be Magic Mike, The Martian and Pixels.
Let me state from the start that I was also completely wrong. 
I thought it might be Terminator Genisys. It was the 'GoT' reference (which they later removed) that convinced me (Emilia Clarke plays Daenerys in Game of Thones and is Sarah Connor in Terminator Genisys) and the fact that I had seen a 12A rating in some of the publicity materials.
I was so confident that it wasn't going to be Inside Out that I reassured my nine year old daughter that, of course, I wouldn't be seeing the next Pixar film without her.
So it was with some trepidation and excitement that I arrived at the cinema.
The usher could barely conceal his glee (I know something you don't know!) as he pointed us in the direction of Screen Three. While one of the smaller screens, I was still surprised at how full it was.
There was a buzz of expectation in the air as the curtains drew back and the lights dimmed further.
Hugh Jackman appeared on the screen - he reassured us that we would see the Minions soon but, before we did, he wanted to introduce us to his new movie - Pan. There was a stunned silence as we processed the fact that we could be about to watch Minions.
But wait… it was a bluff! The movie's BBFC certification announced that we were actually going to see Pixar's Inside Out. There was a collective intake of breath accompanied by a rumble of bemusement. Adults looked at other adults - many questioning just what Inside Out was about.
We were then shown a short film called Lava. 
Pixar has a great tradition of showing short films in advance of their main feature. I have loved these films in the past. I didn't love this one. It was beautiful and sweet but not up to their usual standard. 
Lava certainly didn't help some members of the Screen Unseen audience come to terms with the fact they were about to watch a 'kids' movie. Barely ten minutes in, a group of people got up and left. 
This prompted the couple sitting next to me to discuss whether this film was actually their "cup of tea". Their conclusion was no. This then prompted a "should we stay or should we go" debate and much hand wringing about the complications of leaving from the middle of a row. 
I was about to (politely) suggest that they just leave before distracting my viewing experience further when they shuffled out. 
A quick look at Odeon's Twitter and Facebook feeds show that they were not alone. Some people are actually quite cross about the Screen Unseen film.
I also found it a strange choice. After all, if you have kids you will probably want to see this film with them and, if you don't, you may not want to spend your Monday night watching a kids movie.
However, in the end I think that Inside Out was an inspired choice for Odeon's Screen Unseen event. It certainly showed that animation is not just for kids.
Random Observations
I can foresee a whole range of Inside Out plush toys available in time for Christmas!
Could this film help young children understand their emotions? 
I still don't get those Odeon clues.