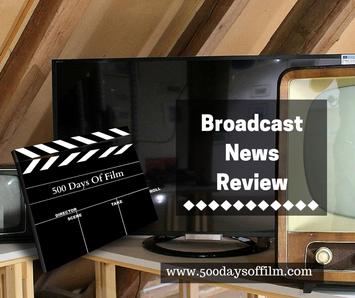 500 Days Of Film Reviews Broadcast News And Finds A Whip Smart 80s Newsroom Comedy That Still Feels So Relevant Today 
Jane Craig (Holly Hunter) is a respected television news producer who, together with her best friend and colleague Aaron (Albert Brooks), holds news reporting to the highest of ethical standards. 
However, both start to struggle as reporting begins to move towards audience entertainment and manipulated news stories.
This conflict is thrown into sharp focus by the arrival of Tom Grunik (William Hurt) their handsome, if less obviously talented, new anchor. 
Despite him being everything she thinks is wrong with the news industry, Jane is attracted to Tom - very much to Aaron's distress. Will she be able to put her work ethics aside for the sake of love?
Is It Any Good?
Broadcast News is one of my favourite films - and I even feel a bit guilty about putting it on my list as a result! 
Released in 1988, I remember watching this film at the same time I realised I was going to become a journalist.  I felt so excited by the story and its crazy and frenetic behind the scenes take on a television newsroom.
The amazing thing is that, although much has changed since the film's release, what it has to say about a journalist's responsibility to report news (as opposed to actually becoming the news) is still so relevant today.
Of course, what Jane and Aaron fear is about to happen to their beloved craft has indeed now happened. We are increasingly manipulated by the news and some of today's bulletins would make both of these characters go insane.
This is not the only reason why I love Broadcast News, however. The interplay between the three central characters is brilliant and is played superbly by all. The script is so smart and funny - I always laugh all the way through. 
If you haven't seen Broadcast News I would highly recommend that you do! Check out the trailer below!
Random Observations
Broadcast News features an early role for the fabulous Joan Cussack - featuring some hilarious physical comedy and the most awesome hairstyle!
Jack Nicholson is so hilariously cool in his role as the out-going news anchor.
Brilliant 80s soundtrack!