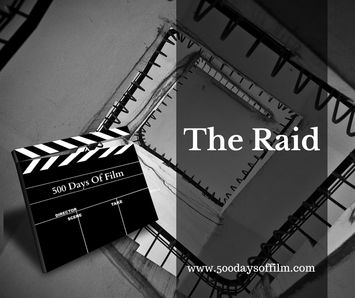 500 Days Of Film Reviews The Raid And Finds A Truly Breathtaking Action Film
Deep within the Indonesian city of Jakarta, lies a hellish place - a safe haven for violent criminals and drug dealers.
This 30 floor apartment block is a no-go area, even for the bravest of the city's police force.
Determined to regain control, a team of police officers enter the building in an attempt to flush out the criminals - floor by floor.
However, it is only once in that they realise the enormity of their task and their battle becomes one of survival.  
Is It Any Good?
I am not (usually) one for violent films but I have always enjoyed martial arts movies because I love the dance-like physicality of the performances. 
As a result, I loved watching The Raid. It is a non-stop, action packed film with a simple, yet engaging plot and a central character about which I genuinely cared.
I did find some of the violence hard to watch. However, the film doesn't dwell on any suffering. It moves too fast for that and I was too busy marveling at the performances anyway.
Before I watched The Raid, I listened to the film's director, Gareth Evans talk about how he and his team had taken his concept and made it a reality. 
I found this fascinating - particularly because it is easy to write off an action film as being a series of violent episodes and not think too much (perhaps) about the effort they take to devise, plan and film.
So it was with this in mind that I watched The Raid. As every action scene took place (and there are many) I thought about how cleverly constructed and choreographed they were and how much effort must have gone into every scene.
Honestly, it blew my mind. 
I have no idea how the actors managed to perform such prolonged, intricate action sequences - it felt exhausting enough to watch!
As well as reveling in the action scenes, I also enjoyed the film's story - I thought it was really powerful, compelling and, contrary to what I had expected given the violence involved, I enjoyed every single minute.
Random Observations
I am really looking forward to watching The Raid 2 now!
Have you seen The Raid? What did you think? Did you enjoy it? Was it too violent? Do let me know your thoughts and feelings in the comments section below.