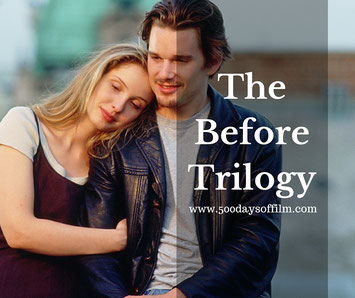 500 Days Of Film Reviews Before Sunrise, Before Sunset and Before Midnight And Finds Perhaps The Best Movie Trilogy Ever Made
Jesse (Ethan Hawke) and Celine (Julie Delphy) meet by chance on a train bound for Vienna.
They feel an instant connection and start talking about their lives (his in America, hers in France), hopes and dreams for the future.
When the train reaches his stop, Jesse asks Celine to get off and spend the day with him.
He argues that she owes it to her future self to take this chance, seize this day. Otherwise, she will forever wonder - what if?
So begins a beautiful romance and a superb film trilogy. 
Are They Any Good?
Over three nights this week, I watched the Before trilogy from brilliant director Richard Linklater (School Of Rock, Boyhood). These films are just brilliant - I mean truly wonderful. 
I can't recommend them enough - Hawke and Delphy are magnificent, the narrative is completely authentic and the direction is superb.
In fact, these movies have knocked Toy Story off the top spot as my favourite movie trilogy. And that is quite some achievement right there.
Before Sunrise (1995)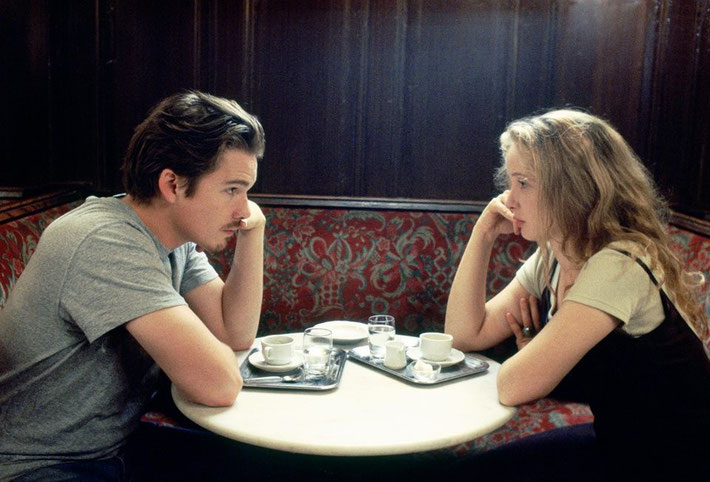 Before Sunrise follows Jesse and Celine as they spend a night together in Vienna. They are young and gorgeous - full of ideas and excited by the possibilities of life. 
The couple walk and talk and talk and walk some more - one story inspires another. The film's dialogue is fantastic - enviably fluent and yet completely natural. I was convinced throughout that this was a real couple and that their stories and feelings were real.  
I started to feel a real sense of dread when I realised that Jesse would soon leave to catch his flight home. At one point, I counted a clock's chimes in order to calculate how long the couple still had together.
Time, which once held such wonderful possibilities, now becomes their enemy. 
The minutes eventually run out and Jesse and Celine have to part. They decide not to swap contact details (fearing the distance will cause their romance to fizzle out) and instead agree to meet at the exact same spot in six months time.
The film ends on a perfectly poignant note - full of hope and sadness. And I couldn't wait to watch Before Sunset to find out what happened next!
Before Sunset (2004)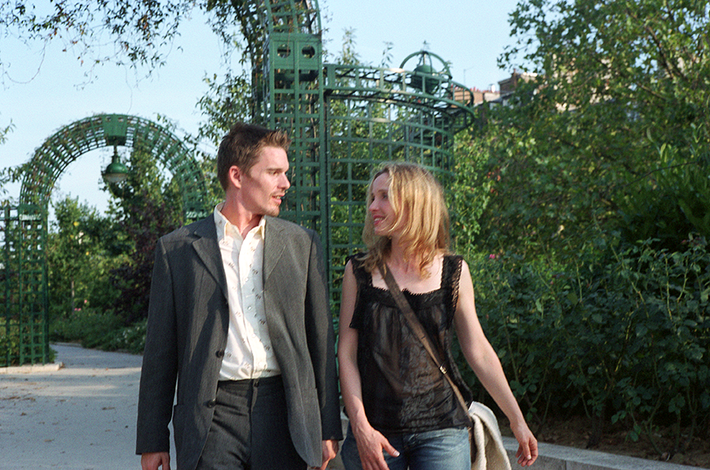 Before Sunset picks up Jesse and Celine's story nine years after they first met. Jesse is in Paris promoting his new book - an event that, much to his surprise, Celine also attends.
The film wastes no time in discovering whether one or, indeed, both kept their word and went to that train station in Vienna six months after their special night in the city.
They pretty much pick up where they left off in the first film. However, there is no doubt that these are different people now. They have experienced life and all of its complexities and are no longer as idealistic as they once were.
Watching Before Sunset the night after Before Sunrise was startling as I could see how Jesse and Celine had changed over the intervening years. While Celine looks as stunning as ever, Jesse appears painfully thin and drawn.
Sadly, this was a case of art imitating life as, at the time the film was shot, Ethan Hawke was in the middle of a divorce from Uma Thurman. In an interview with Here and Now, Hawke talks about the "unique experience" of watching himself age on screen:
"I can see how unhappy I was in that time period. I was going through a divorce and was incredibly thin. All I do is watch the movie and see how thin I am and how unhappy I look."
Having loved Before Sunrise, I was worried that Before Sunset wouldn't reach the level of my high expectations.  But it did. This is such an interesting film that manages to discuss serious subjects while also being incredibly romantic.
The film is also impressive to watch. Linklater's shots are incredibly long. That can't have been easy - particularly when you consider how quickly they are walking through the streets of Paris.
Linklater included Hawke and Delphy in the scriptwriting process for this film. I think it shows as the movie has such authenticity and truth. Indeed, it was Linklater's goal throughout to view Hawke and Delphy as collaborators and not just actors. He was looking for a couple with creative spark and boy did he find one.
And then, all too soon, the film ends. I just wasn't ready for it to finish and almost watched Before Midnight there and then.
However, on reflection, Before Sunset has one of the most perfect endings ever - rivals Monsters Inc even.
Before Midnight (2004)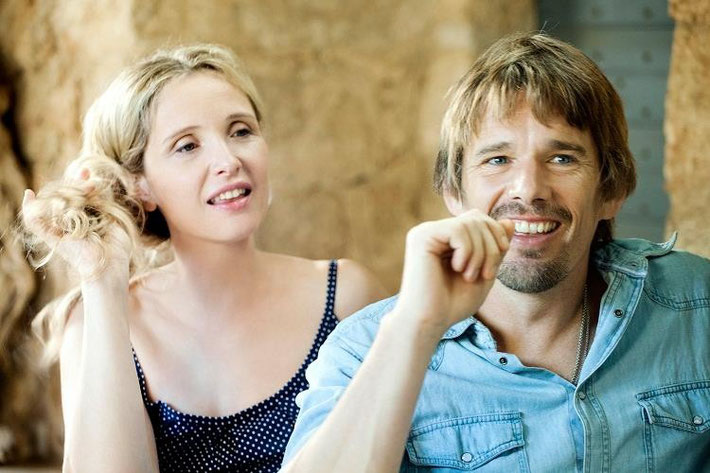 In this the third film of the trilogy, we find Jesse and Celine married with kids. They are on holiday (on a gorgeous Greek island) at a writer's retreat so that Jesse can get on with his next book.
First observation, Jesse looks much healthier.
However, my heart broke for him as he sees his son, Hank (from his first marriage), off on a plane back to the US. Ethan Hawke plays this scene perfectly. 
On leaving the airport, he jumps into a car with Celine and their gorgeous twin daughters. Seeing this lovely family unit felt really satisfying but it doesn't take long for the film to reveal that all is not perfect in paradise.
While Before Sunrise was full of hope and idealism, Before Sunset about the possibilities of second chances, Before Midnight is about the reality of long-term love. 
The bottom line - it's not easy.
This perhaps makes Before Midnight less charming than the first two films. Jesse continues to be self absorbed and Celine is as feisty as ever. He is messy, she complains a lot. They bicker and, at times, deeply resent each other. 
As the film moves into its second half, I really felt that my heart would break for them both. I was utterly gripped as their relationship struggled. 
Goodness me, the last scenes of this film are amazing. The acting is superb and completely authentic. The tone is terribly poignant and then really quite funny.
And then the ending is exquisite - such a perfect way to finish an outstanding trilogy.
Random Observations
I now want to watch these films all over again.
Many people thought that the dialogue in the Before trilogy was improvised. However, every line, every overlapping conversation was scripted and painstakingly rehearsed. Quite the achievement.
The music throughout this trilogy is wonderful. I also loved the part in Before Sunset when Celine plays her guitar and sings for Jesse. Such a beautiful scene.
In the Here and Now interview, Hawke is asked if there might be another film about Jesse and Celine in the future. 
He responds in the most perfect way: "If we all agree on where we imagine them to be, and we all want to write about the same subjects... If that little magic happens again, there'll be a fourth movie. If it doesn't, we'll be done."
In the closing credits to Before Midnight, there is a dedication to Amy Lehrhaupt. Richard Linklater met Amy in October 1989. They then spent a night together - a night he never forgot, a night that inspired Before Sunrise.
Amy and Richard did exchange contact details but their relationship fizzled out. Sadly, and unbeknownst to Linklater for many years, Amy died in a motorcyle accident in 1994. 
Have you seen any  of all of the Before Trilogy? Do you love these films as much as I do?
Whatever the case, I'd love to know your thoughts. Leave me a comment in the box below!