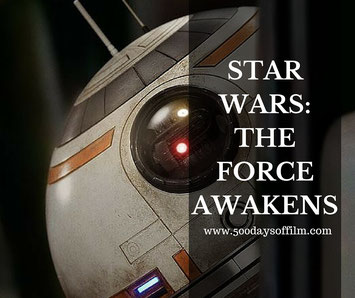 500 Days Of Film reviews Star Wars: The Force Awakens and finds a thrilling film that lives up to our high expectations.
Star Wars: The Force Awakens is the seventh episode in the Star Wars saga. This, of course, means that it takes place after episode six: The Return Of The Jedi.
However, despite the events in this last film, all is not well in the galaxy. The Empire has been replaced by another power hungry big bad - The First Order. 
It is up to the Resistance to fight back and try to stop the Dark Side from its horrific ascendancy. 
Is It Any Good?
O. M. G. Yes it is good.
This film is so so good. I am going to have to restrain myself here because I have just seen Star Wars: The Force Awakens and I am feeling pretty darn excited.
I am not sure that I have experienced a more eagerly anticipated film. I went into my screening having avoided reading anything about the movie, having avoided its trailers and having avoided all reviews. I knew that it had been generally well received but that was all. 
It was really quite something to sit in the cinema with my parents and my children and listen to the start of John Williams' fabulous score. Goosebumps isn't even in it. For future reference, this is the definition of event cinema.
In a recent interview, director, J.J. Abrams, said that during the filming of Star Wars: The Force Awakens he had a moment when he thought: "this really feels like Star Wars". And it does. This film feels familiar and it looks familiar. It made me feel incredibly nostalgic for the wonder of the original 1970s films.
At the same time, Star Wars: The Force Awakens feel new - it feels full of fresh and exciting energy. It has so many interesting stories to tell and the future certainly feels secure for the franchise.
I am not sure how Abrams has made a film capable of living up to such high expectations. (What pressure - he must be feeling pretty relieved now!)
However, with a perfect blend of beautiful landscapes, thrilling action sequences (with real physicality and heft) powerful and engaging performances (from both new faces and more familiar ones) he certainly has - and then some.

From the very opening scenes, I knew that I was going to love this movie. The locations are awe inspiring. Every shot is wonderfully cinematic and every detail lovingly created. You really feel that this film was made by people who love Star Wars and who want to do right by the franchise.
Of course, we were all excited to see those familiar faces back on the big screen again. And the reunions work superbly well. Their stories feel authentic and they pack a significant emotional punch.
Star Wars: The Force Awakens also introduces us to a host of new characters. For the film to work, we need to care about them as much as we love the original cast. 

Daisy Ridley plays Ray and what an exciting actress she is to watch. Star Wars: The Force Awakens is a life changing role for her and yet she plays her part with such confidence. 
This film needed a strong female character - a role model. We needed someone to take up the post-Katniss baton and Ridley gives us just that. She is lonely and vulnerable and also tough, feisty and self sufficient. 
Meanwhile, John Boyega is brilliant as Finn. His role is really interesting and he injects a new level of human complexity and frailty into this movie. He is just superb.
Boyega is also responsible for many of the film's humourous moments.
One of the reasons why Star Wars: The Force Awakens is so enjoyable is that it is not always deadly serious. Yes, there is much peril - but I also laughed a lot. More, actually, than I have in many comedies that I have watched.

I also have to mention, of course, the new droid on the block: BB8. J.J. Abrams handles this new character perfectly. BB8 has to fit into a space between C3PO and R2D2. I don't know about you, but I feel strangely protective of R2D2 and wouldn't want to see any replacement droid take his place. 
However, BB8 does not tread on any robotic toes. This droid fits in perfectly and hits exactly the right balance.
I also loved Oscar Isaac as Poe Dameron. His is a wonderfully charismatic performance. Adam Driver was fantastic too. You may have already guessed but I thoroughly enjoyed all of the new cast members. 

Star Wars: The Force Awakens is, for me, a perfect film. It gripped and excited me, made me laugh, made me gasp and made me eager for more. How on earth are we going to wait two more years for the next installment?
There is only one thing to do… watch Star Wars: The Force Awakens all over again!
Random Observations
Have you seen Star Wars: The Force Awakens? If so, what did you think of this film? If you want to talk freely and include spoilers, click here: Star Wars: The Force Awakens - Your Views.
Otherwise, leave me a non-spoiler comment in the box below!