500 Days Of Film Reviews A Separation And Finds A Stunning Film About Love And Truth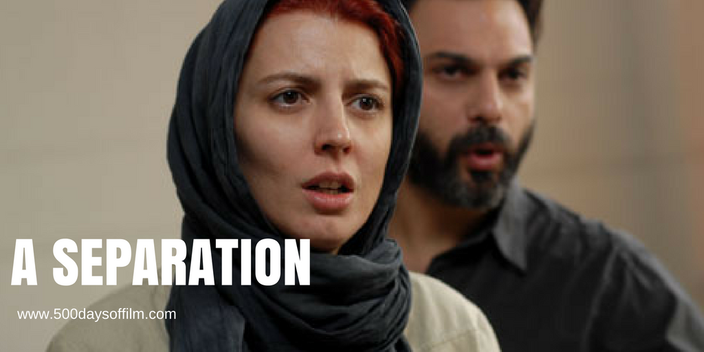 Simin (Leila Hatami) and Nader (Peyman Moaadi) are in trouble. Or, to be more precise, their marriage is in trouble and they are on the verge of separation. Simin wants to leave Iran and live abroad. She wants more opportunities for their 12 year old daughter, Termeh (Sarina Farhadi).
However, Nader feels that he cannot leave his elderly father, (played by Ali-Asghar Shahbazi) who is increasingly debilitated by the ravages of Alzheimer's disease.
Simin cannot take her daughter out of Iran without Nader's consent. Nader does not want to give his consent. The couple, who in all other respects still care for each other, start to fracture.
Termeh is caught in the middle and the repercussions of their separation will have devastating impact on the entire family.
Is It Any Good?
A Separation is a wonderful surprise. While Asghar Farhadi's story focuses on life and culture in Iran (compared with that is another, perhaps Western, country), this film is about so much more. 
It is about family, responsibility and love. It is about parents and children and whether we should prioritise the needs of youth or age. It is about marriage. It is about illness and care. It is about politics and religion.
It is about truth.
I was utterly gripped by this film. It is unbelievably tense and I was completely transfixed throughout. Crucially, I cared about all of the characters and felt genuine concern for them. The performances are all utterly superb, natural and real.
In addition, A Separation's script is wonderful - at some points the film felt like a documentary. Every character acts in a way that you understand - even if you do not agree with their motives.
Farhadi's film does not ask you to take sides. It just shows us the overwhelmingly complex mass of human intentions and interactions, with all the shades of good and bad - everything in between. 
Random Observations
A Separation won the Oscar for Best Foreign Language Film.
Have you seen A Separation?
If so, what did you think? Let me know in the comments section below!