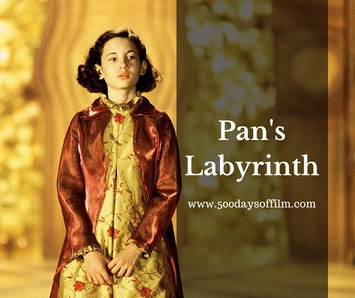 500 Days Of Film Review's Pan's Labyrinth And Discovers A Disturbing And Astounding Classic. 
Pan's Labyrinth tells the dark and disturbing story of a young girl called Ofelia who moves, along with her heavily pregnant mother, to live with her stepfather on a rural military outpost in post-war (1944) Spain.
Her new home is full of danger, unimaginable cruelty and repression. Ofelia seeks refuge in her books about fairy stories and by wandering the woods nearby.
It is here that she discovers a labyrinth that is home to a collection of otherworldly, fantastical monsters.
The monsters believe that Ofelia is a princess, long lost to their world and promise her an escape from her miserable surroundings if she can fulfill three important tasks. 
Is It Any Good?
Oh my goodness yes. If you haven't watched this film please do so - it is a timeless classic and a truly extraordinary and stunning film.
The world of Pan's Labyrinth is beautifully constructed -  its 'dark fable' segments look and feel wondrous. Meanwhile, 'reality' is unrelentingly dark and dirty.
One caveat, however. It isn't for the fainthearted and, despite its fairytale theme, is certainly not suitable for children. (It is rated 15 for good reason.)
Pan's Labyrinth is not scary. It is, however, upsetting and brutally violent in places. (The BBFC states that it "contains strong language and bloody violence".) The violence is necessary to establish just what a monster Ofelia's stepfather is and why she needs to escape.
I fell deeply into this film - it swept me up and I loved every minute of it - even those minutes that were horrific and uncomfortably violent. The monsters that inhabit this film are creepy, strange and yet somehow beautiful. They are the stuff of nightmares but stunning ones.
From the start, I was deeply invested in both Ofelia and her new housekeeper Mercedes. At one point, I literally found myself on the edge of my seat willing them on to succeed.  
This film will stay with me for a long long time to come. And I am not ashamed to admit that I cried at the end. 
Watch it and let me know what you think!
Random Observations
I just loved Ofelia right from the start. 
Was it just me or did you worry about her getting so muddy after having her bath?
Have you seen Pan's Labyrinth? If you have what do you think of this movie? Let me know by leaving me a comment in the box below.