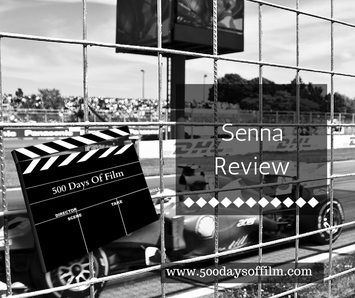 500 Days Of Film Reviews Senna And Finds A Breathtaking Masterclass In Documentary Storytelling
On 1 May 1994, three times Formula 1 world champion, Ayrton Senna, died whilst leading the San Marino Grand Prix.
His car crashed into an unprotected concrete barrier.
His death, and that of Roland Ratzenberger during qualification the day before, changed the face of F1 safety rules and regulations. 
Senna (the documentary) follows Ayrton's racing career from the very beginning of his involvement in F1. The film takes us through his meteoric rise to the very top of his sport despite the F1 politics that often got in the way.
The documentary also looks at how much Senna's success meant to the people in his home country of Brazil - many of whom were living in extreme poverty and deprivation at the time. 
Is It Any Good?
Senna is my absolute favourite documentary - ever. 
I have seen this film before and I did wonder if my feelings about it would change in the context of my 500 Days Of Film Challenge. After all, I have now seen some fantastic documentaries - Restrepo, Armadillo, Benda Bilili and Cave Of Forgotten Dreams to name just four.
However, having re-watched Senna, it still retains the top spot for me. I have to admit that, during Senna's time as a F1 racer (and for a few years after that too), I was a F1 racing fan. 
This is not so much the case now - having kids has curbed my ability to watch drivers race around in circles for hours perhaps. 
However, I do think that Senna's era was a particularly gripping one as a result of the extraordinary characters involved. And I believe anyone would be gripped by this documentary even if they have never watched a F1 race (and never intend to!).
The documentary explores Senna's life via some breathtaking clips of his key races. It also includes fascinating footage of Senna talking about his faith and his determination to win and examines the tempestuous relationship Senna had with his MacLaren teammate Alain Prost.
There is high, high drama here and controversy on top of controversy. The film is just so incredibly powerful and compelling - it is a masterclass in storytelling. 
Each piece of archive footage is perfectly balanced. Each segment of commentary (from all of the key players) takes the story forward towards the inevitable, tragic end. 
The conclusion of the Senna story looms large over every scene. It offers a glimpse into a world where such high risks are taken, not as a result of war as in Restrepo and Armadillo, but in the name of sport. 
Every driver appears more than aware of the potential for accidents and injuries. None more so than Senna who was often the first to speak up about issues of safety. However, each man is driven to compete - and to push themselves past the very limits of racing. 
As the film approaches its end, I found myself (much in the same way as when I watched United 93) desperately wishing for a different outcome. Of course, that was not to be. 
Random Observations
It is amazing to think that Senna's fatal crash happened over 20 years ago. He was only 34.
Alain Prost is very unhappy about his portrayal in the documentary. He feels that his reconciliation with Senna at the end was not conveyed.
The documentary filmmakers behind Senna have made a new film about the life of Amy Winehouse. This movie, simply called 'Amy', will be released on 3rd July.