500 Days Of Film Reviews 10 Of The Best Films On Amazon Prime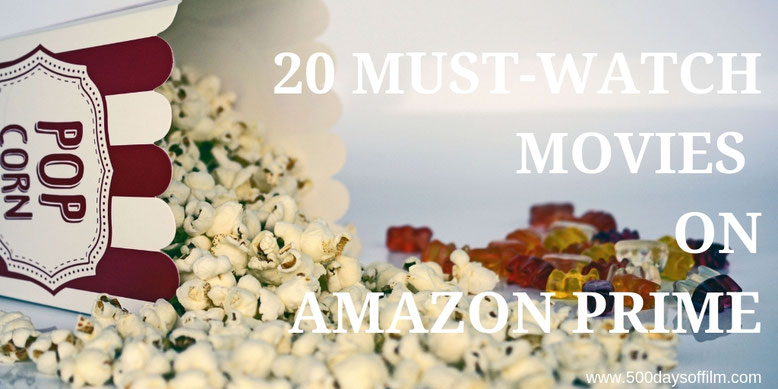 How do you watch movies at home? Chances are that you subscribe to one (or more) online streaming platforms. My subscriptions vary but Netflix and Amazon Prime are my top two sites for sofa-based cinema. I really wouldn't be without either.
I recently examined why I love Netflix and so thought it was high time to look at Amazon. There are so many superb movies on this platform. We are really spoilt for choice. As a result, I decided to make two lists.
My first list comprises ten must-see films on Amazon Prime that were released over the past couple of years. Meanwhile, my second list focuses on ten of the platform's hidden gems. My criteria for these movies is simple - they are all films that haven't got the love they (in my opinion) deserve.
10 Recent, Must-See Movies On Amazon Prime
1. Moonlight
Barry Jenkins's Oscar winning film is a stunning look at three moments in the life of Chiron (Alex Hibbert), a young boy from a deprived and challenging neighbourhood in Miami, Florida.  Bullied at school and neglected at home, he seeks the refuge offered by local drug dealer, Juan (Mahershala Ali) and his partner, Teresa (Janelle Monáe).  
However, this respite cannot protect him from the pain in his life. Alienated by a sexuality that marks him out as being different, teenage Chiron (Ashton Sanders) finds himself on the brink between love and violence, acceptance and suppression.
Adulthood brings no easy answers for Chiron (Trevante Rhodes). His new, tougher exterior hides an overwhelming vulnerability as he faces another heartbreaking choice.
2. You Were Never Really Here
When a teenage girl goes missing, Joe (Joaquin Phoenix), a brutal and tormented enforcer, embarks upon a rescue mission. However, he has no idea of the level of corruption that lies behind the kidnapping or how his path of vengeance will unleash a storm of violence that may destroy him or lead to his awakening. 
A new film from director Lynne Ramsay is always cause for celebration. Anticipation for her fourth feature film was high. You Were Never Really Here does not disappoint. This is a stunning movie and an incredibly immersive cinematic experience. Featuring an astounding central performance from Joaquin Phoenix, Ramsay's gripping and intense thriller examines the soul of a broken man.
3. Lean On Pete
Fifteen-year-old Charley (Charlie Plummer) lives with his alcoholic father (Travis Fimmel) in a run-down house on the outskirts of Portland, Oregon. In an effort to help his dad stay afloat, Charley takes a job at a local racetrack where he befriends jaded trainer Del (Steve Buscemi) and burnt-out jockey Bonnie (Chloë Sevigny) while caring for an aging horse named Lean on Pete.
Lean On Pete is a breathtakingly beautiful film with an astounding central performance. Exploring loneliness and family, hope and heartbreak, director Andrew Haigh proves (once again) his incredible talent for telling visually stunning and incredibly moving cinematic stories.
5. Room
It is Jack's (Jacob Tremblay) fifth birthday and he is eager to start celebrating. His Ma (Brie Larson) has promised him a very special day with a real, homemade birthday cake. Jack can hardly contain his excitement.
The cake is a success. But there are no candles. And there are no presents. Frustrated, Jack lashes out at his Ma. There are limitations in Jack's world. Many things are just not available to him. The reason? He and his Ma live within the confines of a small shed - a place that he calls Room. 
Lenny Abrahamson's adaptation of Emma Donoghue's gripping book is deeply moving and often very upsetting. However, this is far from an unrelentingly bleak experience. There are many moments of warm humour and the film inspires with its depiction of the power of familial love.
5. The Big Sick
Pakistan-born aspiring comedian, Kumail (Nanjiani), connects with grad student Emily (Zoe Kazan) after one of his stand-up sets. However, what they thought would be just a one-night stand blossoms into the real thing, which complicates the life that is expected of Kumail by his traditional Muslim parents. 
When Emily is beset with a mystery illness, Kumail has to navigate the medical crisis with her parents, Beth and Terry (Holly Hunter and Ray Romano), while dealing with the emotional tug-of-war between family obligations and his heart.
The Big Sick is an utterly charming, brilliantly funny film based on the real-life courtship between Kumail Nanjiani and Emily V. Gordon.
Directed by Michael Showalter, the movie was written by Nanjiani and Gordon with the assistance of producer, Judd Apatow. The result is one of the most satisfying and heartfelt romantic comedies that I have seen in years. 
6. The Florida Project
Just outside the imagined utopia of Disney World, six-year-old Moonee (Brooklynn Prince) and her rebellious mother Halley (Bria Vinaite) live at "The Magic Castle," a budget motel managed by Bobby (Willem Dafoe), whose stern exterior hides a deep reservoir of kindness and compassion.
Moonee is precocious and ebullient - finding the fun (and mischief) in each day along with her ragtag group of friends. However, unbeknownst to Moonee, her way of life is under threat as Halley is forced to explore increasingly dangerous possibilities in order to provide for her daughter.
Some movies have the power to steal our hearts. It is hard to put a finger on how or why. They just possess something special and their storytelling - both in front and behind the camera - is able to engage us on a deeply emotional level.
Sean Baker's The Florida Project is one of these movies.
7. Hell Or High Water
Brothers, Toby (Chris Pine) and Tanner (Ben Foster), embark upon a calculated bank robbery spree - targeting a string of Texas Midland banks in a series of small and desolate West Texas towns.
The robberies put them on a collision course with West Texas Ranger Marcus Hamilton (Jeff Bridges) who, in his last case before retirement, is determined to take them down.
David Mackenzie's Hell Or High Water is a tense and gripping western for the post financial crisis world. Featuring four superb performances, Mackenzie and writer, Taylor Sheridan (Sicario), have made a compelling and hugely entertaining film that subverts genre tropes and audience expectations.
8. I, Tonya
Despite being the first American woman to complete a triple axel in competition, Tonya Harding's (Margot Robbie) legacy was forever defined by her association with an infamous, ill-conceived and even more poorly executed attack on fellow Olympic competitor Nancy Kerrigan. 
I, Tonya is not the film that you may think it is. You might expect a quirky, humorous tale about an infamous "incident" in the world of figure skating. What you get from director Craig Gillespie is something far darker.
That is not to suggest that I, Tonya is deadly serious. This is an extremely entertaining film with many funny moments. However, at its heart, I, Tonya is an unsettling study of prejudice and domestic violence - a movie that doesn't pull its punches.
9. Detroit
During the summer of 1967, the city of Detroit was rocked by civil unrest. Attempting to escape the violence and riots, Dramatics musician Larry Reed (Algee Smith) and his friend Fred Temple (Jacob Latimore) took shelter in the Algiers Motel.
However, soon after, the motel was raided by Detroit police - in the mistaken belief that a sniper was firing from one of its rooms. Demanding to know the identity of the gunman and the weapon's whereabouts, three officers then interrogated a group of residents - resulting in a night of horrific brutality and death.  
Beginning with an animated sequence that puts the Detroit riots into context, Kathryn Bigelow's intense and gripping movie reveals a city in turmoil. The film explores a terrible event and its underlying issues - issues that are sadly all too revelant today.
10. The Post
Katharine Graham (Meryl Streep), the first female publisher of a major American newspaper, has a tough decision to make when her newspaper, The Washington Post, accesses the infamous Pentagon Papers - documents that expose a massive cover-up of US government secrets, spanning three decades and four Presidents.
In a race to catch up with The New York Times, Graham has to overcome her differences with Washington Post editor, Ben Bradlee (Tom Hanks), as the two risk their careers - and their freedom - to help bring long-buried truths to light.
Driven by two powerful central performances and featuring a superb ensemble cast, The Post tells a gripping and inspiring true story. Steven Spielberg's film is both a celebration of female empowerment and also a rallying cry - reminding us of the vital importance of a free press.
10 Unmissable Hidden Gems On Amazon Prime
1. Children Of Men
18 years since the last baby was born, disillusioned Theo (Clive Owen) becomes an unlikely champion of the human race when he is asked by his former lover (Julianne Moore) to escort a young pregnant woman out of the country as quickly as possible.
In a thrilling race against time, Theo will risk everything to deliver the miracle the whole world has been waiting for.
Children Of Men may be a decade old, but it has certainly lost none of its impact. In fact, ten years since its release, director Alfonso Cuarón's powerful tale of humanity, desperation and hope feels more relevant than ever before. 
Thrilling, chilling and thought provoking, Children Of Men is a criminally overlooked masterpiece. The film features stunning cinematography and a host of powerful performances (including a career best performance from Clive Owen).
2. The Hunt
Lucas (Mads Mikkelsen) is a well regarded nursery school assistant. Having overcome the loss of his previous teaching job and a messy divorce, his life is finally starting to show positive signs for the future.
The nursery children love him, his son wants to return to live with him and he has a promising new relationship with a colleague. However, Lucas's life is suddenly destroyed by a lie that throws his small community into a state of dangerous hysteria.
The Hunt is a superb and challenging film, unafraid to ask important questions of which there are no easy answers.
Film such as Spotlight and Mea Maxima Culpa have told us of the struggle victims experience to get their voices heard. We know that we must be more vigilant - we must spot the signs of abuse and respond with urgency. 
Thomas Vinterberg's film turns this (albeit crucial) watchfulness on its head. We are never in any doubt of Lucas's innocence. However, despite being one of the most trusted members of his community, he is instantly tainted by the lie. Ostracised, life as he knows it is over.
3. Blue Valentine
Dean (Ryan Gosling) and Cindy (Michelle Williams) meet by accident. However, soon (after a gorgeous tap dancing ukulele scene) they fall deeply in love. Flash forward, and the couple are now living with their young daughter in a frustrated and unhappy marriage. What went wrong?
Derek Cianfrance's stunning Blue Valentine tells a devastating story about the beginning and the end of a passionate love. It features two superb central performances from Ryan Gosling and Michelle Williams.
Blue Valentine is, however, an emotionally exhausting experience. Nonetheless, the film's love story and performances are so powerful that it remains well worth the heartbreak. Dean and Cindy will stay with you long after the film ends.  
4. Gleason
Weeks after being diagnosed with ALS, former New Orleans Saints star defensive back Steve Gleason learns that his wife Michel is pregnant with their first child. 
Determined to live his remaining years to their fullest, Steve goes on an expedition to Alaska, creates a foundation to help other ALS patients, repairs a strained relationship with his father and embraces new technologies to help compensate for his deteriorating physical abilities.
All the while, Steve records his thoughts about life, parenthood and his hopes for his child in a deeply moving video diary - as seen in this inspiring and moving documentary from David Lee.
5. Fish Tank
Fish Tank, starring Michael Fassbender and Katie Jarvis, is director Andrea Arnold's powerful tale about a vulnerable young girl's sexual awakening and how that experience proves both empowering and devastating. 
6. Lovesong
Neglected by her husband, Sarah (Riley Keough) embarks on an impromptu road trip with her young daughter and her best friend, Mindy (Jena Malone). Along the way, the relationship between the two friends intensifies before circumstances force them apart. Years later, Sarah attempts to rebuild their intimate connection in the days before Mindy's wedding.
Less is more. Show don't tell.
Cinematic clichés, sure. Even so, this doesn't prevent many filmmakers from falling down dangerous rabbit holes of exposition. Not so So Yong Kim - a storyteller who can impart more from a prolonged look on a fairground ride than many directors can convey after hours of dialogue.
So Yong Kim's film tells the story of a powerful female friendship. While Sarah and Mindy pass in and out of each other's lives, they remain connected by a deep bond - a love that is both platonic and romantic. 
7. Chicken
Richard (Scott Chambers), a 15 year old boy with learning difficulties, lives a solitary existence in a squalid caravan with his restless and volatile brother Polly (Morgan Watkins). Nature and the animals around him are his only company. Some, like his beloved chicken Fiona, are alive. Others are dead but Richard nurtures them nonetheless. 
When a new family moves into the farmhouse nearby, Richard makes an unlikely human friend in their teenage daughter, Annabell (Yasmin Paige). However, when Polly loses his job and the electricity to their caravan is disconnected, Richard's very existence is put at risk.
Chicken is a deeply upsetting film that moved me to tears on more than one occasion. Its devastating portrayal of neglect and deprivation reminded me of films by the likes of Andrea Arnold and Ken Loach.
As Joe Stephenson's film (adapted from Freddie Machin's play by Chris New) moves forward, an unsettling feeling of dread descends - culminating in a final act full of darkness and truly heart wrenching scenes.
8. Embrace Of The Serpent
Karamakate is an Amazonian shaman - the last survivor of his people, many of whom have been killed by merciless rubber barons. Over the course of 40 years, Karamakate meets and guides two white scientists. Both are searching the Amazon jungle for an illusive plant thought to contain sacred, healing properties. Initially suspicious of their true motives, Karamakate teaches them the ways of the jungle and the importance of tribal culture, nature and dreams.
Embrace Of The Serpent draws you into its adventure and keeps you in its beautiful grasp until the very end of the movie. The gorgeous black and white cinematography and the stunning performances (particularly from Nilbio Torres as young Karamakate and Antonio Bolívar Salvador as old Karamakate) feel wonderfully authentic- a wormhole in time allowing us to experience a truly important story.
9. Tyrannosaur
Joseph (a superb performance from Peter Mullan) is angry at life and on a downward spiral of self-destruction. He takes his violent rage out on anyone who crosses his path - even if that person (or animal) has done him no wrong. 
A chance connection with christian charity shop worker, Hannah (the always brilliant Olivia Colman), offers him the possibility of redemption as the two form an unlikely friendship based on a mutual need for understanding and forgiveness.
Tyrannosaur is not for the faint hearted. I found it an extremely tough watch. There are brutal scenes of violence (against people and dogs), disturbing sexual violence, a lot of strong language and the overall atmosphere of the film is pretty bleak.
However, Paddy Considine's film lifts the lid on the rage and frustration that can build in a man devoid of hope and of love. It also encourages us to think about how we view others. Things may not be what they seem. 
10. The Kings Of Summer
Sick of living at home with their parents, Joe (Love, Simon's Nick Robinson) and Patrick (Gabriel Basso) decide to leave conventional society and build a house in the woods. Joining them is their eccentric classmate Biaggio (Moises Arias).
Jordan Vogt-Roberts's The Kings Of Summer is a beautiful and poignant movie full of charm and humour. For me, Nick Offerman steals the show as Joe's father, Frank. 
Over To You...
What do you think of these lists? What would you add? Let me know in the comments section below or let's discuss Amazon Prime movies over on Twitter. You can find me @500DaysOfFilm.