500 Days Of Film Reviews You Were Never Really Here Starring Joaquin Phoenix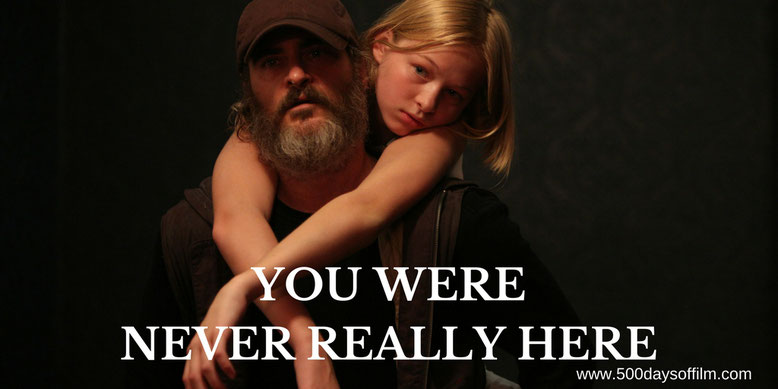 When a teenage girl goes missing, Joe (Joaquin Phoenix), a brutal and tormented enforcer, embarks upon a rescue mission. However, he has no idea of the level of corruption that lies behind the kidnapping or how his path of vengeance will unleash a storm of violence that may destroy him or lead to his awakening. 
Is It Any Good?
A new film from director Lynne Ramsay is always cause for celebration. It has (for a variety of reasons) been five years since her last movie - the superb We Need To Talk About Kevin. As a result, anticipation for her fourth feature film was high.
You Were Never Really Here does not disappoint. This is a stunning movie and an incredibly immersive cinematic experience. Featuring an astounding central performance from Joaquin Phoenix, Ramsay's gripping and intense thriller examines the soul of a broken man.
Based on the book by Jonathan Ames, You Were Never Really Here starts with a black screen accompanied by an almost unbearable cacophony of sound. From these very opening seconds as Jonny Greenwood's superb score takes hold, Ramsay propels us deep into Joe's tortured existence.
You Were Never Really Here's disturbing kidnap plot, while utterly compelling, is secondary to its exploration of a man irreparably damaged by his past. A masterclass in precision storytelling (and in the art of show don't tell), Ramsay uses startling flashbacks to tell Joe's story. Piece by fractured piece, we understand what horrors have led Joe into his dangerous profession - and the toll this journey has taken. 
Ramsay wrote the part of Joe with Joaquin Phoenix in mind. When a film project fell through and the actor was suddenly free, she embraced the chaos of an intense 29 day shoot in the sweltering summer heat of New York. 
It is impossible now to imagine anyone else in this role. Working in close collaboration with Ramsay, Phoenix inhabits Joe completely. In this powerhouse performance, he presents a fallible lumbering hulk of a man suffering from PTSD, overwhelmed by the physical and emotional scars of his past.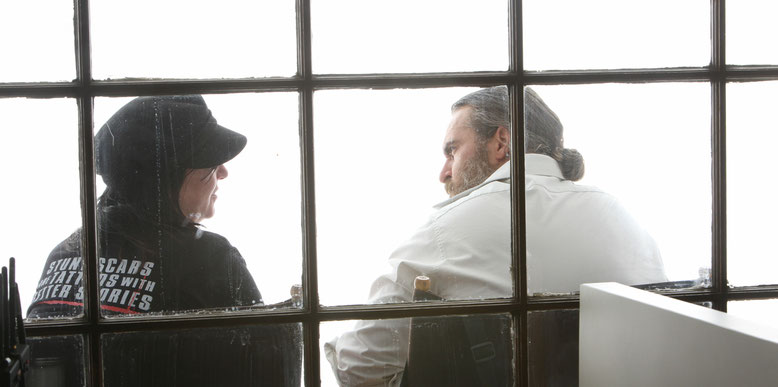 Despite his profession, we sense good in Joe. In warm and unexpectedly moving scenes, he takes care of his elderly mother (played by Judith Roberts). He also shows selflessness in his quest to rescue Nina (a brilliant performance from Ekaterina Samsonov). However, in other moments, he is capable of relentless, monstrous violence. 
Ramsay certainly does not shy away from the brutality inherent in her story. However, she does not revel in it either. We see very little gore and are often removed from the violence - it takes place just out of shot or is glimpsed through surveillance camera footage. 
The impact is incredibly effective and no less shocking. It also forms one of many occasions when Ramsay deliberately wrong foots her audience. Detail by precise detail, she leads us to expect one thing and then gives us another. 
The effect, achieved via Thomas Townend's wonderfully propulsive (and at times painfully beautiful) cinematography, the immersive use of sound and distinctly odd song choices, is disorientating - building unbearable tension while also revealing an undercurrent of hope and black humour.  
You Were Never Really Here is a stunning film from a truly brilliant director. Let's hope that we don't have to wait another five years for Lynne Ramsay's next feature film.
Random Observations
Have you seen You Were Never Really Here? 
If you have, what did you think of Lynne Ramsay's film? Let me know in the comments section below or via Facebook or Twitter (@500DaysOfFilm).