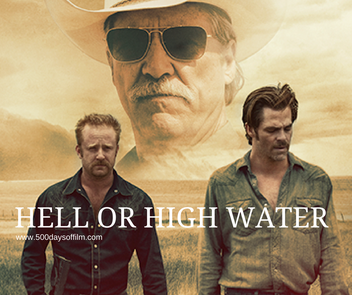 500 Days Of Film Reviews Crime Drama, Hell Or High Water, Starring Chris Pine, Ben Foster, Gil Birmingham and Jeff Bridges
Brothers, Toby (Chris Pine) and Tanner (Ben Foster), embark upon a calculated bank robbery spree - targeting a string of Texas Midland banks in a series of small and desolate West Texas towns.
The robberies put them on a collision course with West Texas Ranger Marcus Hamilton (Jeff Bridges) who, in his last case before retirement, is determined to take them down.
Is It Any Good?
Hell Or High Water is a tense and gripping western for the post financial crisis world. I loved every minute of director David Mackenzie's stunning film. 
Featuring four superb performances, Mackenzie and writer, Taylor Sheridan (Sicario), have made a compelling and hugely entertaining film that subverts genre tropes and audience expectations.
When I think about westerns I think of cowboys and Indians, heroes and villains. In Hell Or High Water, however, the cowboys have been pushed to the limits of existence. Meanwhile, Toby and Tanner are far from heroes but they are not the bad guys either.
The true villain of the piece (despite being the one under attack), is the cold and heartless financial system - a system that has ravaged the land and decimated families and small town communities. 
The four central performances in Hell Or High Water are a joy to watch.
Ben Foster is wildly unpredictable as Tanner in a role that also betrays the trauma of his past. Meanwhile, Chris Pine gives a soulful performance as Toby - a good man forced to do something bad - albeit for the right reasons. The chemistry between the two brothers makes for many compelling scenes.
However, (unsurprisingly) it is Jeff Bridges who steals the show. His portrayal of Marcus Hamilton is wonderful.
I particularly loved the scenes between Hamilton and his half-Comanche, half Mexican partner, Alberto Parker (Gil Birmingham). They are brilliantly entertaining. As much as Hamilton teases Alberto, his (non-PC) remarks are made with genuine affection and are filled with poignancy.
Hell Or High Water is a stunning film and one that I would urge you to see. 
Random Observations
The look of Hell Or High Water is a crucial part of the story. Cinematographer, Giles Nuttgens, shows us incredibly wide scenes of washed out, arid landscapes. You can almost taste the dust. These desolate shots, littered with for sale boards and abandoned homes, tell of terrible hardships and injustice.
Equally important is the film's music. Scored by Nick Cave and Warren Ellis, Hell Or High Water sounds so good. The soundtrack is just perfect - creating a wonderful, brooding atmosphere.  
Director, David Mackenzie, has talked about the surprisingly funny moments in his film. He allowed Jeff Bridges to improvise many of his scenes.
Have you seen Hell Or High Water?
If so, what did you think of this movie? Let me know - leave me a comment in the box below!