500 Days Of Film Reviews Drama, Children Of Men, Starring Clive Owen and Julianne Moore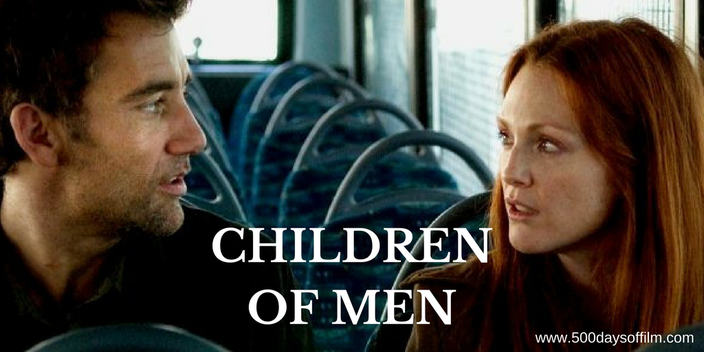 18 years since the last baby was born, disillusioned Theo (Clive Owen) becomes an unlikely champion of the human race when he is asked by his former lover (Julianne Moore) to escort a young pregnant woman out of the country as quickly as possible.
In a thrilling race against time, Theo will risk everything to deliver the miracle the whole world has been waiting for.
Is It Any Good?
Children Of Men may be a decade old, but it has certainly lost none of its impact. In fact, ten years since its release, director Alfonso Cuarón's powerful tale of humanity, desperation and hope feels more relevant than ever before. 
Thrilling, chilling and thought provoking, Children Of Men is a criminally overlooked masterpiece. The film features stunning cinematography and a host of powerful performances (including a career best performance from Clive Owen).
However, the film (adapted from a P.D. James novel) was extremely challenging to make. Cuarón was passionate about every detail of his project and spent months researching his story. He wanted to create something deeper and more complex than a simple science fiction tale. 
While set in the near future, Children Of Men is a film about the present, about the things that shaped our society in 2007 and are still shaping our world today. The things for which we bear responsibility. 
The future depicted in Children Of Men seems, at first glance, unremittingly bleak. However, an irresistible and uplifting sense of hope runs throughout this film. While we witness humanity at its worst, we also see (in Theo and others) our potential to make positive change. 
Children Of Men is a thrilling film experience. The movie includes a number of utterly breathtaking action sequences. One of the most famous scenes is a one shot car chase. In an interview with Vulture, Cuarón remembers that "it was very clear to me that it was going to be a one-shot deal. It was this whole idea of being there in the moment with the character and experiencing violence. We didn't want glamorous violence.
"When you constantly cut out, back, forward, you're presenting the cool ways for a car to crash, as opposed to the random way in which violence happens. So it was in the page, more or less. But then you get into the simple thing of how do you put it together?"
In a series of weekly meetings, the director discussed his vision with legendary cinematographer Emmanuel Lubezki (Chivo). "I remember the week in which he said okay. First, Chivo says it's impossible. I say, 'I know how to do it in green screen.' I knew exactly why I was saying that, because then Chivo says, 'If this shot is green screen, I quit!'... The next day he says, 'Okay, I talked to my friend. We can do this.'"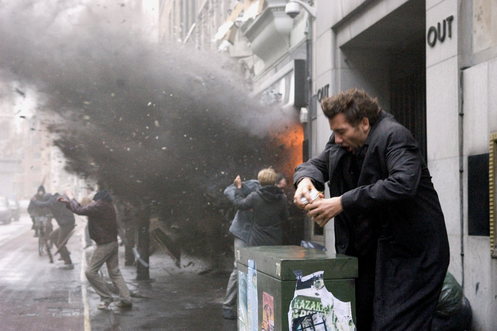 Like many classic movies, Children Of Men is a film that demands repeat viewings. At first, your attention is centered on Theo. However, subsequent viewings reveal the endlessly impressive detail in the background.
The world of Children Of Men feels both familiar and alien. "Rule number one in the film was recognisability," Cuarón explains (in the DVD's bonus content). "We didn't want to do Blade Runner. Actually, we thought about being the anti-Blade Runner in the sense of how we were approaching reality and that was kind of difficult for the art department because I would say I don't want inventiveness I want reference.
"Don't show me the great idea, show me the reference in real life and more importantly I would like (as much as possible) references of contemporary iconography that is already engraved in human consciousness."  
The normalcy and recognisability in Children Of Men makes the film all the more chilling. Sadly, the events depicted feel uncomfortably close to our reality - particularly with regards to immigration.
Children Of Men is a powerful cautionary tale that is as relevant today as it was on its release in 2007. 
Random Observations
One of the most difficult sets to create was the scene where Theo is captured by The Fishes and taken to a room covered from floors to ceilings in newspapers. "We realised that all these newspapers would have to be generated," recalls set designer Jennifer Williams. "It was so labour intensive. If you can imagine you actually had to write newspaper articles and headlines and create the photographs… that was actually quite tricky."
Have you seen Children Of Men?
If you have, what do you think about this movie? If you haven't, do watch it soon. It will entertain, unsettle, provoke and linger long in the memory.