500 Days Of Film Reviews I, Tonya Starring Margot Robbie, Allison Janney And Sebastian 
Stan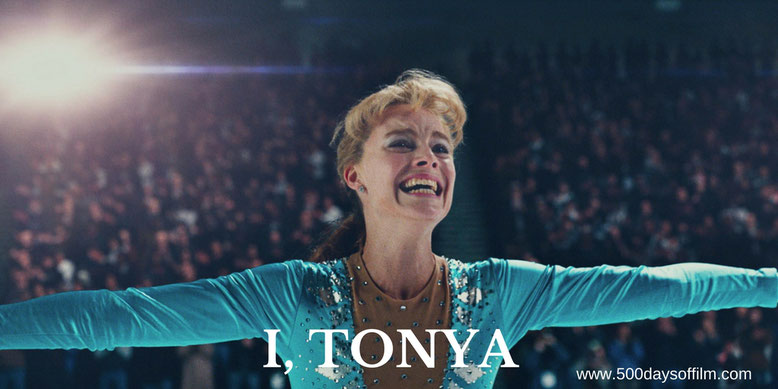 Despite being the first American woman to complete a triple axel in competition, Tonya Harding's legacy was forever defined by her association with an infamous, ill-conceived and even more poorly executed attack on fellow Olympic competitor Nancy Kerrigan. 
I, Tonya is not the film that you may think it is. You might expect a quirky, humorous tale about an infamous "incident" in the world of figure skating. What you get from director Craig Gillespie is something far darker.
However, that is not to suggest that I, Tonya is deadly serious. This film is extremely entertaining and there are many funny moments. However, at its heart, I, Tonya is an unsettling study of prejudice and domestic violence - a movie that doesn't pull its punches.
Margot Robbie is superb - completely committed to her portrayal of Tonya Harding. Thanks to her convincing performance and Steven Rogers's impressive screenplay, I, Tonya is a gripping, unsettling story - a tale that, despite the terrible actions of all involved, deserves to be heard.
Harding's story is told via a series of (brilliantly edited) to camera "interviews". We soon understand that she is far from the cold-hearted monster portrayed in the (newly 24 hour) news media. Harding suffered significant physical and emotional abuse from her mother. Wonderfully portrayed by a scene-stealing (and Oscar winning) Allison Janney, LaVona is cold, crass and cruel.
Tragically, Harding fled her home only to find herself in another violent relationship - with her husband, Jeff (brilliantly played by Sebastian Stan). As a result, it really was against all the odds that Harding managed to succeed in figure skating - particularly as the sport did not welcome her presence (she was not "wholesome" enough).
The only way Harding could get a fair chance was by proving herself on the ice by becoming the first American woman to successfully land a triple axel in competition. This crucial part of the story presented Gillespie with a significant challenge. How to portray this move - and Harding's skating prowess - on screen?
The end result (a combination of Robbie herself and a figure skater with a CG-Robbie face) is only partially successful. However, these slightly off moments aside, the skating is impressive enough to convey the determination and athleticism that Harding brought to the ice.
This and all of I, Tonya's elements - the direction, screenplay, editing, performances and the film's awesome 80s costumes, hair and soundtrack - combine to tell a fascinating and disturbing "true" story.
Random Observations
Have you seen I, Tonya?
If you have, what did you think of this movie? Let me know in the comments section below of via Facebook or Twitter (@500DaysOfFilm).