500 Days Of Film Reviews Lean On Pete Starring Charlie Plummer, Steve Buscemi And Chloë Sevigny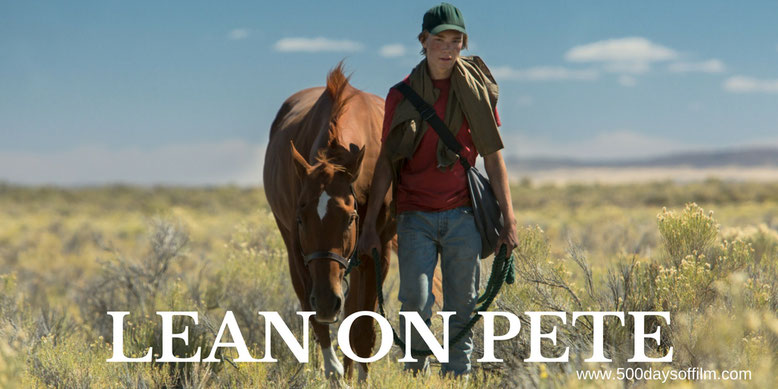 Fifteen-year-old Charley (Charlie Plummer) lives with his alcoholic father (Travis Fimmel) in a run-down house on the outskirts of Portland, Oregon. In an effort to help his dad stay afloat, Charley takes a job at a local racetrack where he befriends jaded trainer Del (Steve Buscemi) and burnt-out jockey Bonnie (Chloë Sevigny) while caring for an aging horse named Lean on Pete.
However, as things start to break down at home and Del announces that Pete will be sold to an uncertain fate, the burden soon becomes too great for Charley to bear. 
Is It Any Good?
Lean On Pete is a breathtakingly beautiful film with an astounding central performance. Exploring loneliness and family, hope and heartbreak, director Andrew Haigh proves (once again) his incredible talent for telling visually stunning and incredibly moving cinematic stories.
Haigh's previous two films - the superb Weekend and 45 Years - both took place in small rooms and intimate spaces. Lean On Pete offers a far wider canvas - the vast expanse of America's Pacific Northwest. However, by always keeping Charley in the frame, Haigh retains a strong sense of intimacy. Charley is our sole focus - his struggle to find a place in the world and some form of family is utterly compelling.  
As a result, much of the dramatic weight of this film rests on Charlie Plummer's young shoulders. Fortunately in what is a remarkable break-out role, he is more than up to the challenge. His is an endearing and powerful performance full of emotion and restraint.
Plummer is joined by an impressive supporting cast. Steve Buscemi is a joy as world weary horse trainer, Del Montgomery, and Chloë Sevigny is brilliant as Bonnie. She sees Charley's growing attachment to Pete and cautions him against such feelings ("they are here to race and nothing else"). This warning comes far too late.
Meanwhile, Travis Fimmel is great as Charley's father, Ray. This character could easily have become one of cinema's many deadbeat dads - someone that we have all seen countless times before. 
However, Lean On Pete is not one of those "countless films". Haigh is not interested in stock characters and stereotypes. Every character in this film displays traits that are both good and bad. While Charley is let down time and again by the adults in his life, Lean On Pete is also full of unexpected moments of kindness.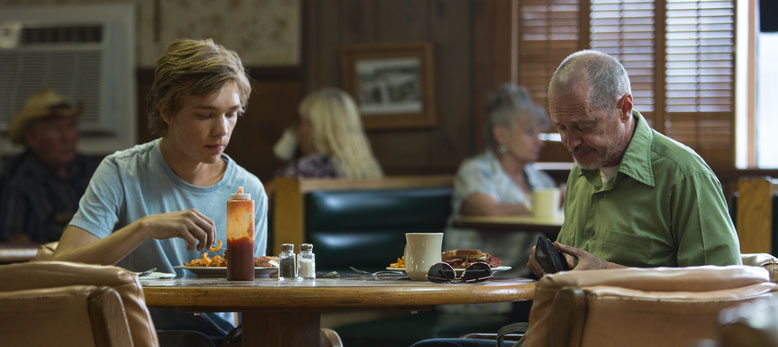 The title of Haigh's film (and the book by Willy Vlautin on which it is based) is, perhaps, rather misleading. Yes the relationship between Charley and Pete is central - it is the emotional heart of the story. However, this is not a simple tale of one boy and his horse.
Lean On Pete explores life on the fringes of American society - a crushingly lonely place full of broken dreams and desperation. The stunning surroundings (beautifully shot by cinematographer Magnus Nordenhof Jønck) only emphasises the overwhelming sense of isolation.
As a result, this film is often something of a tough watch. It is hard to see Charley - an endlessly endearing and remarkably resourceful young man - face this series of cruel blows. We just want to reach through the screen and save him.
Indeed, I defy anyone to remain unmoved by Lean On Pete. After this stunning journey of heartbreak and hope I certainly could not stop the tears from falling.
Random Observations
I really wouldn't be surprised if Lean On Pete made me top ten films of 2018.
I loved Haigh's use of sound design in Lean On Pete. Music is rarely heard - and when it is, it feels so powerful.
This has been described as a break-out performance for Charlie Plummer. However, he was also impressive as  John Paul Getty III in Ridley Scott's All The Money In The World.
Sadly, Lean On Pete received a limited theatrical release. However, you can (as I did) watch this film online via Curzon At Home and selected other streaming sites.
Have you seen Lean On Pete? If you have, what did you think of Andrew Haigh's film? Let me know in the comments section below or come and find me on Twitter (@500DaysOfFilm)!