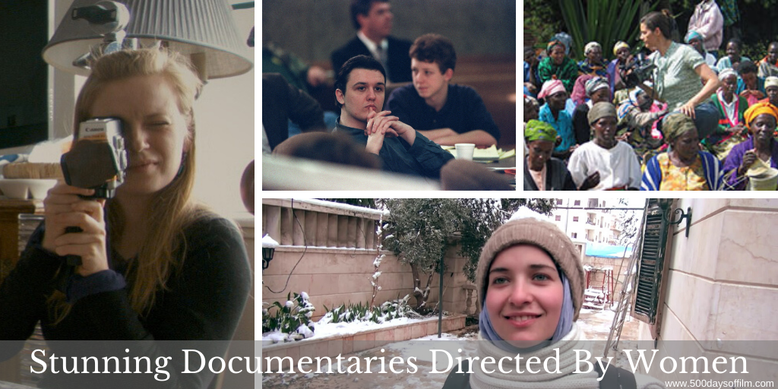 Of the long list of documentary films that I absolutely love, many have been directed by women. I may not have cold, hard statistics to back this up, but it certainly feels as if there is a greater gender balance in the documentary genre.
Back in February 2019, Laura Bradley published an article in Vanity Fair entitled Why Best Documentary Has Become an Oscar Haven for Female Directors. Bradley notes that it took 82 Oscar ceremonies for a woman to win the prize for best director (Kathryn Bigelow for The Hurt Locker).
However, since 2009, 17 films directed or co-directed by women have been nominated in the best documentary feature category. Three of these films (American Factory, Citizenfour and Free Solo) went on to win the Academy Award
I decided to take a closer look at the directors behind the Oscar winning documentary features. Since the Academy Awards began, 14 documentaries directed by women have won this award:
1972 - Sarah Kernochan (with Howard Smith) directed Marjoe
1976 - Barbara Kopple directed Harlan County U.S.A
1985 - Victoria Mudd directed Broken Rainbow 
1986 - Brigitte Berman directed Artie Shaw: Time Is All You've Got
1987 - Aviva Slesin directed The Ten Year Lunch: The Wit and Legend of the Algonquin Round Table
1990 - Barbara Kopple (with Arthur Cohn) directed American Dream
1991 - Allie Light (with Irving Saraf) directed In The Shadow Of The Stars
1992 - Barbara Trent directed The Panama Deception 
1993 - Susan Raymond directed I Am A Promise: The Children Of Stanton Elementary School
1994 - Freida Lee Mock directed Maya Lin: A Strong Clear Vision
2004 - Zana Briski (with Ross Kauffman) directed Born Into Brothels
2014 - Laura Poitras directed Citizenfour
2019 - Elizabeth Chai Vasarhelyi (with Jimmy Chin) directed Free Solo
2020 - Julia Reichert (with Steven Bognar) directed American Factory 
Check out the early 90s right? That was a pretty good run! 
Bradley suggests that the Oscar disparity between fiction and non-fiction films could exist because the barriers to entry in documentary film are much lower. Meanwhile, Free Solo director, Elizabeth Chai Vasarhelyi, states in the article that "documentaries require an enormous amount of grit and empathy - and that is something women are incredibly strong at."
Whatever the reason, one thing is clear. We need more women directors in the film industry. In addition, we need to support the films that female filmmakers create. With that in mind, here are seven of my favourite documentaries directed by women (stay to the end for a list of very honourable mentions):
Stories We Tell - Sarah Polley
Stories We Tell is a deeply personal exploration of director Sarah Polley's family. As Polley unravels (detective style) the mysteries of her childhood, she reveals an intimate and intriguing collection of memories about the mother, Diane, she lost aged just 11 years old.
However, this is not just a film about Polley's experiences. What sets Stories We Tell apart from other (perhaps more self-involved) documentaries is how Polley digs deeper and examines more universal questions - exploring the power of stories, the act of storytelling, the concept of truth and the elusive nature of memory. 
Click here to read more about Polley's powerful documentary
Blackfish - Gabriela Cowperthwaite
In the summer of 2010, Dawn Brancheau was killed at Orlando's SeaWorld marine park. Her killer was the 12,000 pound orca called Tilikum that Brancheau - an extremely experienced trainer - had helped train and had performed with for years.
Director Gabriela Cowperthwaite had many questions following the tragedy. "Something wasn't right," she recalls. "Why would a highly intelligent animal attack its trainer – in effect, bite the hand that feeds it?"
At the start, Cowperthwaite really didn't know what story she wanted to tell. "For two years we were bombarded with terrifying facts, autopsy reports, sobbing interviewees, and unhappy animals – a place diametrically opposite to its [SeaWorld's] carefully refined image," she explains. "But as I moved forward, I knew that we had a chance to fix some things that had come unraveled along the way. And that all I had to do was tell the truth."
Click here to read more about the Blackfish effect.
West Of Memphis - Amy Berg
On 6 May, 1993 the naked and mutilated bodies of three eight year old boys - Stevie Branch, Michael Moore and Christopher Byers - were found in a watery ditch in West Memphis, Arkansas. 
Under significant pressure to solve the crime and in the midst of satanic panic hysteria, three local teenagers - Damien Echols, his friend Jason Baldwin and Jesse Misskelley - were arrested, charged and then convicted of the brutal murders. 
Director Amy Berg spent over two years conducting research and chasing leads about the case before she began tp make her documentary, West Of Memphis. "Rarely had I come across a failure of justice with such profound consequences - three young men falsely convicted of crimes for which they were still imprisoned; six families lives forever destroyed while the real killer of three eight year old boys remained free," she says.
Berg explains that "a combination of poverty, corruption, political ambition and religious bigotry had collided in this case to create a horrific illustration of how wrong things can go for everyone when we, as a society, fail to do all in our power to discover the truth."
Click here for more on West Of Memphis
Faces Places
Agnes Varda is, of course, a film icon. Of her many brilliant films, I absolutely love Faces Places. On paper, the documentary seems like a strange concept. An octogenarian filmmaker tootles around the French countryside with JR, a photographer in his thirties, in a van that looks like a camera. 
Occasionally - and seemingly without a plan - they stop and take pictures of the people they meet. The images are then plastered on walls, barns, water towers and the like.
It shouldn't work but, thanks to the friendship between Varda and JR, it does - it really, really does. The unlikely pair have a truly special chemistry.
It is wonderful to watch them talk about their art and, through these fascinating and endearing interactions (JR enjoys teasing Varda), we see the exuberant bravado of youth juxtaposed with the wisdom and poignancy of old age. 
Click here for more on Faces Places 
Citizenfour
Filmmaker, Laura Poitras, had been working on a film about surveillance for two years when she was contacted by someone using the name "Citizenfour". The contact was a man and he knew about Poitras because she had been the target of US government surveillance and had steadfastly refused to be intimidated.
Citizenfour revealed that he was a high level NSA analyst and that he could expose the massive amount of surveillance of Americans (and others). Poitras persuaded Citizenfour to let her film him. He agreed and Poitras along with Guardian journalist Glenn Greenwald flew to Hong Kong to meet Citizenfour - otherwise known as Edward Snowden. 
Citizenfour is a truly remarkable documentary. It is nothing short of incredible to be in the hotel room with Poitras and Greenwald and hear Edward Snowden tell his story. 
Click here for more about Citizenfour
Cameraperson - Kirsten Johnson
Kirsten Johnson is one of the most respected cinematographers working in documentary cinema. Her impressive filmography includes Citizenfour, Fahrenheit 9/11, The Invisible War and Audrie & Daisy. 
After 25 years behind the camera, Johnson decided to take pieces of memorable footage and edit them together to form a memoir, an exploration of human connections and a look at what it means to film and be filmed.
Cameraperson is a cinematic collage - a series of film moments selected from a truly illustrious career. There is no voice over, nothing to tell you what to make of the footage you are watching. An introductory title card explains that, while Johnson "originally shot the following footage for other films", she would like us to see this new film as "my memoir. These are the images that have marked me and leave me wondering still".
Click here for more about Cameraperson
For Sama - Waad al-Kateab
For Sama isn't the first documentary that I have watched about the devastating conflict in Syria. Over the last few years, there has been a steady influx of films - including The White Helmets, City Of Ghosts and Last Men in Aleppo - depicting the war and the battle for Aleppo. 
However, Waad al-Kateab's documentary is the one I feel will stay with me the most. 
 It is For Sama's mix of powerful journalism and intimate storytelling that makes this film an unforgettable experience. The documentary offers both an uncompromising and important account of life in Aleppo between 2012 and 2016 and immersive access to a family under siege.
Click here to read more about For Sama.
Honourable Mentions