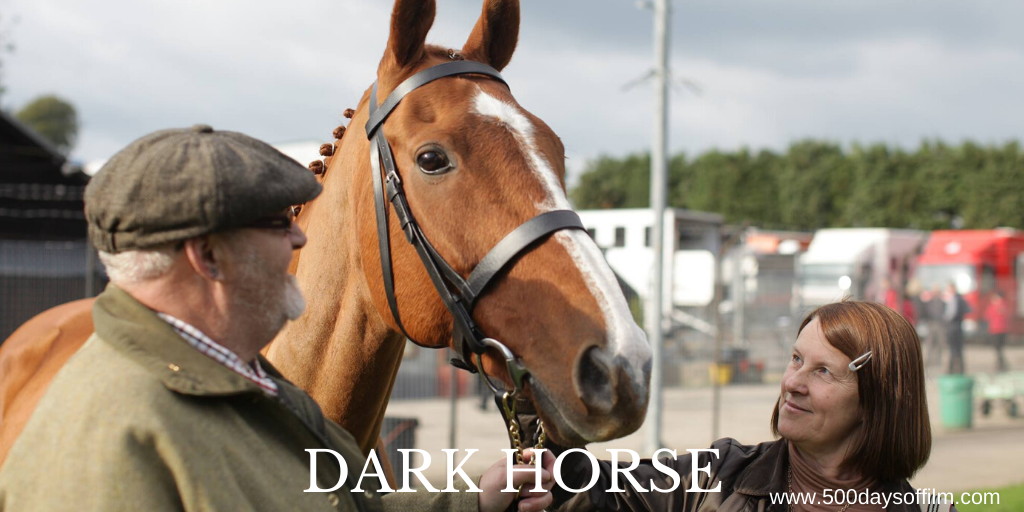 Set in a small Welsh mining village called Cefn Fforest, Dark Horse tells the true story of a community who, in early 2000, decided to enter the sport of kings - the elite world of horse racing. Their journey began when barmaid, Jan Vokes, overheard businessman, Howard Davies, talking about the time he owned a racehorse. Having bred pigeons and whippets, Vokes was inspired to breed a racehorse of her own.
The two pooled their expertise and finances and bought a cheap (but not particularly promising) thoroughbred mare, paired her with an aging stallion and raised the foal on their slagheap allotment. This was still no cheap venture, of course. As a result, Vokes and Davies asked people from their community to join a syndicate. The group of 23 each agreed to contribute £10 per week.
They then set about training their horse - calling him Dream Alliance. What followed took Vokes, Davies and the entire community on a truly remarkable and inspiring journey.
At the beginning of Louise Osmond's brilliant documentary, Howard Davies talks about how the Dream Alliance syndicate "broke the mold. We actually went there [to Aintree] and did it. And we did it for a tenner a week. It's elation when you can do something - particularly when no one gives you a chance."
This sense of elation is palpable in Dark Horse. This is a gripping, inspiring and deeply moving film full of wonderful, down-to-earth characters who talk openly and honestly about their remarkable experience. They all understood that few in the racing world would take them seriously. But was that going to stop them?
Not a chance.
Jan Vokes is a brilliant storyteller - often tilting her head to give us a twinkly and mischievous smile. However, this is not a woman to trifle with. As her husband, Brian, points out, this was her dream and when Jan says she is going to do something, she is going to do it. 
The Dream Alliance venture was less a money making scheme than an endeavour to prove just what one small community could achieve. Having suffered through the pit closures, the village certainly needed a boost and Dream became a genuine source of hope and inspiration. Both in good times and bad, the people of Cefn Fforest loved Dream and stood by him as one of their own. Of course, no one could have predicted just what this horse was capable of achieving.
Osmond, who has directed several powerful documentaries including 2006's Deep Water about the disastrous 1968 round-the-world  yacht race and 2016's Versus: The Life And Films Of Ken Loach (2016), captures drama of the story, the stunning location of the Welsh valleys and the mystery and majesty of horses - both thoroughbred and beautifully wild. Meanwhile, the film is beautifully edited by Joby Gee.
Dark Horse is a movie about beating the odds. There are few (cinematic) things better for lifting your spirits than seeing an underdog rise up and win - particularly when that story is true.