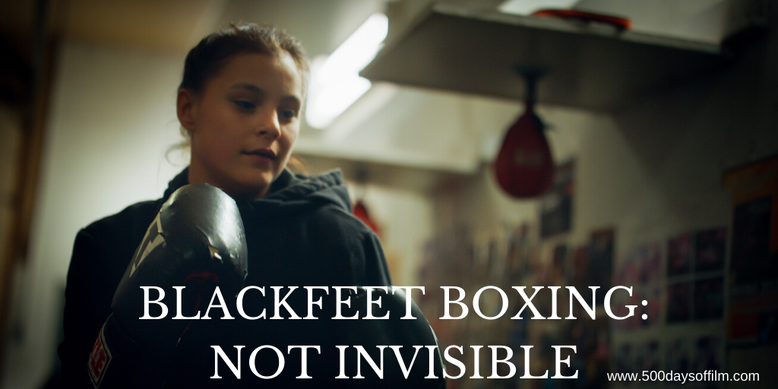 According to the US Justice Department, Native American women are ten times more likely to be murdered than non-native women. More than one in three has suffered rape, or attempted rape, and more than 80 percent will experience violence at some point in their lives.
These shocking statistics underpin Kristen Lappas and Tom Rinaldi's powerful documentary short, Blackfeet Boxing: Not Invisible. Meanwhile, on the Blackfeet Reservation in Montana, these statistics represent real lives, the pain of families and a crisis that needs to be addressed.
The film opens with stunning establishing shots of Montana. However, the cinematic beauty of the Blackfeet Indian Reservation soon becomes the stuff of nightmares as we watch a woman called Kimberly search for the bones of her missing sister.
In June 2017, 20 year old Ashley Loring Heavyrunner disappeared after attending a party on the Reservation. "My greatest fear is that we will never find my sister," Kimberly says. "But we will always search for Ashley".
Blackfeet Boxing: Not Invisible follows Kimberly's desperate fight to find out what happened to her sister and to raise awareness of the many other cases of missing and murdered Indigenous women (MMIW).
Lappas and Rinaldi's documentary reveals how girls on the Blackfeet Reservation live in fear - anxious that they will be assaulted or "taken". As a result, many have joined Frank Kipp's Blackfeet Nation Boxing Club. The former probation officer has trained over 500 boys and girls since opening the gym in 2003.
Blackfeet Boxing: Not Invisible follows two promising fighters. Donna Kipp, Frank's daughter, is determined to qualify for the Junior Olympics and Mamie Kennedy is a talented fighter with serious potential. However, in heartbreaking scenes we see Mamie struggle with her dysfunctional family and the temptation of drinking and drugs. 
Kipp's gym offers safety and sanctuary - his boxing and self defence training empowers the girls and allows them to confront their fears. Of course, one boxing club cannot solve the MMIW problem - but it can give these girls a fighting chance of survival.