500 Days Of Film Reviews Bombshell: The Hedy Lamarr Story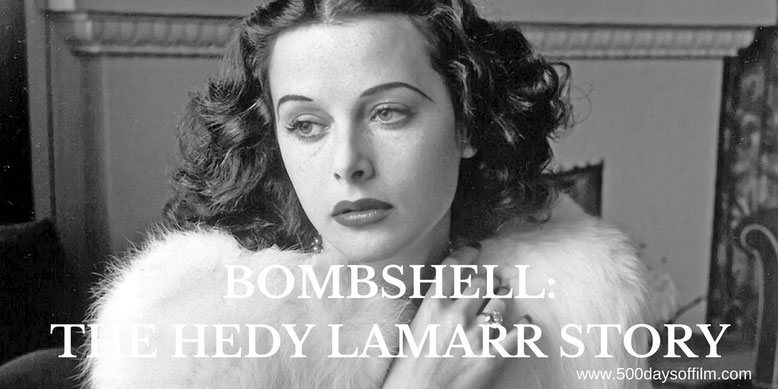 Hollywood star, Hedy Lamarr, was known as one of the world's most beautiful woman - both Snow White and Cat Woman were based on her stunning and iconic look. However, Lamarr's beauty and glamorous life stood in the way of her being given the credit she deserved as an ingenious inventor whose pioneering work helped revolutionize modern communication.
Is It Any Good?
Bombshell: The Hedy Lamarr Story has an incredible tale to tell. A fascinating (and, at times, heartbreaking) story about a truly remarkable woman. Known for her beauty, Hedy was far from just another pretty face. She was an Austrian Jewish emigre who invented a covert communication system to try and help defeat the Nazis.
However, her innovation and contribution was largely dismissed. After giving her patent to the Navy, Lamarr was told to go and sell kisses for war bonds. It was only at the end of her life that her role in the development of the technology behind secure Wifi, GPS and Bluetooth was acknowledged.
Director, Alexandra Dean, was drawn to Lamarr's story. "I spent years covering innovation and technology for Bloomberg Television and Businessweek," she explains. "I noticed over time that the majority of the inventors we profiled were men and I started trying to find more stories about women coming up with brilliant, original ideas."
It was Dean's colleague, Katherine Drew, who gave her Richard Rhodes's book on Hedy Lamarr. "I thought – bingo – here is the role model everyone thinks doesn't exist. And she's a movie star! I knew it had to be my next project." 
Six months into the film shoot, Dean made a significant discovery. Having struggled with her fame, Lamarr became a recluse. It was thought that she had never talked about her patent on record. However, Dean and producer Adam Haggiag unearthed audio tapes of Hedy speaking about her incredible life.
"We called every living journalist who had ever done an article on her, and nothing turned up," recalls Dean. "I was actually staying awake at night thinking her voice has to be out there somewhere. Finally, it turned out we had the wrong email for Fleming Meeks, who was based only a few blocks from us in New York. 
"When I finally reached him, the first thing he said was 'I have been waiting 25 years for somebody to call me about Hedy Lamarr because I have the tapes.' It was a turning point for the film. We ripped up the film we had and started all over again. She took over as narrator, and it was like she was suddenly directing the film."
Dean combines this newly discovered interview with moving reflections from Lamarr's children, closest friends, family and admirers, including Mel Brooks and Robert Osborne. As well as telling a fascinating true story, the documentary also helps to restore Lamarr's legacy.
"Hedy's autobiography was written by a ghost writer and Hedy's manager was allegedly paid to get her to sign off on what turned out to be a salacious tell-all," Dean explains. "It focused on her sexuality and made her the butt of a joke. 
"Hedy always wanted to write a second autobiography to correct the record, but it never came to be. We hope that this film will help set the record straight and portray Hedy as the complicated, brilliant woman she was."
Random Observations
Have you seen Bombshell: The Hedy Lamarr Story?
If you have, what did you think of this documentary? Let me know in the comments section below or via Facebook or Twitter (@500DaysOfFilm).