500 Days Of Film Reviews 20 Of The Best Netflix Original Movies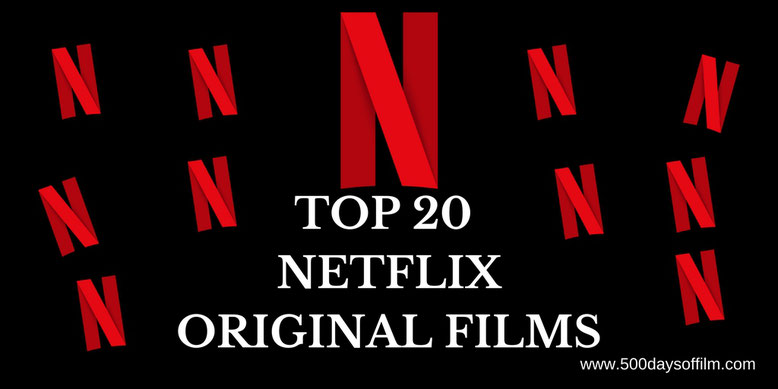 In October last year, Netflix chief content officer, Ted Sarandos, announced that the streaming service was planning to release around eighty original films in 2018. Eighty movies. Woah. 
This ambitious statement was undeniably exciting for Netflix subscribers (more than justifying its monthly fee). However, the reality has been something different - a rather mixed viewing experience.
Netflix has, of course, released some superb (and now Oscar-winning) films. Movies such as Mudbound, Annihilation, Icarus, Okja and Strong Island.
Sadly, the service has also seen more than its fair share of missteps and disappointments such as The Cloverfield Paradox, Mute, The Open House, Bright, Death Note - not to mention a slew of Adam Sandler duds (The Meyerowitz Stories excepted).
You get the sense that Netflix is favouring quantity over quality and that is a real shame. I have certainly become more wary following the release of a new Netflix Original film.
However, the good news is that there are plenty of Netflix original movie gems shining through.
20 Netflix Original Films Worth Your Attention
20. 1922
Zak Hilditch's adaptation of Stephen King's novella is a cautionary tale that leaves you with a lingering feeling of dread. The story follows Wilfred James (Thomas Jane) - a proud and hardworking Nebraskan farmer who is struggling to make ends meet. Unhappily married to Arlette (Molly Parker), he is shocked by her plans to sell her share of the farm and move to the city with their teenage son, Henry (Dylan Schmid). Desperate, Wilfred comes up with a horrific plan - a way to keep his farm and his son. However, can he live with the consequences of his actions?
19. Audrie & Daisy
Bonni Cohen and Jon Shenk's documentary about sexual assault, victimisation and online bullying is both shocking and heartbreaking. However, it is also an empowering and inspiring film as we see Daisy emerge as a powerful advocate for victims of sexual violence.
Click Here To Read My Full Review
18. Casting Jonbenet
In Kitty Green's intriguing documentary, local actors from JonBenet Ramsey's hometown of Boulder, Colorado offer their views and opinions about her murder as they audition for roles in a dramatization of the case. The film is more interested in asking questions than it is seeking answers to one of the world's most famous unsolved murders.
Click Here To Read My Full Review
17. The Little Prince
The Little Prince is a lovely animation based on the classic book (of the same name) by French writer, Antoine De Saint-Exupery. This is an entertaining film that is fun to watch and full of wisdom about love, loss and what truly matters in life. 
Click Here To Read My Full Review
16. Our Souls At Night
Based on the novel by Kent Haruf (and despite its rather unfortunate title), Our Souls At Night is an utterly charming film featuring beautiful and deeply poignant performances from Jane Fonda and Robert Redford. 
Click Here To Read My Full Review
15. Mascots
In this hilarious faux-documentary from director, Christopher Guest, eager contestants don gigantic heads and wear the fluffiest of suits to compete for the title of the World's Best Mascot. The film features some truly wonderful comic performances and it is just so refreshing to watch a comedy without a nasty edge.
Click Here To Read My Full Review
14. Tallulah
While searching for her ex-boyfriend, Nico, in New York, homeless young drifter Tallulah (Ellen Page) kidnaps a baby from neglectful mother, Carolyn (Tammy Blanchard). Tallulah seeks refuge with Nico's mother, Margo (Allison Janney), and pretends that the child is her own. It is wonderful to see Page reunited with fellow Juno cast member, Allison Janney. The two have such wonderful on screen chemistry.
Click Here To Read My Full Review
13. Tramps
Danny (Callum Turner) and Ellie (Grace Van Patten) are thrown together after a shady bag swap goes awry. This is, of course, one of the most familiar devices in cinema's crime genre. However, thanks to Adam Leon's sweetly nostalgic story and the charismatic performances from Grace Van Patten and Callum Turner, Tramps is a joy to watch. 
Click Here To Read My Full Review
12. Gerald's Game 
When a sex game between married couple Jessie and Gerald (Carla Gugino and Bruce Greenwood) goes horribly wrong, Jessie faces a harrowing fight for survival - a battle that will force her to confront the demons of her past and also those lurking in the shadows of her seemingly empty house. Featuring a superb performance from Carla Gugino, our second Stephen King adaptation is gripping and deeply unsettling.
Click Here To Read My Full Review
11. I Don't Feel At Home In This World Anymore
Disillusioned by the behaviour of her fellow humans, Ruth (Melanie Lynskey) decides to take matters into her own hands after her home is burgled, enlisting the help of neighbour, Tony (Elijah Wood). Macon Blair's directorial debut is a wonderful dark and twisty comedy.
Click Here To Read My Full Review
10. The Meyerowitz Stories (New & Selected)
Family grudges and bitter rivalries erupt when Danny (Adam Sandler), Jean (Elizabeth Marvel) and Matthew (Ben Stiller) meet in New York. Noah Baumbach's film is (of course) an incredibly smart, thoroughly enjoyable bittersweet comedy. However, watch out - these Meyerowitz stories have some pretty sharp edges.
Click Here To Read My Full Review
9. Divines
Dounia and her best friend, Maimouna, dream of becoming millionaires. However, life in a Parisian ghetto offers the feisty pair few opportunities and little hope for the future. Houda Benyamina's debut is a truly joyous depiction of young, female friendship
Click Here To Read My Full Review
8. Strong Island
Oscar-nominated documentary, Strong Island, chronicles the arc of a family across history, geography and tragedy - from the racial segregation of the Jim Crow South to the promise of New York City; from the presumed safety of middle class suburbs, to the maelstrom of an unexpected, violent death. 
Click Here To Read My Full Review
7. Beasts Of No Nation
When civil war tears his family apart, a young West African boy called Agu (the brilliant Abraham Attah) is left alone in a dangerous land. Beasts Of No Nation is a tough watch - it is upsetting and disturbing. Regardless, it is absolutely worth your while.
Click Here To Read My Full Review
6. Okja
Young Korean girl, Mija (An Seo Hyun), risks everything to prevent Lucy Mirando (Tilda Swinton)'s powerful multinational company, The Mirando Corporation, from kidnapping her best friend - a super pig named Okja. Bong Joon Ho's thought provoking film is poignant and eccentric, heartwarming and horrific. 
Click Here To Read My Full Review
5. Icarus
Gripping (and Oscar-winning) documentary, Icarus, is a film of two parts. The first follows director Bryan Fogel's struggle with the prevalence of performance enhancing drugs in sport. The second part is a shocking expose of statewide doping in Russia.
Click Here To Read My Full Review
4. 13th
13th starts by addressing a truly stunning statistic. The US - often called the land of the free - has the highest incarceration rate in the world. Even more shocking is the fact that one in three black males in America will go to prison at some point during their lives (compared to one in 17 white men. Via a series of to camera interviews with experts and academics, Ava DuVernay's documentary explores the issue of mass incarceration and the insidious evolution of slavery.
Click Here To Read My Full Review
3. First They Killed My Father
Loung Ung was just five years old when Khmer Rouge soldiers stormed into her native city of Phnom Penh, Cambodia. Four years later, an estimated 1.7 million Cambodians had died - about a quarter of the population. Based on Loung Ung's memoir, First They Killed My Father; A Daughter of Cambodia Remembers, Angelina Jolie's film is at once a heartbreaking and disturbing story of genocide and also a beautiful portrait of Cambodia and its people.
Click Here To Read My Full Review
2. Annihilation
Lena (Natalie Portman), a biologist and former soldier, joins a mission to uncover what happened to her husband (Oscar Isaac) inside Area X - a sinister and mysterious phenomenon that is expanding across the American coastline. Alex Garland's brilliant film is a gripping and visually stunning sci fi that explores profound themes.
Click Here To Read My Full Review
1. Mudbound
Two Mississippi families - one black, one white - confront the brutal realities of prejudice, farming and friendship after the end of World War 2. Director, Dee Rees, is a captivating storyteller and Mudbound has a powerful and heartbreaking tale to tell. Featuring a superb ensemble cast (including Jason Mitchell, Carey Mulligan, Mary J. Blige and Garrett Hedlund), this film is also notable for Rachel Morrison's stunning cinematography. Her efforts were rewarded with an Oscar nomination - incredibly, the first nomination for a female cinematographer.
Click Here To Read My Full Review
What Are Your Favourite Netflix Original Films?
What are your favourite Netflix Original movies?
Do let me know - you can leave me a comment in the box below or let's chat over on Facebook or Twitter (@500DaysOfFilm).