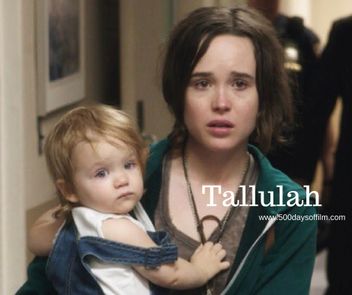 500 Days Of Film Reviews Netflix Original Film, Tallulah, Starring Ellen Page And Allison Janney
While searching for her ex-boyfriend, Nico, in New York, homeless young drifter Tallulah (Ellen Page) kidnaps a baby from neglectful mother, Carolyn (Tammy Blanchard).
As the impact of her impulsive action sinks in, Tallulah seeks refuge with Nico's mother, Margo (Allison Janney), and pretends that the child is her own.
Is It Any Good?
Tallulah is the debut feature film from Orange Is The New Black writer, Sian Heder.
This enjoyable, engaging and darkly comic movie follows three troubled women - Tallulah, Margo and Carolyn - as they struggle with the idea (and harsh reality) of motherhood.
Ellen Page is superb. Tallulah is often excruciatingly impulsive and not easy to like. However, underneath her tough, world weary exterior lies a neglected and frightened child fighting for survival.
It is wonderful to see Page reunited with fellow Juno cast member, Allison Janney. The two have such wonderful on screen chemistry and the pairing elevates the film, helping us to accept some slightly questionable plot contrivances. 
Janney is as brilliant as ever - she commands the screen with a blend of poignant vulnerability and engaging comedy. She conveys Margo's loss and desperate need for connection without the need for exposition. As a result, we understand her motivation and why she accepts Tallulah's story without question.
The third story in Tallulah involves Carolyn. At first, this character felt like a rather two-dimensional plot contrivance.
We are not meant to care about Carolyn's horrific situation. After all, she is a terribly neglectful mother and in no state to look after her child. In addition, Heder needs us to understand and sympathise with Tallulah's decision to kidnap baby Madison.
I did feel that the film pushed this point a little too far - particularly during Carolyn's dealings with the police department. While these scenes do allow child protective services officer, Detective Kinnie (Uzo Aduba), the chance to make a powerful and dramatic speech, they did not quite ring true.
However, as the movie progresses (and largely thanks to Tammy Blanchard's nuanced performance) Carolyn becomes increasingly human. While remaining hard to like, we begin to see the desperation behind her actions.
Tallulah is an engaging and powerful film - elevated by Page and Janney's performances and superb on screen chemistry.
Random Observations
Have you seen Tallulah?
If so, what did you think of this Netflix original movie? Do let me know by leaving a comment in the box below!