500 Days Of Film Reviews, Documentary, Casting JonBenet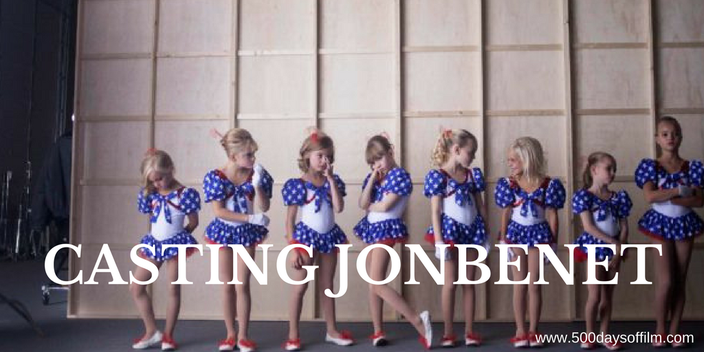 Local actors from JonBenet Ramsey's hometown of Boulder, Colorado offer their views and opinions about her murder as they audition for roles in a dramatization of the case.
Is It Any Good?
20 years on, the unsolved murder of JonBenet Ramsey continues to fascinate. Hundreds of hours of film and television footage and thousands of book and magazine pages have tried to uncover exactly what happened to this six year old girl. 
However, to this day, all we know for certain is that just before 6am on 26 December 1996, JonBenet's mother, Patsy, called the Boulder police and reported her daughter missing. There was a two and a half page ransom note demanding $118,000 in exchange for her safe return.  
The police arrived soon afterwards. Tragically, they did not secure the house - allowing many of the Ramsey's friends free access to the property. When the kidnappers did not call at the arranged time, police officers suggested a search of the house. JonBenet's father, John, found his daughter in the basement. She had been dead for some time, having been hit on the head and strangled - there were also signs of sexual assault.
Among the dozens of theories about the murder, there are two main suspicions. One, that a member of JonBenet's family (her mother, her father or her older brother, Burke) accidentally killed her and then the family covered it up as a kidnapping. Two, that someone else (a local pedophile perhaps) came into the house, took her from her bedroom and killed her in the Ramsey's basement. 
We still do not know (and will probably never know) who killed JonBenet. This, of course, has not dampened the rampant speculation about the case and it is this that most fascinates director Kitty Green. 
Green's decision to film the responses of actors (rather than people off the street) is truly inspired. Actors immerse themselves in the characters that they play so, in this case, who better to speculate about the motives of those involved?
The varied interpretations of Patsy, John, Burke and the Boulder police in Casting JonBenet are unsettling (particularly at the end of the movie when the actors congregate 'in character'), undeniably fascinating and surprisingly revealing.
However, the fact that this is not a traditional true crime documentary may frustrate some audiences. It is a film more focused on questions than on answers, more interested in people's responses than in solving the case. Indeed, despite the film's title, we see very little of the actress who has been cast in the tragic central role. 
While I did find myself tiring of Casting JonBenet's conceit at some points during the film, I found myself willing to go on this journey with Green. Her stylistic approach is both gripping and extremely illuminating.
Random Observations
Casting JonBenet is not the only documentary to use dramatization as a means to access certain human truths. Joshua Oppenheimer used this technique in his stunning film, The Act Of Killing, as did Robert Greene in Kate Plays Christine. 
Have you seen Casting JonBenet? 
If you have, what did you think about Kitty Green's documentary? Let me know by leaving me a comment in the section below. Alternatively, come find me on Twitter or Facebook!