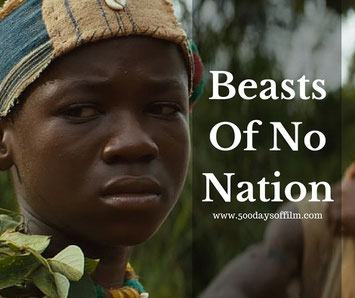 500 Days Of Film Reviews Beasts Of No Nation And Finds A Tough Drama About Child Soldiers
When civil war tears his family apart, a young West African boy called Agu (the brilliant Abraham Attah) is left alone in a dangerous land.  
He stumbles upon and is then is forced to join a unit of mercenary fighters. This group is led by a ruthless commandant (superbly portrayed by Idris Elba).
The unit trains Agu and transforms him into a child soldier.
Is It Any Good?
Beasts Of No Nation is an astounding film. When the final credits rolled, I was left stunned by what I had seen. 
When we first meet Agu, his country is at war. There is no school and, as a result, Agu and his friends have to come up with ways to occupy their time. They are a gorgeous and hilarious bunch of kids. 
The situation doesn't feel normal, but the children do. They look and behave like children - something that will become all too jarring later on in the film.
All too soon, their lives are shattered as the front line of the civil war reaches their village. Agu is left alone and falls prey to Idris Elba's band of mercenaries.
He has no choice but to join this commune. He has no choice but to become a child soldier - it is either that or die.
Beasts Of No Nation is a film I more appreciated than enjoyed. I don't think I could ever truly enjoy the events depicted in this film. This is a tough one to watch. There is one scene in particular that I almost couldn't bear and which will certainly stay with me.
However, I appreciated the look and feel of the film and also how director Cary Joji Fukunaga (who directed 2011's Jane Eyre) tells his story. This is (at 2 hours and 17 minutes) a long and grueling journey but I remained gripped throughout.
Abraham Attah is just superb as Abu. I just can't emphasise that enough. He is on screen throughout the film and transforms from a young child to a world-weary soldier in front of our eyes. 
Like the performance in Room from Jacob Tremblay, I just do not know how an actor so young can convey so much hurt, pain and confusion. Like with Tremblay, I do not understand why Attah has not had more awards recognition.
Idris Elba, meanwhile, is brilliant as the charismatic and monstrous commandant. His is such an impressive performance in what is a truly brutal role. In other hands this part could have been pure evil. However, Elba brings depth and complexity to the role.  
Beasts Of No Nation is upsetting and disturbing but I would still recommend this film because it has something so important to say. The movie highlights the horrific reality that innocent children are being brainwashed and used as weapons in wars throughout the world.  
Random Observations
Beasts Of No Nation is a Netflix original film. It was, however, also screened in cinemas for the requisite amount of time necessary to make it eligible for awards nominations.
Many critics were surprised that neither Idris Elba nor Abraham Attah (or the film itself) were recognised by the Oscars. This added fuel to the 2016 Oscar diversity fire. 
Have you seen Beasts Of No Nation? 
If you have, what did you think of this film? I'd love to know, please do leave me a comment in the box below!