500 Days Of Film Reviews Romance, Our Souls At Night, Starring Jane Fonda And Robert Redford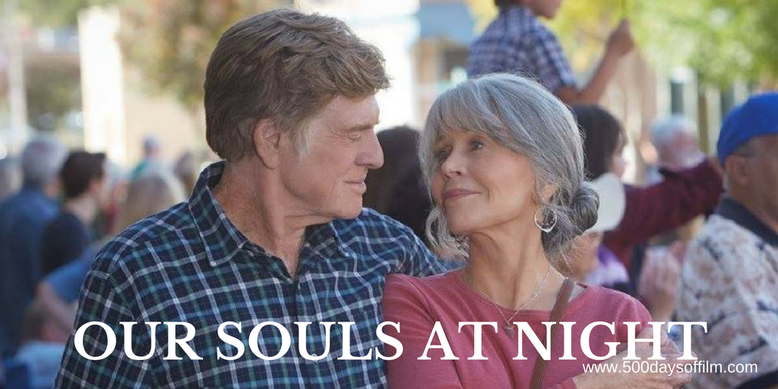 Addie Moore (Jane Fonda) is lonely and has had trouble sleeping since her husband died. As a result, she decides to pay an unexpected visit to Louis Waters (Robert Redford) believing him to be in the same boat.
They have been neighbours for years and yet they don't really know each other. Their children live far away and they are both alone in their big houses. Addie suggests that they keep each other company and get to know each other better. 
After all, Addie reasons, you never know where that might lead.
Is It Any Good?
Based on the novel by Kent Haruf (and despite its rather unfortunate title), Our Souls At Night is an utterly charming film featuring beautiful and deeply poignant performances from Fonda and Redford. 
It is a joy to watch them together again on screen and a relief that Scott Neustadter and Michael H. Weber have written a script that is worthy of them both.
Far too few films explore the lives of older people. Our Souls At Night reveals what rich storytelling potential there is here to explore. With sensitivity and the warmest humour, director, Ritesh Batra, looks back at Addie and Louis' past lives and also forward towards a future they hardly dared imagine.
Meanwhile, the present also has its turn - how will Louis' daughter and his friends react to his burgeoning relationship? Will Addie's son, Gene (Matthias Schoenaerts), allow his mother another chance of happiness? Should Addie prioritise herself or is she always a mother and grandmother first and foremost?
Thankfully, with all the themes at play in Our Souls At Night, Batra never veers far from the heart of his film - the moving interplay between Addie and Louis - two beautiful souls played by two wonderful actors.
Random Observations
Have you seen Our Souls At Night? 
If you have, what did you think of this film? Let me know in the comments section below or let's talk over on Facebook or Twitter (@500DaysOfFilm).