500 Days Of Film Reviews The Best Films Under 90 Minutes Long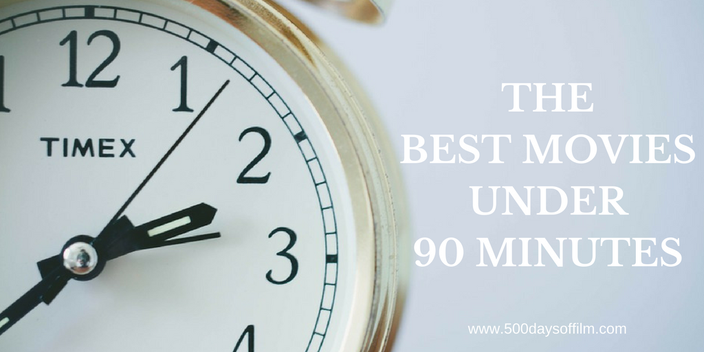 The length of a movie is, of course, no reliable barometer of its quality. However, there is something undeniably impressive about a film that manages to tell its tale in a timely fashion (handy too if you've got an early start the next morning).
Here are some of the best films (grouped by genre) that clock in at 90 minutes or less.  
Animation
Aware that little bottoms will only sit still for a certain amount of time, the world of animation is full of films with short running times. Disney has had this thing down for years - as we have seen with movies such as the original Beauty And The Beast (84 mins), The Lion King (89 mins) and Dumbo (which, incredibly, is only 64 minutes long).
Yet, we never feel short-changed by these movies. In fact, their impact is such that they often feel far longer.
Take My Life As A Courgette for example. Claude Barras' film about a boy's experiences at a nurturing foster home is a lean 66 minutes long. However, this wonderful stop motion movie conveys so much in this small space of time that it feels much lengthier. 
The same can be said, of course, of Toy Story (81 mins) and Studio Ghibli favourite, My Neighbour Totoro (86 mins). Not a moment goes to waste in the telling of these classic stories.
Comedy
Many comedies fail because they are way too long and cannot sustain their humour. It is far better, therefore, to keep funny films brief. A great example of this is Noah Baumbach's Frances Ha (86 mins), starring the fabulous Greta Gerwig. This poignant comedy never outstays its welcome.
Meanwhile, all the best horror comedies hover around the 90 minutes mark. Who can resist Jemaine Clement and Taika Waititi's faux-documentary, What We Do In The Shadows (86 mins)? These two talented directors know exactly how far their comedy concepts can travel. Short and hilariously sweet. 
Ruben Fleischer's Zombieland (88 mins) is another example of a horror comedy that understands the crucial issue of timing. Sure, this movie could have gone on longer and featured more action sequences and plot twists. However, Zombieland wouldn't have been nearly as effective or funny.
My favourite comedy horror has to be Ben Wheatley's Sightseers - brilliantly concise, darkly funny and unashamedly nasty.
Horror
Much like comedy films, horror movies need to watch the clock. Tension is a hard thing to sustain over a lengthy running time. One of my favourite horror films under 90 minutes is Babak Anvari's superb Under The Shadow (84 mins).
Joe Cornish's brilliant Attack The Block (88 mins long and features a superb early performance from John Boyega) and David F. Sandberg's Lights Out (81 mins) are two other examples of enjoyably nippy little horrors.
Thriller
Tension is also key, of course, in the thriller genre. Jeremy Saulnier's Blue Ruin (90 mins) is the perfect example of how to build a gripping and unsettling atmosphere. It is such an effective film because it doesn't overstay. The same, of course, could also be said for Joel Schumacher's Phone Booth (81mins).
I also love Denis Villenueve's Polytechnique which, at 77 minutes long, is an absolute masterclass from a genius of cinematic tension.
Drama
Dramas need to find their own length. Sometimes a film needs to be hours long in order to tell its story. However, for some of my favourite dramas this is not the case.
These movies are extremely efficient in time and storytelling. For instance, Kelly Reichardt's Wendy And Lucy is the perfect example. This superb film tells a complex and thought-provoking tale in only 88 minutes. It then stays with you for far longer than its running time might suggest. 
I would also recommend Ryan Coogler's deeply moving Fruitvale Station (85 mins), Pawel Pawlikowski's Oscar-winning, Ida (82 mins), Anna Rose Holmer's The Fits (72 mins) and Hope Dickson Leach's The Levelling (83 mins).
Finally, there's Rob Reiner's classic movie, Stand By Me. It's hard to believe that this wonderful Stephen King adaptation is only 89 minutes long.
Documentary
Romance
My favourite romantic movie is Before Sunset. However, thanks to 11 minutes, it is the second film in Richard Linklater's superb trilogy that makes this list. Before Sunset (80 mins) is an endlessly impressive film about love, life, regret and possibility. 
Alex Lehmann's Blue Jay (80 mins) explores similar themes when two former high school sweethearts - brilliantly portrayed by Sarah Paulson and Mark Duplass (who wrote the script) - meet by chance in their small Californian hometown.  
Meanwhile, music is an extremely effective storytelling tool and John Carney's
Once (85 mins) is a lovely example of this and of how less is so often more in cinema.
What Are Your Favourite 90 Minute Movies?
There are, of course, many more great films of 90 minutes or less. What are your favourites?
Let me know by leaving me a comment in the box below or let's chat movies over on Twitter or Facebook!