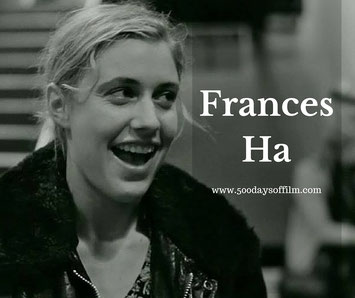 500 Days Of Film Reviews Frances Ha And Finds A Quirky, Funny And Irresistible Film
What do you do when life suddenly moves on without you?
This is the dilemma facing Frances, a young New Yorker training to be a modern dancer. 
Her best friend Sophie has decided to move in with her boyfriend, Patch, and the revelation has hit Frances - and hit her hard.
You see, she doesn't really like Patch - he is (as Frances kindly tells Sophie) "the kind of guy who buys a black leather couch and is like 'I love it'". But, perhaps, it isn't Patch himself but the inconvenient idea of Patch that upsets Frances.
With the loss of Sophie, Frances finds herself cast adrift. She throws herself towards her dreams even as she realises the unlikelihood of them ever coming true. She needs to discover her place in the world.
And so we go on a journey with Frances - in the hope of finding what will make her happy in her career, in her friendships and in her life.
Is It Any Good?
Halfway through this charming film, I just wanted to give Frances a big old hug and tell her that everything will be alright in the end. I couldn't help but feel maternal as I watched her stumble (often literally) through life.
Frances is so well meaning that it is heartbreaking to watch her life fall apart. Yes, it is true that she is often the agent of her own misfortune and that she fails to read social situations and acts inappropriately. 
However, for all her (sometimes excruciating) faults, Frances' childlike innocence, honesty and acute loneliness only make her more endearing.
Greta Gerwig is simply superb as Frances. She brings so much life and truth to this part - unsurprising given that Gerwig co-wrote the movie with director (and partner) Noah Baumbach.
Baumbach chose to shoot Frances Ha in black and white and the film just looks stunning in every frame. This movie will make you want to book tickets to New York stat. It also made me want to re-watch Annie Hall - a significant influence on this film. 
In addition to looking gorgeous, Frances Ha is a also movie for the ears. The script is just so smart, insightful and funny. It is also full of great music - Modern Love by David Bowie feels so poignant here.
And, while not a love story in the traditional sense, you can't help but fall in love with Frances' romantic view of the world. Even when she is insufferable, her outlook is irresistible. 
As in many Baumbach films, Frances Ha is populated by a number of quirky characters. Some are likeable, some intentionally annoying. I really enjoyed all of the performances in this movie and particularly that of Mickey Sumner's Sophie. Her friendship with Frances is wonderfully complex. Meanwhile, Adam Driver is brilliant as Lev.
However, this is Frances' film and I would recommend her romantic, funny and endearing journey. 
Random Observations
Having, to my shame, not seen many of Noah Baumbach's films before my 500 Days Of Film Challenge, I have now watched three and really enjoyed them all. So, alongside Frances Ha, I would recommend Mistress America and While We're Young.
Mickey Sumner (Sophie) is the daughter of Sting and Trudie Styler.
Have you seen Frances Ha? If you have, what did you think of this film.
Do let me know! Leave me a comment in the box below :)