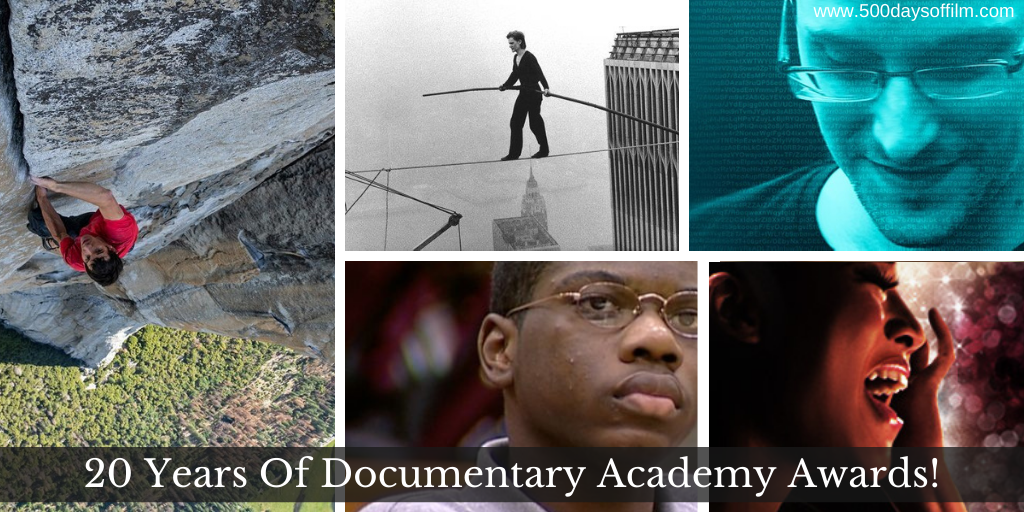 Phew, the competition for best documentary is fierce at this year's Academy Awards. Fierce. I love all five nominees - Collective, Time, The Mole Agent, Crip Camp and My Octopus Teacher. For me, doc features and doc shorts are the most exciting Oscar categories. 
Yes, that may well be because I am obsessed with documentaries.
However, I would also argue that the quality of filmmaking on display in these films (and the five Oscar nominated documentary shorts) is second to none. The Academy could have easily doubled its nominees this year (I would have added Dick Johnson Is Dead, The Truffle Hunters, All In: The Fight For Democracy, Welcome To Chechnya and 76 Days just for starters).
This embarrassment of riches has led many commentators to conclude that we are living in a golden age for documentary film. Now, I am not sure how long an "age" is exactly, but in my humble opinion nonfiction cinema has been killing it for years. 
Not that I am complaining… any attention on docs is most welcome. And a quick look at 20 years of documentary Academy Award winners proves that documentary film has long been at least as powerful, thought-provoking and moving as fiction (if not more so).  
The Past 20 Years Of Oscar Winning Docs!
2021 - My Octopus Teacher
I didn't know what to expect from Pippa Ehrlich and James Reed's Netflix documentary, My Octopus Teacher. Was this a nature doc about cephalopods? If so, what's with the 'teacher' part? What lessons will this octopus share?
Intrigued, I began to watch… and all became clear. My Octopus Teacher is not the traditional nature film we have (thank you Sir David Frederick Attenborough) come to expect. No, this is a beautiful story about love and the healing power of connection. 
You can watch My Octopus Teacher on Netflix. Click here for my review
2020 - American Factory
On 3 October 2008, workers at the General Motors factory in Dayton, Ohio received the news they had all been dreading. Their plant was to close for good by the end of the year, with the loss of 2400 jobs. 
Local filmmakers, Julia Reichert and Steven Bognar, were deeply moved by the situation and decided to tell the story of the factory's closure. They were particularly interested in the impact on their community - a community whose lives and livelihoods were intrinsically linked to their place of work.
After speaking to several hundred of the factory's employees, Reichert and Bognar released a documentary short called The Last Truck: Closing of a GM Plant. The film was widely acclaimed and nominated for an Academy Award.
The story did not stop there, however. In 2014, Chinese billionaire Cao Dewang reopened the Ohio plant for his new Fuyao factory, in order to produce glass for the car industry. Suddenly, jobs were there for the taking. The air was filled with hope, at first.
Sadly, all too soon cultures clashed, frustrations mounted and tensions rose to boiling point - the community of Dayton faced an uncertain future once again. This story is told in Reichert and Bognar's feature documentary, American Factory.
You can watch American Factory on Netflix. Click here for my review.
2019 - Free Solo
One of the key questions for any documentary filmmaker concerns how close you should get to your subject. This was a particular challenge - both physically and emotionally - for Chai Vasarhelyi and Jimmy Chin when making their Oscar-winning film, Free Solo. 
Not only were they documenting the remarkable life of their friend, Alex Honnold, they were following him in his attempt to climb El Capitan's foreboding 900-metre vertical rock face at Yosemite National Park - without a rope. Getting too close while filming his ascent could well lead to Honnold's death. 
The stakes don't get much higher - it is perfection or death. Within minutes, you might well find yourself questioning not how Honnold is going to achieve his goal, but why. The impact of his life choice is just as interesting as the climb itself.
You can watch Free Solo on Disney+. Click here for my review.
2018 - Icarus
When Bryan Fogel decided to investigate doping in sports, he had no idea where his journey would lead. An amateur bike racer, Fogel's initial plan was to dope himself, observe the changes in his performance, and see if he could evade detection. 
In order to achieve this goal, Fogel enlisted the help of renegade Russian scientist, Dr. Grigory Rodchenkov, a senior figure in his country's "anti-doping" programme. Over dozens of Skype calls, urine samples, and self-administered hormone injections, Fogel and Rodchenkov grew closer - despite the shocking allegations that place Rodchenkov at the center of Russia's state-sponsored Olympic doping programme.
You can watch Icarus on Netflix. Click here for my review.
2017 - OJ: Made In America
Over two decades after the 'trial of the century', director Ezra Edelman's gripping documentary, OJ: Made In America, revisits OJ Simpson's life story - exploring his incredible career, his celebrity status, allegations of domestic abuse, the murders of Nicole Brown Simpson and Ronald Goldman and that infamous criminal trial.
Drawing on more than 70 interviews - from Simpson's longtime friends and colleagues, the protagonists of the murder investigation and from observers and commentators with distinct connections to the story - Edelman explores why the case attracted so much global attention and what it revealed about America.
With a running time of 7 hours and 47 minutes, OJ: Made In America is the longest film to be nominated for an Academy Award.
You can watch OJ: Made In America on BBC iPlayer. Click here for my review.
2016 - Amy
There's nothing particularly surprising about Asif Kapadia's narrative structure in his documentary about Amy Winehouse. His film begins with the talented singer and musician as a young girl and follows her to the end of her life. In addition, we are all too familiar with her story.
However, Amy remains a startling and stunning experience. The main surprise of Amy is Amy. She tells her own story and is present in almost every scene thanks to the remarkable amount of footage that was taken of (and, on occasion, by) her during her short life. 
Amy is also present in her song writing (we see pages and pages of her almost childlike script) and via her lyrics which often appear on screen. That we see so much of Amy makes this an intense and, often, tough watch as Kapadia examines our culpability in her death and asks if she could have been saved.
You can buy or rent Amy via Amazon Video. Click here for my review.
2015 - CitizenFour
CitizenFour is a truly remarkable documentary. It is incredible to be in the hotel room with filmmaker Laura Poitras and journalist Glenn Greenwald and hear Edward Snowden tell his story. The film plays like a thriller - it almost doesn't feel real. 
However, as we now know all too well, this was real - very real. Once they have heard Snowdon's revelations, Poitras and Greenwald have to think on their feet. How should they present the story? How far should they go? When should Snowdon's identity be revealed?
This is no easy decision for either the journalist or the filmmaker. They are as aware as Snowden that, once they let the genie out of the bottle, none of their lives (or the lives of their loved ones) will ever be the same. 
You can buy or rent CitizenFour online. Click here for my review.
2014 - 20 Feet From Stardom
You might recognise their voices but you may not know their names. Morgan Neville's 20 Feet From Stardom tells the remarkable story of the unsung backup singers behind some of the greatest musical legends of the 21st century.
The artists featured in this brilliant documentary range in style, musical era and genre but all tell a fascinating and deeply personal story of a life spent in the shadows. Neville uses archive footage, a superb soundtrack, intimate interviews and wonderful testimonials from the likes of Bruce Springsteen, Stevie Wonder and Mick Jagger. However, he never loses sight of the real stars of his film - the backing singers. 
You can watch 20 Feet From Stardom on Netflix. Click here for my review.
2013 - Searching For Sugar Man
In the 1970s and 80s, music collections in most South African homes would feature albums from The Beatles and Simon And Garfunkel. They would also include an album called Cold Fact by an artist called Rodriguez. Never heard of him? Neither had most people in the UK or in the artist's home country of America. However, Rodriguez was hugely popular in South Africa - his heartfelt lyrics striking a chord in the country.
In the aftermath of Apartheid isolation, South African Rodriguez fans couldn't believe that their musical hero remained largely unknown elsewhere in the world - particularly in the light of stories about his tragic death. One such fan, Stephen "Sugar" Segerman, decided to find out more about the elusive, mythical Rodriguez. Just who was he and how did he die?
You can watch Searching For Sugar Man on Amazon Video. Click here for my review.
2012 - Undefeated
Daniel Lindsay and T.J. Martin's documentary follows the challenges facing a high school football team, the Manassas Tigers of Memphis, as they attempt to secure a winning season after years of losses. The team is turned around thanks to coach, Bill Courtney, who helps transform a group of young men into a team that succeeds both on and off the field.
You can buy or rent Undefeated online.
2011 - Inside Job
In 2008, the world experienced a financial crisis that almost caused a global financial collapse. The crisis cost millions of people their jobs and their homes... and saw the demise of banking institutions once thought too big to fail.
In his Oscar-winning documentary, Inside Job, Charles Ferguson set out to tell the disturbing story behind the global financial crisis. The film was released in 2010 when the world was still processing what had caused the crisis and asking how we could prevent such a situation from occurring again. 
Inside Job's timeliness and relevance was widely recognised on its release. Its power has not diminished. Ten years on, Inside Job feels just as important, just as relevant and just as shocking.
You can buy or rent Inside Job online. Click here for my review.
2010 - The Cove
Director and National Geographic photographer, Louie Psihoyos, examines dolphin hunting practices in Japan in his disturbing documentary, The Cove. Using powerful footage (much secretly obtained), the film calls for the end of mass dolphin kills and captures. 
Psihoyos also argues that Japanese fishing practices need to change and that the public need to be better informed about captivity and the hazard of mercury poisoning from consuming dolphin meat.
You can buy or rent The Cove online.
2009 - Man On Wire
On 7 August 1974, French high wire walker, Philippe Petit, fixed a wire between New York's World Trade Center towers in order to walk, run and dance between the two buildings  - 1,350 feet above the ground.  
James Marsh's documentary, Man On Wire, tells the story of how Petit and his team managed to plan, prepare and achieve this remarkable and frankly terrifying feat. 
You can watch Man On Wire on Amazon Video. Click here for my review.
2008 - Taxi To The Dark Side
In 2002, US soldiers occupied war-torn Afghanistan. Tensions were high and violence was commonplace. At a checkpoint, a young Afghan taxi driver called Dilawar was arrested along with his passengers. They were suspects in a Taliban rocket attack.
Dilawar was taken to Bagram Air Base where he was confined in a solitary cell. He was then chained, sleep deprived and subjected to a series of brutal beatings and torture from the US soldiers on duty. Five days after his arrest, Dilawar died.
If you have watched any of director Alex Gibney's films (No Stone Unturned, Zero Days, Going Clear: Scientology & The Prison Of Belief, Mea Maxima Culpa: Silence in the House of God or Enron: The Smartest Guys In The Room), you will know that he is an uncompromising filmmaker.
He will go to great lengths to tell his story - often exposing disturbing and unsettling truths. Nowhere is this more clear than in his Oscar-winning documentary Taxi To The Dark Side. Here, he explores the devastating reality of life at Abu Ghraib and Guantanamo Bay. 
You can rent or buy Taxi To The Dark Side online. Click here for my review.
2007 - An Inconvenient Truth
On paper, An Inconvenient Truth shouldn't work… let alone become one of the best known environmental documentaries ever made. Based on a powerpoint presentation delivered by former vice president Al Gore, the film is "talk" heavy, statistic heavy and peppered with rather cheesy "dad" jokes.
However, the reason why An Inconvenient Truth works, why Davis Guggenheim's film won an Oscar and why it is as powerful now as when it was released, is largely down to the power of its message and the passion of its messenger.
In addition to the barrage of sobering statistics, we also get a fascinating insight into Gore's childhood, his ill fated presidential run and what inspired him to focus on raising our awareness about environmental concerns.
What is most impressive about An Inconvenient Truth is the fact that this is a hopeful film. By the end, we feel that we can turn the tide - we can make positive change. Indeed, the documentary provides us with many practical ways to achieve this goal.
You can buy or rent An Inconvenient Truth online. Click here for my review.
2006 - March Of The Penguins
Every March in the Antarctic, large numbers of penguins embark upon a dangerous quest to find the perfect mate and start a family. The process begins with a long and difficult journey - the penguins will travel hundreds of miles across the continent by foot in freezing cold temperatures, brittle and icy winds and through deep, treacherous waters. They will risk starvation and face attacks by dangerous predators, under the harshest conditions on earth, all in an attempt to find love.
Narrated by Morgan Freeman, this Oscar-winning documentary was also a surprise box-office hit. In retrospect, it is easy to see why. This story has everything: action, adventure, horror, comedy, loss and love. 
You can rent or buy March Of The Penguins online. Click here for my review.
2005 - Born Into Brothels
Born Into Brothels follows the work of non-profit foundation, Kids With Cameras, which teaches photography skills to children in marginalised communities. 
In 1998, New York-based photographer Zana Briski started photographing prostitutes in the red-light district of Calcutta. She then developed a relationship with their children, who were fascinated by her photography equipment. Briski and Ross Kauffman's film exploring the lives of these children is incredibly powerful and deeply moving. 
You can rent or buy Born Into Brothels online.
2004 - The Fog Of War
The Fog Of War tells the story of Robert S. McNamara - a man who rose from humble origins to reach the heights of political power. In Errol Morris's iconic and Oscar winning documentary McNamara recounts the key chapters - both personal and professional - in his life.
It is absolutely fascinating to hear McNamara's recollections. He was both a witness to and a key participant in many of the most important events of the 20th century - including the US Depression in the 1930s, the industrialization of the war years and the development of a new kind of warfare based upon air power.
Morris encourages McNamara - at the time aged 85 - to discuss many themes central to war and politics. These include questions about the moral justification of violence in war, how to avoid the escalation of a conflict, why things can go so very wrong and how to deal with different personalities in politics.
You can rent or buy The Fog Of War online. Click here for my review.
2003 - Bowling For Columbine
Micheal Moore's film, Bowling For Columbine, may not have stopped the rise of gun crime in the US, but the impact of the filmmaker's 2002 Oscar-winning documentary is undeniable. 
While he has been criticized for his delivery style and for asking more questions than he answers, Moore's Bowling For Columbine still challenges the way we view firearms and raises awareness of a critical issue in today's society.  
You can rent or buy Bowling For Columbine online. 
2002 - Murder On A Sunday Morning
Director, Jean-Xavier de Lestrade, was not looking for a murder when he visited Jacksonville, Florida. Instead, the French filmmaker was hoping to make a documentary about a US law firm. However, Brenton Butler's story proved too compelling to ignore - highlighting as it does issues of racism, false confessions and the nightmarish prospect of being in the wrong place at the wrong time.
On 7 May 2000, in the car park of a Ramada Inn in Jacksonville, 65 year old Mary Ann Stephens was walking with her husband when she was shot in the head. Her husband described her attacker as over 6ft tall, aged between 20-25 years and of a skinny build.
A couple of hours later, Brenton Butler was arrested for murder. He was just 15 years old, 5ft 10 and of a stocky build. It didn't matter that Brenton did not fit the description. All that mattered was that he was black and in a location nearby.
Despite having no evidence or motive, Butler's case - based on mistaken identity and a confession made under extreme duress - was brought to court. During the six months that it took for the case to come to trial, Butler was offered a lesser sentence - if he pleaded guilty to murder.
You can buy Murder On A Sunday morning on DVD. Click here for my review.
2001 - Into The Arms Of Strangers: Stories of the Kindertransport
Mark Jonathan Harris's film, Into The Arms Of Strangers, tells the story of the British rescue operation known as the Kindertransport, which saved the lives of over 10,000 Jewish children from Nazi Germany, Austria, and Czechoslovakia by transporting them via train, boat, and plane to the Great Britain. 
The children were taken into foster care - to homes and hostels across the country. They expected (and, of course, desperately hoped) to be reunited with their parents. However, the majority of the children never saw their families again. 
Harris makes superb and moving use of archive footage and photographs in his film. These are set against powerful recollections from rescuers, parents, foster parents and the children themselves.
You can buy or rent Into The Arms Of Strangers: Stories of the Kindertransport on YouTube