500 Days Of The Film Reviews Documentary, OJ: Made In America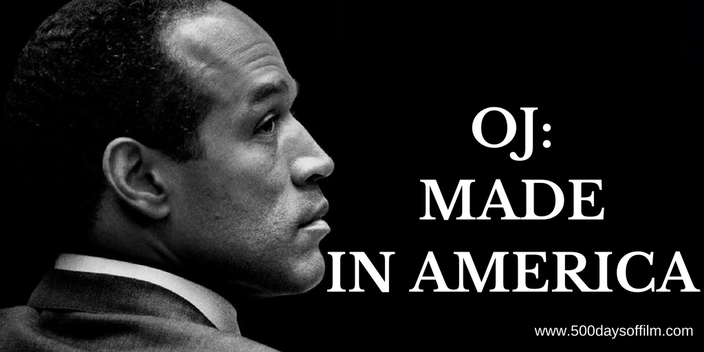 Over two decades after the 'trial of the century', director Ezra Edelman's gripping documentary, OJ: Made In America, revisits Simpson's unsettling and yet undeniably fascinating life story.
The film explores Simpson's incredible career, his celebrity status, the allegations of domestic abuse, the murders of Nicole Brown Simpson and Ronald Goldman and the infamous criminal trial.
Drawing on more than 70 interviews - from Simpson's longtime friends and colleagues, the protagonists of the murder investigation and from observers and
commentators with distinct connections to the story - Edelman explores why the case attracted so much global attention and what it revealed about America.
Is It Any Good?
With a running time of 7 hours and 47 minutes, OJ: Made In America is the longest film to be nominated for an Academy Award. It was given a theatrical release ahead of appearing on ESPN as a five part documentary series.
Edelman hadn't intended to make such a long film. However, after conducting 72 interviews, he realised that he needed time to do his story justice. 
As a result, OJ: Made In America has the space to explore Simpson's story in incredible detail. Edelman's research is extremely impressive - as is the clarity of his storytelling.
While it is important to remember Simpson's athletic prowess, the documentary is most gripping when it examines OJ's relationship with Nicole Brown. Via interviews and video footage, Edelman brings Nicole to life. She is a person and not just a victim - her story is truly heartbreaking.
Ron Goldman is also given a voice in this film - mainly via the moving recollections of his still grieving father, Fred. His pain is clear and compounded by the fact that his son's murder is often overshadowed by the circumstances of OJ Simpson's murder trial.
Given the amount of incriminating evidence implicating OJ Simpson in the murder of Nicole Brown Simpson and Ron Goldman, his acquittal still feels shocking. It is fascinating to hear from the key people involved in the criminal case - and the recollections of Marcia Clarke and Barry Scheck in particular.  
By the time Edelman has set the scene, explored the evidence and reminded us of the racial tensions in Los Angeles at the time, we understand how the trial slipped away from its prosecutors.
OJ: Made In America is an utterly gripping documentary that pieces together the often disturbing elements of OJ Simpson's story, never forgetting the lives that were destroyed along the way.
Random Observations
OJ: Made In America was produced by ESPN as a part of its "30 for 30" documentary series. 
OJ Simpson will be eligible for parole in October 2017.
Have you seen OJ: Made In America?
If you have, what did you think of this documentary? Let me know by leaving me a comment in the section below.