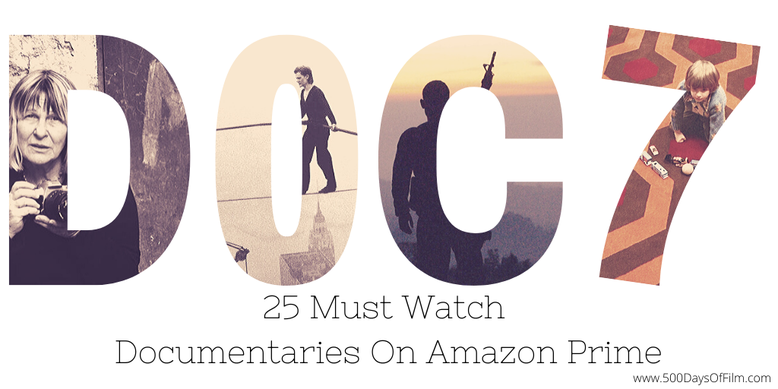 If you, like me, love watching documentaries, Amazon Prime has a lot to offer.
From powerful recent releases such as Shooting The Mafia - Kim Longinotto's portrait of Sicilian photographer Letizia Battaglia - to slightly older classics such as James Marsh's Man On Wire, the streaming platform has an impressive selection of non fiction films.
To get your doc watch list started, here are 25 must watch documentaries available on Amazon Prime!
Amazing Grace
Amazing Grace is a stunning film that features footage from Aretha Franklin's performances at the New Temple Missionary Baptist Church in 1972. The combination of time and place, of the gospel songs selected and the sheer brilliance of Franklin, the musicians and the choir (superbly conducted by a scene stealing Alexander Hamilton) makes for a very special documentary indeed.
Bowling For Columbine
Exploring issues such as race, welfare, foreign policy and post 9/11 fear, Micheal Moore's film examines the causes of gun violence in America. 
Burden Of Dreams
Les Blank's 1982 documentary, Burden Of Dreams, follows director Werner Herzog's legendary quest to make his controversial film, Fitzcarraldo.
City of Ghosts
City of Ghosts follows the journey of "Raqqa is Being Slaughtered Silently" - a small group of anonymous activists who banded together after their homeland was taken over by ISIS in 2014. 
Cropsey
Growing up on Staten Island, New York, filmmakers Joshua Zeman and Barbara Brancaccio had often heard scary stories about the legend of Cropsey. As they grew older, they assumed that the Cropsey was just an urban legend - something used by parents to keep their kids in check. However, all that changed in the summer of 1987 when a 12 year old girl with Downs Syndrome disappeared. In that summer the Staten Island community began to wonder if the Cropsey was, in fact, real.
Do I Sound Gay?
David Thorpe goes on a journey to explore the origins of the stereotype of the gay voice. 
Elena
Petra Costa (The Edge Of Democracy) examines the life of her sister Elena - who travelled from Brazil to New York to become a movie actress and later commited suicide.
Finders Keepers
After the mummified leg of amputee, John Wood, was found in a barbecue grill purchased at an auction by Shannon Whisnant, no one could guess just how bizarre events were about to become. 
Gleason
Weeks after being diagnosed with ALS, former New Orleans Saints star defensive back Steve Gleason learns that his wife Michel is pregnant with their first child. In Gleason, we meet a man determined to live his remaining years to their fullest.
Generation Wealth
Lauren Greenfield (The Kingmaker) examines the culture of wealth, the corruption of the American Dream and the very human cost of capitalism, narcissism and greed.
Hale County This Morning, This Evening
RaMell Ross's Oscar nominated film is a beautiful and atmospheric look at the lives of African Americans living in Hale County, Alabama. Featuring a wonderful soundscape, this is an intimate and moving film comprising the key - often overlooked - moments of life. 
K2: Siren Of The Himalayas
K2: Siren Of The Himalayas is both a fascinating account of how K2 was conquered and also a gripping exploration into why so many climbers feel compelled to climb this phenomenal mountain. 
Love Antosha
A portrait of the late actor, Anton Yelchin, Love Antosha examines his life through his work, his journals, his photography and from interviews with his colleagues.
Man On Wire
On 7 August 1974, French high wire walker, Philippe Petit, fixed a wire between New York's World Trade Center towers in order to walk, run and dance between the two buildings  - 1,350 feet above the ground. Man On Wire, tells the story of how Petit and his team managed to plan, prepare and achieve this remarkable (and frankly terrifying) feat.  
No Stone Unturned
Alex Gibney's urgent and powerful documentary examines the brutal and unsolved murders of six men in a bar in Northern Ireland during the 1994 World Cup. What Gibney uncovers is both shocking and deeply unsettling.
Nuts!
Penny Lane (Hail Satan?) tells the mostly true story of John Romulus Brinkley, a Kansas man who, in 1917, made headlines with his cure for impotence. The cure involved transplanting goat testicles into men… and, believe it or not, the story only gets more bizarre.
Pavarotti
Ron Howard celebrates the life of opera singer, Luciano Pavarotti.
Project Nim
James Marsh's film explores the story of a chimpanzee who, in the 1970s, was taken from its mother at birth and then raised like a human child by a family in New York.
Room 237
Room 237 examines some of the theories and hidden messages that may or may not exist in Stanley Kubrick's film, The Shining. The film also questions whether Kubrick's film is a mystery that needs to be solved or if people are just seeing what they want to see.
Searching For Sugar Man
Searching For Sugar Man is not just about the musician, Rodriguez. The film is also about his impact in South Africa and the amazing story behind the search for the truth about him. 
Shooting The Mafia
Shooting The Mafia explores the life of Sicilian photographer Letizia Battaglia. In 1974, Battaglia became the first female photographer to be employed by an Italian daily newspaper. She then found herself on the front lines during one of the most brutal chapters in Italy's recent history.
The Tillman Story
Amir Bar-Lev examines the life of the late Pat Tilman, who walked away from a multi-million dollar contract with the NFL's Arizona Cardinals in 2002 to join the Army. Tragically, he then died in controversial circumstances in Afghanistan.
The Witness
James Solomon's directorial debut, The Witness, took an incredible 11 years to make. This is a powerful and deeply moving film that examines the impact of false reporting and follows a brother's determined effort to reclaim his sister's life from her infamous death.
The Wolf Pack
Crystal Moselle's film, The Wolf Pack, explores the lives of six Angulo brothers. They all love to reenact their favourite films - complete with props and costumes. Nothing unusual there. However, this is the only way these young men have been able to experience the world outside their apartment on the Lower East Side Of Manhattan. Since they were born, their father, Oscar, has kept them locked there isolated from a society that he distrusts and fears.
Whitney
Kevin Macdonald's film, Whitney, both investigates Whitney Houston's self destruction - a disturbing journey that is both haunting and harrowing to watch - and also reminds us of the singer's astounding talent. 
Over To You...
What do you think of these documentaries? Let me know in the comments section below or over on Twitter. You can find me @500DaysOfFilm!