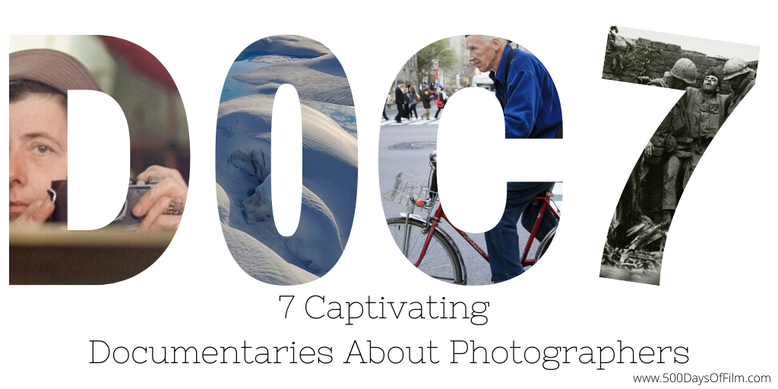 Photographers make for some of the most perfect documentary subjects. They lead remarkable lives and produce images that provoke, challenge and define our world.
There are, of course, many documentaries about photographers and the power of photography. Here are seven of my favourites:
McCullin
Don McCullin is a legendary British photojournalist. Most famous for capturing images of war from the 1960s to the 1980s, he has worked for many prestigious publications.
In this documentary, we see examples of some of McCullin's most stunning photographs and hear him narrates his life story. Meanwhile, directors Jacqui Morris and David Morris look at photojournalism itself - exploring how the profession has changed and examining the heavy moral burden placed on the photographers themselves.  
Faces Places
On paper, Faces Places seems like a strange concept. An octogenarian filmmaker tootles around the French countryside with a photographer in his thirties in a van that looks like a camera. Occasionally - and seemingly without a plan - they stop and take pictures of the people they meet. The images are then plastered on walls, barns, water towers and the like.
It shouldn't work but, thanks to the endearing relationship between icon of cinema, Agnes Varda, and the remarkable artist and photographer, JR, it does - it really, really does. The unlikely pair have a truly special chemistry.
It is wonderful to watch them talk about their art. Through these fascinating and charming interactions (JR enjoys teasing Varda), we see the exuberant bravado of youth juxtaposed with the wisdom and poignancy of old age.  
Shooting The Mafia
Kim Longinotto's powerful film tells the story of Sicilian photographer, Letizia Battaglia, who began a lifelong battle with the Mafia when she first dared to point her camera at a brutally slain victim. 
Shooting The Mafia is both a gripping portrait of Battaglia's incredible life and a disturbing portrait (thanks to her stunning photographs and Longinotto's use of devastating archive footage) of the Mafia's horrific legacy. 
Bill Cunningham New York
Richard Press's documentary could easily have been included in my Doc 7 collection about fashion. The film examines the life of New York Times photographer Bill Cunningham - a  chronicler of fashion - on the catwalk and, perhaps more importantly, on the streets.
This charming portrait follows Cunningham (who sadly died in 2016) as he journeys around New York (and Paris). Both his life and his work are fascinating. We meet his wonderful neighbours (Cunningham lived in a studio above Carnegie Hall) and hear from friends and colleagues including Tom Wolfe, David Rockefeller and Vogue magazine's Anna Wintour.
Chasing Ice
Director, Jeff Orlowski, had long admired James Balog's photography. As a result, when Balog started his Extreme Ice Survey in 2007, Orlowski offered to assist the project for free. 
The documentary director joined Balog and his team on trips to Iceland, Greenland and Alaska and filmed the installation of 25 time lapse cameras programmed to take a photograph every daylight hour for three years.
"I knew we could make a great film out of it," Orlowski recalls. "There have been so many efforts to document climate change, but this one was unique."
Over a decade since its release, Chasing Ice has lost none of its incredible power. Here, before our eyes, we see the impact of climate change - not from a barrage of statistics but via clear visual and accessible proof.
Finding Vivian Maier
Finding Vivian Maier tells the story of a mysterious nanny who secretly took over 100,000 photographs and then hid her work away in storage lockers. Decades later, the images were discovered and Maier became recognised as one of the 20th century's greatest photographers. 
John Maloof and Charlie Siskel's fascinating film examines Maier's strange and intriguing life via her photographs, archive footage and interviews with the people who thought they knew her.
Born Into Brothels
Zana Briski and Ross Kauffman's powerful and Oscar-winning film takes us into Calcutta's underworld. Briski wanted to photograph the city's prostitutes. In return, she offered to teach the prostitutes' children the basics of photography - enabling them to document their own lives on the streets of one of the world's poorest cities. The resulting photographs are stunning and have been exhibited around the world.
Over To You...
What do you think of this collection of documentaries about photographers? What films would you add to this list? Let me know in the comments section below or over on Twitter. You can find me @500DaysOfFilm.