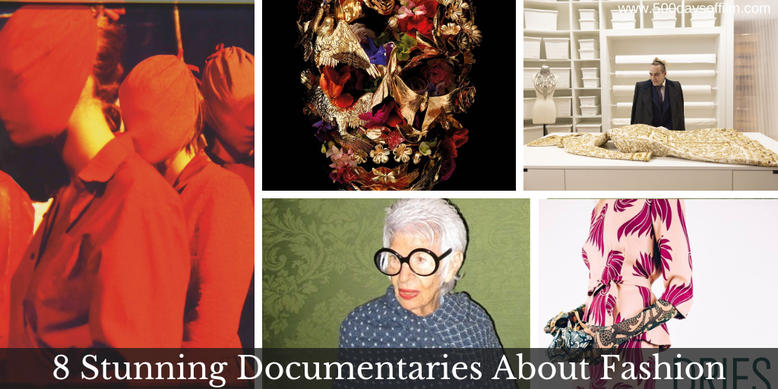 I will be the first to admit that I know very little about the fashion industry. I am most often seen in black (and sometimes very, very dark grey). However, I do love a good fashion documentary.
Fashion is, of course, inherently cinematic. This is a visually stunning world full of colour and light, tension and drama. Here are, in no particular order, seven of my favourite fashion documentaries
McQueen
Ian Bonhôte and Peter Ettedgui's film explores the life of fashion designer Alexander McQueen. The story they tell is both fascinating and deeply moving. Meanwhile, the film itself is a beautiful, visually stunning experience. One of my favourite docs of 2018.
Dries
Dries is Reiner Holzemer's charming, engaging and wonderfully intimate documentary about Belgian designer, Dries Van Noten. This film is a fascinating insight both into the world of fashion and into the life of an extremely talented man driven to perfection.
Iris
Iris Apfel is a fashion icon and interior designer. Now in her late nineties, Iris has lived a colourful and fascinating life. However, director Albert Maysles is not just interested in the past. He is also fascinated by Iris's present and future. She is now busier than ever. Through her stories, anecdotes and interactions with others, we learn that what Iris has to say is well worth hearing. 
Martin Margiela: In His Own Words
In Reiner Holzemer's intimate documentary portrait, Martin Margiela: In His Own Words, the first remarks you hear do not come from the iconic, enigmatic designer. Instead, key figures in the fashion world describe and contextualise the lasting impact of Margiela's remarkable and impressive career. 
His legacy established, Holzemer explores the designer's famous - and largely successful - desire for anonymity. While Margiela continues to fascinate fashion experts and inspire young designers, nobody knows his face.
Dior and I
Frédéric Tcheng's film takes us behind-the-scenes during the creation of Raf Simons' highly anticipated first Haute Couture collection as Christian Dior's new artistic director. However, it is the work of the experts in the iconic brand's ateliers that steal the show. 
Halston
Roy Halston Frowick, known as Halston, was an American fashion designer who rose to international fame in the 1970s. In Frédéric Tcheng's stunning documentary we discover that Halston lived an American dream. Extremely talented, he dominated the fashion world and became a household name. However, all that changed when Halston took the biggest gamble of his life.   
The First Monday In May
Andrew Rossi's gripping film follows the creation of The Metropolitan Museum of Art's fashion exhibition, China: Through The Looking Glass. We go behind the scenes as this impressive event takes shape, under the watchful eye of costume institute curator, Andrew Bolton.
Over To You...
What do you think of this list of fashion documentaries? Are any of your favourites on the list? What would you add? 
Let me know in the comments section below or come find me over on Twitter @500DaysOfFilm!