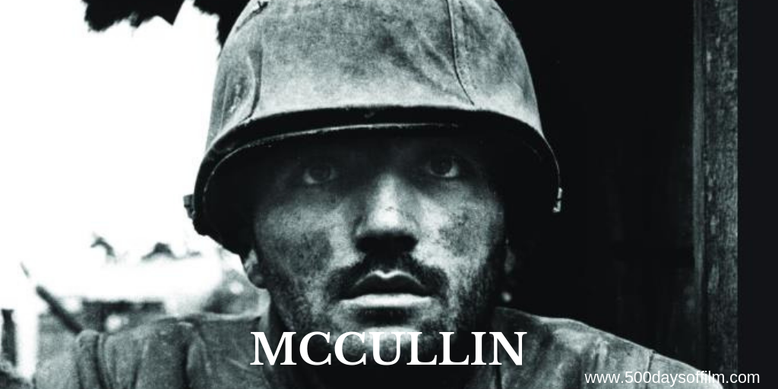 Don McCullin is one of Britain's best photojournalists. Most famous for capturing images of war from the 1960s to the 1980s, he has worked for many prestigious publications. However, he spent most of his career taking pictures for The Sunday Times in its pre-Murdoch era.
In this documentary, McCullin tells his story to another camera and via his most stunning and disturbing pictures. This is a truly fascinating story of a man obsessed by and also horrified by war.
Directors Jacqui Morris and David Morris also look at photojournalism itself - how the profession has changed and the heavy moral burden placed on the photographers themselves.  
McCullin covered wars and conflicts in Cyprus, The Congo, Biafra, Vietnam, Northern Ireland, Cambodia and Lebanon. What is truly remarkable is that - amid the chaos and the violence -he had the presence of mind to take extraordinary pictures, enabling us all to see the horrifying truth of war.
The documentary features interviews with McCullin himself, archive footage of the events he experienced and the illuminating observations of Harold Evans, editor of The Sunday Times from 1967-1981.
McCullin is mesmerizing to watch. His delivery is so straightforward and matter of fact, even when he is describing some truly terrible events. He seems gentle and sensitive and yet there is an incredible toughness at his core. 
Born in Finsbury Park, North London in 1935, McCullin grew up amid deprivation and violence. His first aspiration was to be a painter and he won a junior arts scholarship. However, this dream ended when his father died and he had to go to work.
As a hobby, McCullin started to take pictures of the places and people around him. And what incredible pictures they are. His flair for capturing the emotion and mood of a moment in time is clear.
McCullin took a series of pictures of the boys that he grew up with. They were particularly newsworthy, having been involved in the murder of a policeman. He took these photos to The Observer newspaper. They were published and McCullin recalls that he was paid the "princely sum of £50 and in those days £50, where I came from, was like five weeks wages". The paper asked McCullin to take more pictures.   
This was the start of McCullin's most remarkable, life long love affair with photography. 
In the film, he looks back and thinks how lucky he was to have grown up in the 60s, 70s and 80s when "it was all happening - it was as if it was all carved out for me really". However, he acknowledges that there was more than just luck involved. He grasped the nettle: "I didn't just look at it and think, God, I wish I was there. I used to say I am going to go there - and I did."
This documentary left me feeling so grateful that he did "go there". His war photography is absolutely stunning - an important record of war.  
War Documentary Recommendations
McCullin is part of the war sub-genre of Documentary 7. If you enjoyed this movie, I would also recommend:
My honourable mentions include The Unknown Known, Dirty Wars, 5 Broken Cameras and Hell and Back Again.
Do you have any war documentaries that you would like to recommend? If so, do share them in the comments section below or over on Twitter. You can find me @500DaysOfFilm.