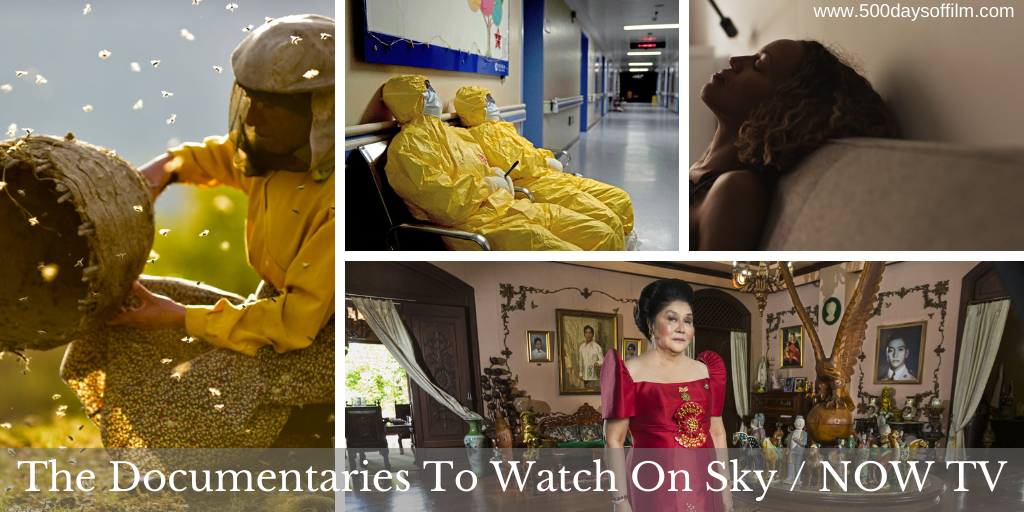 On 27 May 2020, a new Sky channel was launched. Sky Documentaries became the home for non-fiction stories from award-winning filmmakers, including HBO, Showtime and Hulu exclusives and a host of new Sky original documentaries. 
Together with Sky Arts and Sky Crime, Sky's documentary offering (also available via Now TV) is pretty impressive - including cultural talking points such as the release of Framing Britney Spears to doc classics such as Senna, Man On Wire and The Look Of Silence.
Let's take a look at 40 must watch Sky documentaries…
Honeyland
Honeyland is a visually stunning and deeply moving film that tells the story of Hatidze Muratova - the last female wild beekeeper in Europe.
The Kingmaker
Featuring incredible access to Imelda Marcos, to many of the key figures in her life and to the players involved in contemporary Philippine politics, The Kingmaker is a dark fairytale. A fairytale told by the embodiment of an unreliable narrator. 
76 Days
On 23rd January 2020, China locked down Wuhan - a city of 11 million people - to combat the outbreak of Covid 19. 76 Days puts us on the front line with patients, doctors and nurses in a hospital at the centre of the pandemic. 
Cured
Cured tells the story of the social and medical injustice carried out in the US at a time when being gay was considered to be a mental illness that could be cured, a sexual deviance that must be addressed - a learned behaviour that had to be unlearned. This gripping documentary examines the impact of this damaging view via newly rediscovered archive footage and a series of insightful interviews.
McQueen
Ian Bonhôte and Peter Ettedgui's film explores the life of fashion designer Alexander McQueen. The story they tell is both fascinating and deeply moving. Meanwhile, befitting its subject, the documentary itself is a beautiful, visually stunning experience. 
The Fight
What does it take to sue the US Government? The Fight follows a team of American Civil Liberties Union (ACLU) lawyers as they aim to do just that - fighting against some of Donald Trump's most disturbing attacks on the country's civil rights. 
Apollo 11
Meticulously created from carefully restored, never before seen footage, Apollo 11 is a time machine that takes you back to 1969 and gives you a front row seat in mission control.
The Biggest Little Farm
A visually stunning, emotionally moving adventure, The Biggest Little Farm follows John and Molly Chester (and, of course, Todd the dog) as they try to develop a sustainable farm.
Senna
Senna follows Ayrton Senna's racing career from the very beginning of his involvement in F1. Asif Kapadia's film takes us on a journey through his meteoric rise to the very top of his sport - despite the F1 politics that often got in the way.
The Witness
In 1964, The New York Times printed an article stating that Kitty Genovese was murdered while 38 witnesses did nothing. Fifty years later, her brother reinvestigates the case in order to find out the truth and rescue his sister from her controversial legacy.
On The Record
On The Record is a powerful examination of the risks of coming forward in the era of #MeToo. Amy Ziering and Kirby Dick's documentary follows former music executive, Drew Dixon, as she wrestles with the decision to go public and share her story with the New York Times.
Toni Morrison: The Pieces I Am
Toni Morrison: The Pieces I Am is a wonderful documentary - a warm, insightful and heartfelt celebration of the author, her work and the importance of literary fiction. 
Won't You Be My Neighbor?
An intimate portrait of Fred Rogers, Won't You Be My Neighbor? takes us beyond the zip-up cardigans and the land of make-believe and into the heart of a creative genius who inspired generations of children with compassion and limitless imagination.
John Lewis: Good Trouble
John Lewis: Good Trouble chronicles the life and career of the late John Lewis - the iconic civil rights activist and Democratic Representative from Georgia. Dawn Porter's timely and powerful film mixes stunning archive footage and fascinating interviews to explore the legacy of a man who spent over 60 years getting into good trouble over civil rights, voting rights, gun control, health-care reform and immigration.
The Way I See It
The Way I See It, another film from the brilliant Dawn Porter, charts the life of Pete Souza, the former White House Photographer who captured historical and intimate moments for presidents Ronald Reagan and Barack Obama. This is a fascinating and surprisingly moving documentary.
Assassins
Assassins tells the incredible and disturbing story of two young women - Siti Aisyah from Indonesia and Doan Thi Huong from Vietnam. In 2017, they assassinated Kim Jong-nam - the half-brother of North Korea's leader Kim Jong-un - in the departures hall of Malaysia's international airport. However, all was definitely not what it seemed.   
Framing Britney Spears
Framing Britney Spears looks at the legal battle surrounding the superstar's controversial conservatorship and explores the #FreeBritney movement.
The Return: Life After ISIS
Shamima Begum and Hoda Muthana attracted the attention of the world's media when they travelled from their home countries - in the UK and the US - as teenagers and joined ISIS. Now, they want to return to their home.
Alba Sotorra's thought-provoking film takes us to the camp where Begum, Muthana and a shocking number of women and children live in extremely difficult conditions. At the camp, Sevinaz, a young Kurdish woman who has lost family to ISIS, invites the women to write letters to their former selves and tell their stories.
If ever you have felt unmoved by their experiences, The Return is here to challenge your opinions. Their stories are devastating and all express profound regret that they ever decided to join ISIS. Powerfully, the terrorist group is described as a cult in the film - brainwashing and manipulating potential members until they are trapped, perhaps forever.  
Tina
A powerful and moving look at the life of music icon, Tina Turner.
Allen V Farrow
In this four-part documentary series, Amy Ziering and Kirby Dick examines one of Hollywood's most notorious scandals: the accusation of sexual abuse against Woody Allen involving Dylan, his then seven-year-old daughter.
Searching For Sugar Man
Searching For Sugar Man both is and is not about the music artist Rodriguez. Malik Bendjelloul's documentary looks at Rodriguez's impact in South Africa and takes us on an amazing journey to find the truth about this elusive, mythical figure. 
Man On Wire
On 7 August 1974, French high wire walker, Philippe Petit, fixed a wire between New York's World Trade Center towers in order to walk, run and dance between the two buildings  - 1,350 feet above the ground. Man On Wire, tells the story of how Petit and his team managed to plan, prepare and achieve this remarkable and terrifying feat.  
The Wolf Pack
All six brothers in the Angulo family love movies. They love to reenact their favourite films - complete with props and costumes. Nothing odd there. However, what is unsettling is that this is the only way these young men have been able to experience the world outside their apartment on the Lower East Side Of Manhattan. Since they were born, their father, Oscar, has kept them locked there isolated from a society that he distrusts and fears.
Midnight Family
In Mexico City, the government operates approximately 45 emergency ambulances for a population of nine million. Midnight Family, Luke Lorentzen's tense and gripping documentary, explores the underground industry of for-profit ambulances that has arisen to fill the gap - many run by people with little or no training or certification.
The Painter and the Thief
The opening moments of Benjamin Ree's documentary, The Painter and the Thief, almost feel like the beginning of a true crime documentary. CCTV footage captures two men as they break into an art gallery in Norway and steal two large paintings. However, Ree is not as interested in the crime as he is in what happened next. The director introduces us to the Czech artist, Barbora Kysilkova, whose paintings were stolen and we follow her to the trial of one of the thieves responsible.
Kysilkova feels compelled to attend court because she is haunted by two questions. Why did the two men steal her paintings and what did they do with them? We know nothing of the thief in question and, as a result, are somewhat surprised by his response to her first question: "because they are beautiful". This will not be the last time that the documentary wrong foots us.
Everything's Copy
An intimate and candid portrait of beloved author and screenwriter Nora Ephron, written and directed by her son Jacob Bernstein.
The Go Go's
In 1982, The Go Go's made history by becoming the first all female band - who wrote their own songs and played their own instruments - to reach number one in the US Billboard album chart. With interviews from band members, managers and music industry experts, Alison Ellwood's documentary takes us back to the band's very beginning and reveals the fascinating story of The Go Go's rise and fall… and rise again.
My Rembrandt
My Rembrandt explores the powerful and complex relationship between Rembrandt's paintings and the dealers, historians and collectors whose lives have been forever changed by his work.
Capturing The Friedmans
Andrew Jarecki was working on a film about New York party entertainers when he met a professional clown called David Friedman. After conducting some research, Jarecki discovered something shocking. In 1987, David's father and younger brother had been arrested on suspicision of child abuse. Both had later been found guilty. As a result, Jarecki decided to focus his camera on the Friedman family. 
The September Issue
The September Issue takes you behind the scenes at Vogue HQ, as editor Anna Wintour and her staff prepare the magazine's September 2007 edition - one of the most important issues for the high-fashion magazine.
Belushi
The life story of comedy star John Belushi is told via archive photos and footage, animation and moving audio interviews with those who knew him best. 
The Fog Of War
The Fog Of War tells the story of Robert S. McNamara - a man who rose from humble origins to reach the heights of political power. In Errol Morris's iconic and Oscar winning documentary, McNamara recounts the key chapters - both personal and professional - in his life.
The Case Against Adnan Syed
A four part examination of the 1999 murder of Baltimore student, Hae Min Lee, and the subsequent conviction of her ex-boyfriend, Adnan Syed.
Class Action Park
During the 1980s and 1990s, New Jersey's Action Park earned a reputation as the craziest, most dangerous amusement park that had ever existed. Run by teenagers and fuelled by alcohol, the rides defied physics and common sense. Safety was far from guaranteed. Seth Porges and Chris Charles Scott's brilliantly entertaining documentary, Class Action Park, explores the history and legacy of Action Park - a place, we discover, where "death was tolerated" and a variety of crimes were committed.
The Look Of Silence
A middle-aged optician confronts the men who murdered his brother during the Indonesian genocide. Joshua Oppenheimer's documentary is incredibly powerful - a companion piece to his 2012 documentary, The Act of Killing.
Project Nim
The powerful story of a chimpanzee who was taken from its mother at birth and taught to communicate with sign language.
Cobain: Montage Of Heck
Using home video footage, interviews, animation and Kurt Cobain's own diaries, Cobain: Montage Of Heck paints a fascinating portrait of a hugely talented musician and a deeply troubled man.
White Riot
Rubika Shah's urgent and inspiring documentary tells the story of a national protest movement - Rock Against Racism. The movement was formed in 1976 when a group of artists united to take on the National Front.
Enron: The Smartest Guys In The Room
Based on the book of the same name by Bethany McLean, Alex Gibney's documentary examines the fall of Enron via key insider accounts, shocking audio recordings and incredible video footage. 
The Armstrong Lie 
Alex Gibney chronicles Lance Armstrong's attempt to return to cycling, his admission of doping and subsequent fall from grace.