500 Days Of Film Reviews 10 Of 2018's Best Foreign Language Movies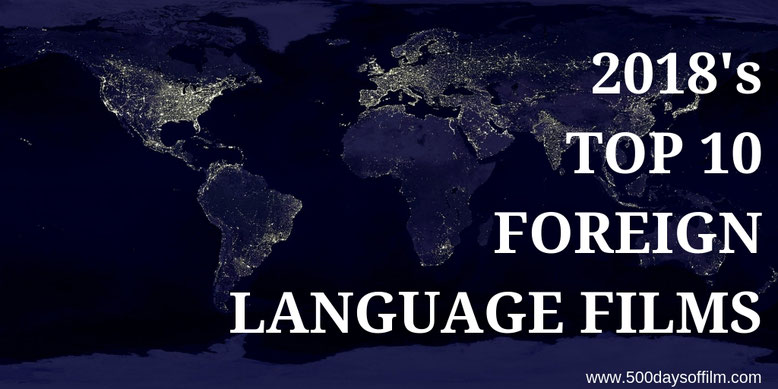 In October, BBC Culture released a list of its top 100 foreign language films. This impressive collection of movies made me reflect on the foreign language films that I have watched this year (UK releases).
It has been a good year (and it is not over yet) for world cinema. Here are my top ten favourite foreign language films:
1. A Fantastic Woman
Young waitress and aspiring singer, Marina (Daniela Vega), and Orlando (Francisco Reyes) are in love and planning for the future. After celebrating Marina's birthday one evening, Orlando falls seriously ill. Marina rushes him to the emergency room, but he passes away just after arriving at the hospital.
Devastated by her loss, Marina is then robbed of the right to grieve. She is treated with suspicion by hospital staff, the police and by Orlando's family - her sexual identity as a trans woman viewed as an aberration and a perversion.
Featuring an utterly stunning performance from Daniela Vega, A Fantastic Woman is a heartbreaking story about love and loss, identity and acceptance. It is a film that explores the fluidity inherent in life - in gender, love and relationships.
Click here to read my full review
2. Cold War
A man and a woman meet in the ruins of post-war Poland. With different backgrounds and temperaments, they are fatally mismatched and yet fatefully condemned to each other.
Set in the 1950s, against the background of the Cold War in Poland, Berlin, Yugoslavia and Paris, the couple are separated by politics, character flaws and unfortunate twists of fate - an impossible love story in impossible times. 
Click here to read my full review
3. 120 BPM
In the early 1990s, AIDS had claimed countless lives for nearly ten years. Joining Act Up Paris - a group of activists determined to fight indifference against the epidemic - Nathan (Arnaud Valois) has his world shaken up by Sean (Nahuel Pérez Biscayart), a radical militant.
Death looms large over Robin Campillo's 120 BPM (Beats Per Minute). However, you'll be hard pressed to find a more joyous and vibrant film this year. Far from a depressing account of a community in crisis, Beats presents a lively group of exciting characters each determined to give voice to those affected by AIDS.
Click here to read my full review
4. Custody
Miriam (Léa Drucker) and Antoine Besson (Denis Ménochet) have divorced. Miriam is seeking sole custody of their son, Julien (Thomas Gioria), to protect him from a father she claims is violent. Meanwhile, Antoine pleads his case as a scorned dad who just wants to be a part of his son's life. 
The appointed judge has to decide what is best for 11 year-old Julien - who has become a hostage in the escalating conflict between his parents. 
Custody is a portrait of possessiveness and toxic masculinity. Xavier Legrand's film explores - in both subtle and overt ways - just how devastating these issues can be and how they can destroy the very relationships that they seek to control.
Click here to read my full review
5. Loveless
Zhenya (Maryana Spivak) and Boris (Aleksey Rozin) are going through a vicious divorce marked by resentment, frustration and recriminations. Already embarking on new lives, each with a new partner, they are impatient to start again, to turn the page – even if it means threatening to abandon their 12-year-old son Alyosha (Matvey Novikov). Then, after witnessing one of their fights, Alyosha disappears…
It's symbolism, themes and message may not be subtle but Andrey Zvyagintsev's Loveless is nonetheless gripping and devastating. Superbly acted, beautifully shot and featuring a truly powerful soundscape, this is a film about the dangers inherent in a vacuous and compassionless society.
Click here to read my full review
6. Sunday's Illness
Anabel (Susi Sánchez) abandoned her daughter Chiara (Bárbara Lennie) when she was just eight years old. Now, thirty-five years later, Anabel is a respected philanthropist when Chiara suddenly turns up with a strange request: she asks that her mother spend ten days with her. After that she will renounce all relations and claims. 
Compelled to comply, Anabel is understandably uneasy. Meanwhile, Chiara has a shocking hidden agenda - one that will force Anabel to face the most important decision of her life.
Click here to read my full review
7. Jeune Femme
Neurotic and manic, bold and magnetic, Paula (Laetitia Dosch in one of my favourite performances of the year) is a muddle of contradictions. Fresh from an unceremonious dumping by her boyfriend of ten years, she finds herself wandering the streets of Paris – jobless, homeless and single – with no idea of what the future holds. 
At 31 years old, with little to show for it but a kidnapped cat and a sense of adventure, Paula sets out to reinvent herself – new job, new friends, new life – and finds that these things do not come easily.
Click here to read my full review
8. The Third Murder
Leading attorney Shigemori (Masaharu Fukuyama) takes on the defence of murder-robbery suspect Misumi (Kôji Yakusho) who served jail time for another murder 30 years ago. Shigemori's chances of winning the case seem low - his client freely admits his guilt, despite facing the death penalty if he is convicted. 
However, as he digs deeper into the case and hears the testimonies of the victim's family and Misumi himself, the once confident Shigemori begins to doubt whether his client is the murderer after all.
The Third Murder is an entertaining and gripping mystery - an inscrutable puzzle full of challenging and conflicting stories that keep us guessing until the film's thought provoking conclusion.
Click here to read my full review
9. The Square
Christian (Claes Bang) is the respected curator of a contemporary art museum, a divorced but devoted father of two who drives an electric car and supports good causes. His next show is called "The Square", an installation that invites passersby to consider altruism, reminding them of their role as responsible fellow human beings. 
However, it is often difficult to live up to your own ideals. Christian's foolish response to the theft of his mobile phone drags him into a series of shameful situations and forces him to confront his flaws.
Meanwhile, the museum's PR agency has created a shocking and unexpected social media marketing campaign for "The Square". The reaction sends Christian, as well as the museum, into an existential crisis.
Click here to read my full review
10. In The Fade
Katja's (Diane Kruger) life falls apart when her husband Nuri (Numan Acar) and little son Rocco (Rafael Santana) are killed in a bomb attack. Her friends and family try to give her the support she needs and Katja somehow manages to make it through the funeral. 
However, the mind numbing search for the perpetrators and reasons behind the senseless killing complicate Katja's painful mourning, opening wounds and doubts. Danilo (Denis Moschitto), a lawyer and Nuri's best friend, represents Katja in the eventual trial against the two suspects: a young couple from the neo-Nazi scene.
The trial pushes Katja to the edge, but there's simply no alternative for her: she wants justice. 
Click here to read my full review
Over To You...
What do you think of this list? Are any of your favourites on there? What would you add? Let me know in the comments section below or over on Twitter. You can find me @500DaysOfFilm.