500 Days Of Film Reviews 120 BPM Starring Nahuel Pérez Biscayart, Arnaud Valois And Adèle Haenel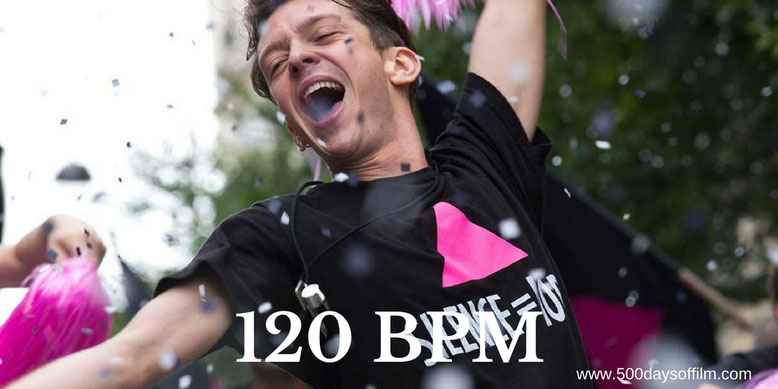 In the early 1990s, AIDS had claimed countless lives for nearly ten years. Joining Act Up Paris - a group of activists determined to fight general indifference against the epidemic -
Nathan (Arnaud Valois) has his world shaken up by Sean (Nahuel Pérez Biscayart), a radical militant.
Is It Any Good?
Death looms large over Robin Campillo's 120 BPM (Beats Per Minute). However, you'll be hard pressed to find a more joyous and vibrant film this year. Far from a depressing account of a community in crisis, Beats presents a lively group of exciting characters each determined to give voice to those affected by AIDS.
We are introduced to Act Up Paris via one of its weekly meetings. Here, right alongside the other new recruits, we are informed of the aims and objectives of the group, the rules of their debating process and the challenges they face. Amid general apathy, how far should their activism go? How aggressive can they be?
At this, his first meeting, Nathan (a superb performance from Arnaud Valois) falls in love with the energy and intensity of Act Up Paris. At the same time, a beautiful romance develops between Nathan and charismatic activist, Sean (an astonishing and scene stealing performance from Nahuel Pérez Biscayart). 
Their first kiss, inspired by an act of defiance, is a gorgeous moment - a genuine, life changing connection. 
We follow Nathan as he and Sean grow closer, developing a full and intimate relationship. Meanwhile, Nathan becomes increasingly involved in Act Up's activism. In a film where music plays a key role, each energy-fuelled event is followed by a moment of release and abandon on the dance floor.
In this way, Beats intertwines the personal and the political. Act Up's ambitions are grand in scale and yet Beats never lets us forget that behind each statistic lies a real person living, every day, in death's shadow.
As a result, while the first half of Campillo's visually stunning film is full of life, the second explores death and the devastating impact of AIDS. It is a raw and truly heartbreaking journey - reminding us of the terrible suffering and outrageous loss of that time.
As much as I adored 120 BPM, this movie completely destroyed me by the end. I was utterly invested in its story. The characters felt so very real to me and I cared about them all. However, even in grief and death, Campillo's stunning film reveals surprising and inspiring layers of intimacy and connection. 
Random Observations
Like Nathan, Robin Campillo joined Act Up in 1992 - around ten years after the start of the epidemic. "From the very first meeting I attended, I was struck by the group's exultant effervescence, given that we were in the toughest years of the epidemic," the director recalls.
Many films have covered the AIDS epidemic. However, few have felt so personal and authentic - some scenes in Beats play almost like a documentary. However, this story is resoundingly fiction. Free from fact based constraints, Campillo was able to focus on the connection between the past and the present.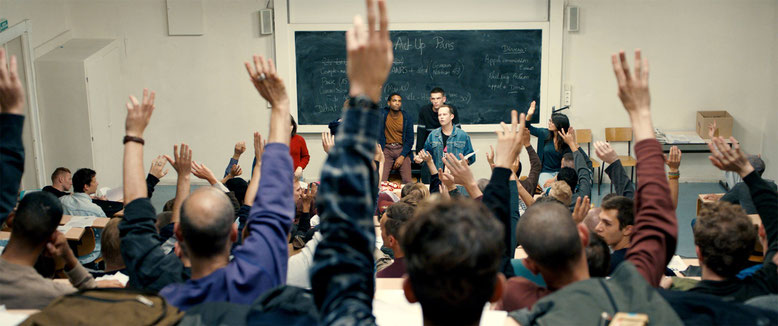 While in many respects Beats feels timeless, there are moments when it is very much a story from a different era. A time without mobile phones, internet access or social media platforms. A time of fax machines and French Minitel terminals. It is fascinating to see how Act Up operates without the methods of communication that we now take for granted.
Act Up Paris was created on June 26th 1989 upon the occasion of an upcoming Gay Pride parade during which fifteen or so activists then staged the first "die-in" lying down on the street without uttering a single word. On their t-shirts was the equation: Silence=Death.
Have you seen 120 BPM?
If you have, what did you think of this film? Let me know in the comments section below or you can find me on Twitter @500DaysOfFilm.