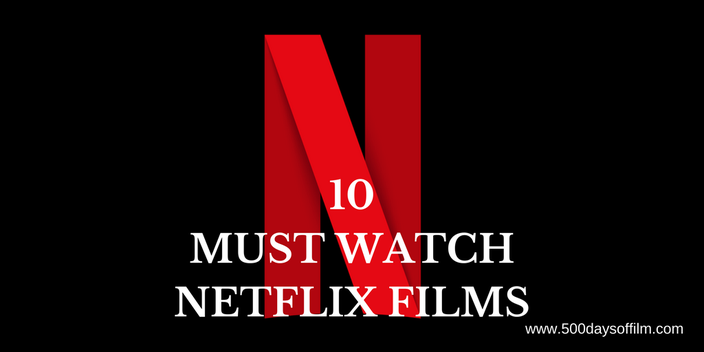 I recently received a notification message from Netflix telling me that it had added "36 new films and TV programmes in the last two weeks". Netflix has certainly raised its game in recent months and now offers a wide selection of superb movies.
Out of interest, I made a list of all the films (old and new) that I would recommend on Netflix. This list easily reached 60 movies - more than justifying my monthly subscription fee.
However, because too much choice can be as frustrating as too little, I am going to narrow things down (in no particular order) to 10 unmissable films.
1. Under The Shadow
My favourite film of 2016, Babak Anvari's Under The Shadow is a chilling and intelligent horror with a powerful feminist message. The film follows Shideh (Narges Rashidi) as she struggles to cope in an apartment in Tehran amid the chaos of the Iran-Iraq war.
The violence outside appears to attract a malevolent spirit into their lives - an evil, supernatural force that seems intent on possessing Shideh's young daughter Dorsa (a superb Avin Manshadi).
Unlike the majority of horror films these days, Under The Shadow does not feature gory scenes and there are only a couple of jump scares. However, Anvari's film is both scary and unsettling. Highly recommended.
2. Hunt For The Wilderpeople
Charming and hilarious, Hunt For The Wilderpeople tells the story of defiant city boy Ricky Baker (Julian Dennison) who is offered a final chance foster family in the New Zealand countryside -  joining eccentric but loving Aunt Bella (Rima Te Wiata), cantankerous Uncle Hec (Sam Neill), and faithful dog Tupac. However, when tragedy strikes and Ricky's home life comes under threat, Ricky and Hec go on the run in the bush. Watch this asap - it is an absolute joy.
3. Sing Street
La La Land is far from the only musical in town. Sing Street is also well worth your time. The film follows fourteen-year old Conor 'Cosmo' Lalor (Ferdia Walsh-Peelo) after he decides to form a band in order to impress the beautiful and mysterious, Raphina (Lucy Boynton). Sing Street is an immensely enjoyable film. It will make you laugh and it will get your foot tapping. If it doesn't, you might want to check for a pulse. 
4. Little Men
Little Men tells the story of the friendship between two teenage boys, set against a backdrop of the gentrification of New York. Ira Sachs' film is beautiful, moving and intelligent. Put this one on your must watch list - it's special.
5. 13th
Netflix offers a number of fascinating documentaries (click here for a list of 30 incredible documentaries on Netflix). Ava DuVernay's film looks at how black males in America have been systematically criminalised and how the achievements of the Civil Rights movement have been thwarted by the US criminal justice system. 13th is a smart, gripping and often shocking documentary. It is a film that everyone should watch.
6. Victoria
In 2015, Alejandro Iñárritu's Birdman made headlines because the film looked as if it had been shot in one single take. Just a few months later and director Sebastian Schipper did it for real. Victoria is an audacious, endlessly impressive piece of cinema. However, this film is far from just a gimmick. It is also a thrilling drama featuring an unforgettable romance. 
7. Divines
Divines is another joyous depiction of young friendship - this time between two teenage girls. Inspired by the pent up frustration many felt during 2005's riots in Paris, director Houda Benyamina decided to make a film about the disillusionment of the City's struggling underclass. Divines bridges the gap between relevant contemporary commentary and entertaining, suspenseful drama. While this film is full of fun cinematic references (including imaginative and magical scenes), it also takes us to some dark and heartbreaking places. Divines is a superb film from an exciting new director.
8. Green Room
Unlike Under The Shadow, Green Room does not hold back the gore. Not for the faint-hearted, this intense horror/thriller sees struggling punk band, The Ain't Rights, playing a tense gig at a remote Oregon roadhouse full of neo nazis and white supremacists. Things go from bad to very much worse when they stumble upon a brutal murder scene and find themselves the target of the club's ruthless owner, Darcy (a chilling Patrick Stewart), who is determined to eliminate all witnesses.
9. Son Of Saul
Oscar winning Son Of Saul tells the harrowing story of Saul Ausländer (Géza Röhrig) who, as a member of the Sonderkommando during World War 2, is forced to herd Jewish prisoners into the gas chambers at Auschwitz-Birkenau and then dispose of their bodies. When a young boy survives the gas chamber, Saul risks a closer look thinking that he could be his son. After the boy is suffocated by the camp's German doctor, Saul becomes determined to give him a proper burial. Son Of Saul is a profoundly upsetting film. However, it is also important, essential viewing - lest we forget what happened.
Click Here To Read My Full Review
10. The Lobster
Yorgos Lanthimos' The Lobster is a wonderfully surreal, dystopian love story. The film is set in a future world where all single people are unceremoniously carted off to a hotel and given 45 days to find a partner. If you fail to couple up you will be turned into an animal (of your choice) and set loose in a nearby woods. Undeniably bizarre, The Lobster is a fascinating exposure of the 'norms' our society has constructed. It also features a career best performance from Colin Farrell.
Click Here To Read My Full Review
What Is Your Favourite Netflix Movie?
Have you watched any of these Netflix movies? If so, which one would you recommend? Alternatively, have I missed your favourite film currently on Netflix? Let me know by leaving me a comment in the box below!