500 Days Of  Film Reviews Comedy Drama, Sing Street, Starring Ferdia Walsh-Peelo, Lucy Boynton And Jack Reynor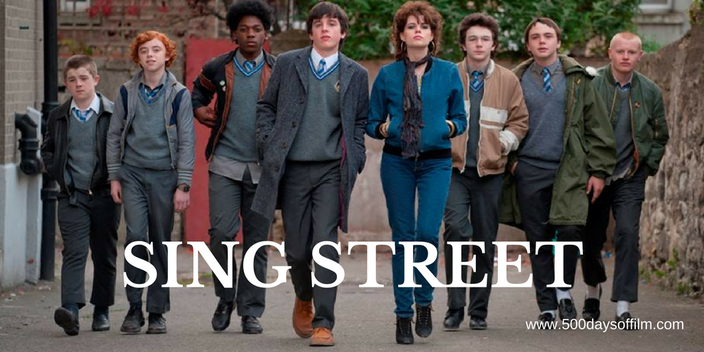 Growing up in 1980s Dublin is a struggle for fourteen-year old Conor 'Cosmo' Lalor (Ferdia Walsh-Peelo). His home-life is under strain and he has had to move to a new school - the Christian Brothers School on Synge Street.  
A chance meeting with beautiful and mysterious, Raphina (Lucy Boynton), prompts Cosmo to start a band. Writing songs inspired by his life and newfound love, music becomes a much needed escape and, possibly, the only way to get the girl.
Is It Any Good?
Sing Street is the latest film from John Carney, the director best known for his 2007 breakout movie, Once. Carney certainly knows his music (having been a bassist for Irish Rock Band, The Frames) and he also knows just how to tell a poignant and engaging story. 
Sing Street is an immensely enjoyable film. It makes you smile, it makes you laugh and it gets your foot a-tapping (if it doesn't, you might want to check for a pulse). 
Set in the 1980s, this movie feels completely and hilariously authentic - capturing the decade's fashion, music and the emergence of the pop video. Sing Street also captures the mood and atmosphere of an 80s movie - its feel-good story would not be out of place within the John Hughes universe.
However, Carney is also unafraid to add a brutal dose of grim reality into the mix. Raphina has a truly tragic past and Cosmo's new school is brutal. Bullying is rife and students are subjected to emotional and physical abuse from some of the Christian Brothers.
Meanwhile, Dublin's economic recession is taking its toll and the city's youth struggle to see a future there. In the meantime, music becomes the escape they all so desperately need.   
The cast of Sing Street are all superb. You can't help but warm to them. Alongside Cosmo, I particularly enjoyed Lucy Boynton's performance as Raphina and loved Ian Kenny's music (and bunny) aficionado, Barry. 
However, the moments I most enjoyed in Sing Street took place between Cosmo and his older brother, Brendan (a wonderful, scene-stealing performance from Jack Reynor). As their family implodes, the brothers form a powerful bond through music. 
I would thoroughly recommend Sing Street - this is a film that makes you feel better just by watching.
Random Observations
I loved the way the Sing Street band evolve through different music and fashion styles - oh and their shoe-string music videos are brilliant.
Have you seen Sing Street? 
If you have, what did you think of this movie?
Let me know. Feel free to leave me a comment in the box below!