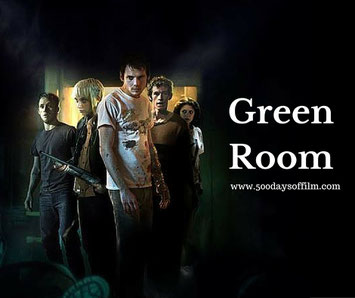 500 Days Of Film Reviews Horror/Thriller Green Room 
When struggling punk band, The Ain't Rights, are offered a last minute gig in a remote Oregon roadhouse, they accept despite having serious reservations. 
Their audience is full of neo nazis and white supremacists and the atmosphere is tense.
However, they also desperately need the money.
Things go from bad to very much worse when they stumble upon a brutal murder scene and then find themselves the target of the club's ruthless owner, Darcy (Patrick Stewart) who is determined to eliminate all witnesses. 
Is It Any Good?
I watched Green Room as part of Odeon's Scream Unseen event. I did not know much about this film before the screening. All I did know was that it was written and directed by Jeremy Saulnier whose film, Blue Ruin, I absolutely love.
As a result, Scream Unseen was not the experience that I had expected. I thought I would be watching something scary, jumpy and probably a little lame. Instead, I watched something tense, brutal and smart.
Saulnier is an extremely intelligent writer and director. He understands tension and the elements that are needed for a thriller. 
For example, we need to care about the band members. And we do because Green Room gives us the time to get to know these people. We understand how their band is struggling to survive. There is no glamour here. There is only grime and disinterest. As a result, they cannot afford to pick and choose their gigs. They have to follow the money.
Unfortunately, the money takes them to a very dark place indeed.
I really liked how Green Room (like Blue Ruin before it) explores the theme of violence begetting violence. Trapped in the room of the movie's title, the band are exposed to brutal, savage acts. Their shock matches ours. This is not a world that they recognise or inhabit.
However, before long they find themselves dragged into a nightmarish world of blood and gore. And Saulnier is not afraid to get dark and nasty in his film. Indeed, he is pretty inventive - there were several moments when my cinema audience physically recoiled from the screen.
These moments are effective because they are used sparingly. Far more horrific is the tense situation that the band finds itself in and their limited options for survival. At no point did I feel that anyone was safe - not until the very end credits (and perhaps not even then).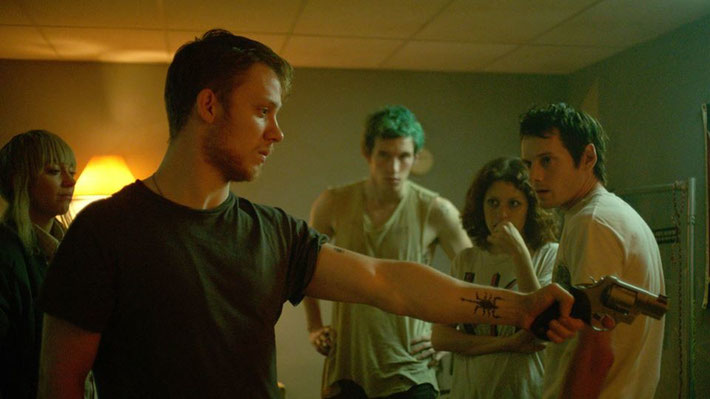 The cast in Green Room are all strong. It was great to see Blue Ruin's Macon Blair back as Gabe. I also particularly enjoyed Imogen Poots as Amber and Anton Yelchin (Star Trek, Like Crazy) is great as Pat. The two work well together. They often engage in some brilliantly dark humour - a welcome relief from the more grisly scenes.
Most newsworthy, of course, is the casting (against type) of Patrick Stewart as Darcy. I was slightly unsure about his accent but enjoyed his performance. It is not flashy or overtly evil. He is coldly, brutally pragmatic and that, for me, is far more unsettling.
Unlike many horror/thrillers, Green Room does not disappoint as it enters its final act. While some narrative developments gave me pause, I was happy to go with the film as it moved towards its grisly conclusion.
I may not have screamed during Odeon's Scream Unseen but I thoroughly enjoyed the entire experience.
Random Observations
I realised whilst watching Green Room how difficult it is for storytellers today to have their characters drop off the map. Only one other human in the world knows where Green Room's band are and, of course, that makes their situation even more desperate.
However, for that to work, Saulnier had to include a scene where the band talks about its aversion to social media. Otherwise, hundreds of people would have known that they were about to play in a dodgy shed in Creepsville, Oregon. 
Macon Blair is best friends with Jeremy Saulnier, hence why they enjoy working together. 
Have you seen Green Room? 
If you have, what did you make of this horror/thriller? Do let me know by leaving a comment in the box below.