500 Days Of Film Reviews Son Of Saul
Son Of Saul tells the harrowing story of a Hungarian man called Saul Ausländer (Géza Röhrig). 
As a member of the Sonderkommando, Saul is forced to herd Jewish prisoners into the gas chambers at Auschwitz-Birkenau. He then has to dispose of their bodies.
One day, a young boy survives the gas chamber. Within minutes, the boy is suffocated by the camp's German doctor. Saul risks a closer look - could this be his son?
Is It Any Good?
The first I heard of director László Nemes' Son Of Saul was when the film premiered at the Cannes Film Festival. It was met with critical acclaim and later won the Festival's Grand Prix.
The buzz around this movie only grew in the months that followed and it came as no surprise when the film won the 2016 Oscar for best foreign film.
Many audiences (me included) then had to wait until the end of April to see this film for ourselves. However, distribution issues meant that many (again, me included) had to watch Son Of Saul via VOD (Video On Demand). 
This is not how Nemes, a passionate advocate of cinema, intended us to experience his film. And for that I am truly sorry.
I wish I had seen Son Of Saul on a big screen. A darkened screening room is surely the place where the full impact of Son Of Saul can be experienced. 
Son Of Saul is a deeply upsetting film. It weighs heavily - by the end of the film I was stunned, unable to move. And it has haunted me ever since.
At its heart, Son Of Saul is about one man's attempt to do something decent in a world where humanity and decency is being destroyed.
It matters not whether the dead boy is actually Saul's son. Saul is a man desperate to do something right - to give the boy a proper burial, according to his faith. However, to do this, he has to find, amid the chaos and horror, a rabbi.
Saul's search takes him across Auschwitz and, as we journey with him, we see the stages by which the camp' kills and disposes of thousands of Jewish prisoners. 
Nemes' visual technique is truly impressive. He filmed Son Of Saul in an intense 4:3 ratio, using a shallow focus. In this way, we are Saul's companion and remain by his side. As Saul's haunted face fills the screen, Géza Röhrig phenomenal performance tells us more about the atrocity than words could express.
As a result, we are never forced to look at the horror of Auschwitz directly. However, it is there - often just out of shot or out of focus. It is all there in our peripheral vision. It is there in the screams and the cries. It is there in the palpable sense of fear.
And, often, it feels too much to bear.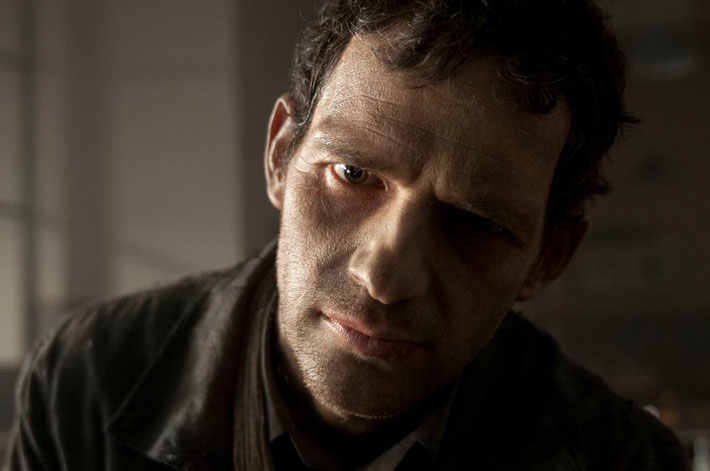 Something occurred to me, after I had watched Son Of Saul. Would I recommend this film? Indeed, why would anyone want to see such things? We know what happened in the Holocaust and many films have already attempted to portray this terrible event in human history.
These questions have sparked much debate. And I found myself wanting to be a (very small) part of this discussion. As such, I felt a need (and a responsibility) to watch Son Of Saul. 
Bravely and brutally, this film tells a different Holocaust story. This is no reassuring, miraculous tale of survival. This is a film that looks at the dead and asks how, amid the horror, it was possible for people to retain their faith, their humanity. 
Other movies have portrayed the Sonderkommando. of which Saul is part, as Nazi collaborators and perpetrators.
In a fascinating Jewish Journal interview, both Nemes and Röhrig disagree with this depiction: "The most demonic crime of the Nazis was to force the Sonderkommando to assist in the killing process," says Röhrig. "In doing so, they were taking away even their solace of being innocent.  They were making Cain out of Abel. 
"There were some Sonderkommando members who attempted to commit suicide, and I would label them as saints… but I would never dare to pass judgment on the people who didn't – who to survive and to become the father of their children, did what they had to do just to make sure that they remained alive. They were 100 percent victims."
Son Of Saul is not an easy film to watch. This is a profoundly upsetting story and one that will stay with me for a very, very long time. And that, I feel, is just as it should be.
Random Observations
*The Sommerkomando were work groups of German Nazi death camp prisoners. These prisoners (usually Jews) were forced to help with the disposal of gas chamber victims during the Holocaust. In return they were offered marginally better living conditions. They were usually killed after four months. 
Remarkably, Son Of Saul is László Nemes' first full length feature film and Géza Röhrig's first acting role. 
The Grand Prix is the second-most prestigious prize of the Cannes Film Festival after the Palme d'Or. 
Nemes recently gave a fascinating interview with Little White Lies. In the interview, he talked about being a passionate advocate of the cinema experience:
"Film in cinema is a darkness experience. We as human beings are put into an experience which is communal, but at the same time we're alone in darkness, and I believe in that, in the magic of that, in the fact that we are experiencing something that we don't control. We are in the experience in an immersive manner and cinema has this strength."
Have you seen Son Of Saul?
If so, what did you think of this film? Please do feel free to leave me your thoughts in the comments section below.