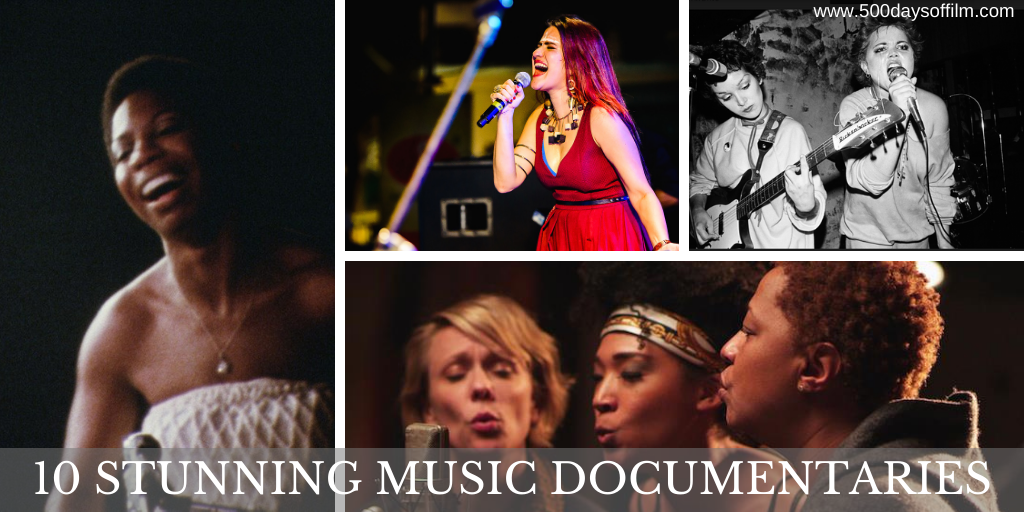 Cinema often turns to the music industry for inspiration. There are countless fiction films, biopics and documentaries based on the fascinating lives of vocal artists and musicians. Here are ten of my favourite documentaries about musicians. They are listed in no particular order... all are well worth your time.
Amazing Grace
That Franklin has a powerful voice and incredible range is news to no one, of course. In 1972, the year that (over the course of two nights) she recorded Amazing Grace, Franklin was already firmly established as a music icon - the Queen of Soul.
However, the combination of time and place, of the gospel songs selected and the sheer brilliance of the musicans and the choir (superbly conducted by a scene stealing Alexander Hamilton) gave these two performances something extra - something transcendent.
Click here to read more about Amazing Grace
You can watch Amazing Grace via Amazon Prime
What Happened, Miss Simone?
Using never-before-heard recordings, archive footage, diary entries and interviews with family and friends, this gripping film explores the life of a legend. Nina Simone possessed a breathtaking musical talent and lived a fascinating life. However, her marriage was violent and tempestuous and she also suffered from mental illness. Liz Garbus's documentary takes us behind the scenes to show us the joy and the darkness behind what happened to Miss Simone.
Click here for my review of What Happened, Miss Simone?
You can watch What Happened, Miss Simone? on Netflix
20 Feet From Stardom
You might recognise their voices but you may not know their names. 20 Feet From Stardom tells the remarkable story of the unsung backup singers (including Darlene Love and Lisa Fischer) behind some of the greatest musical legends of the 21st century. 
This gripping film won the Oscar for best documentary in 2014 and it is easy to see why. The artists featured range in style, musical era and genre but all tell a fascinating and deeply personal story of a life spent in the shadows. 
Director Morgan Neville uses archive footage, a superb soundtrack, intimate interviews and wonderful testimonials from the likes of Bruce Springsteen, Stevie Wonder and Mick Jagger. However, he never loses sight of the real stars of his film - the backing singers. 
Click here for my review of 20 Feet From Stardom
 You can watch 20 Feet From Stardom on Netflix
Amy
Asif Kapadia's Oscar winning documentary about Amy Winehouse set the gold standard by which all future music documentaries will be judged. Despite its traditional structure (starting with Amy as a young girl and following her to the end of her life) and a story that is all too familiar, Kapadia's film is both insightful and surprising.
The main surprise is Amy herself. She tells her own story and is present in almost every scene thanks to the remarkable amount of footage that was taken of her (and, on occasion, by her) during her short life. 
Amy is also present in her songwriting (we see pages and pages of her almost childlike script) and via her lyrics, which often appear on screen. That we see so much of Amy in this film (much in extreme close up) makes this documentary an intense and, often, extremely tough watch.
Click here for my review of Amy
You can rent or buy Amy from a number of streaming platforms including Amazon and Google Play.
Shut Up And Sing
Barbara Kopple and Cecilia Peck's brilliant documentary follows the lives and career developments of the Chicks in the wake of singer Natalie Maines' controversial denunciation of the Iraq war and President Bush in 2003.
You can rent or buy Shut Up And Sing on Amazon
The Go Go's
In 1982, The Go Go's made history by becoming the first all female band - who wrote their own songs and played their own instruments - to reach number one in the US Billboard album chart. 
With interviews from band members, managers and music industry experts, Alison Ellwood's documentary takes us back to the band's very beginning and reveals the fascinating story of The Go Go's rise and fall… and rise again.
Click here for my review of The Go Go's
You can rent or buy The Go Go's from a number of streaming platforms including Amazon and Google Play.
Janis: Little Girl Blue
Featuring letters and interviews with her family and friends, Amy Berg's documentary, Janis: Little Girl Blue, explores the life of 1960's rock legend, Janis Joplin and reveals a heartbreaking story about a hugely talented, yet truly fragile soul.
You can rent or buy Janis: Little Girl Blue from a number of streaming platforms including Amazon and Google Play.
Whitney
Kevin Macdonald unravels the mystery of Whitney Houston. His documentary is an intimate and deeply moving portrait of a phenomenally talented, yet deeply troubled woman.
Click here for my review of Whitney
You can watch Whitney on Amazon Prime.
Note: Shortly before Macdonald's film hit cinemas, Nick Broomfield's Whitney Houston documentary was released. Starting with the inevitable emergency services call, the film moves chronologically through the remarkable life of this phenomenal vocal artist. However, Whitney "Can I Be Me" never lets you forget the end of this story - tingeing Whitney's meteoric rise with the sense of impending tragedy.
Click here for my review of Whitney "Can I Be Me".
You can watch Whitney "Can I Be Me" on Amazon Prime and Netflix
Shut Up Sona
Over three years, Deepti Gupta filmed Indian singer and #MeToo activist Sona Mohapatra - documenting her fight against her country's patriarchal traditions. Sonia doesn't want to simply entertain the crowds that attend her concerts, she wants to rebel, expose hypocrisy and effect change.
Shut Up Sona combines Sona's rise as a talented singer, songwriter, and composer (fusing pop, folk, Bollywood and rock) with more intimate scenes. We see Sona at home with her husband - often debating the challenges of Indian society - and in quiet moments of contemplation.
On stage and off, Sona is incredibly charismatic. She never misses an opportunity to further her cause and she is more than ready for any debate. Her passion is not to be underestimated.
Click here to read my review of Shut Up Sona
Matangi/Maya/M.I.A
Steve Loveridge's documentary uses an incredible archive of personal video footage, recorded over the past 22 years, to explore the story of critically acclaimed artist, M.I.A. The film charts her remarkable journey from refugee immigrant to one the most powerful and outspoken voices in music.
You can watch Matangi/Maya/M.I.A on Netflix and via Dogwoof On Demand